AI Plugin for WordPress: All You Need to Know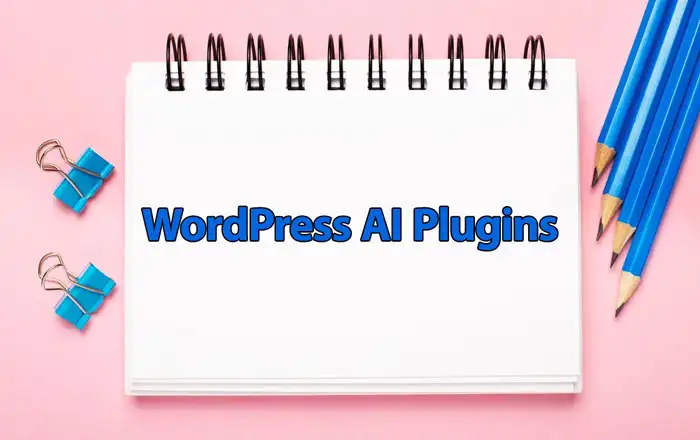 Do you ever feel overwhelmed trying to keep track of all the tasks on your website? Having a streamlined workflow is essential for any successful web design. Yet, juggling multiple client requests and monitoring deadlines can be difficult while focusing on the design task.
That's why many web designers are turning to Artificial Intelligence (AI) plugin solutions for their WordPress websites. From automating communications with clients to managing deadlines more efficiently, AI plugins can help you speed up your workflow process and free up valuable time in the day-to-day operations of running a web design business.
This blog post will provide an overview of how AI plugins work and outline some potential benefits they offer to WordPress users–helping you gain full control over your projects and reach greater success as a professional designer.
What is WordPress AI Plugin, and why it's essential for website owners
WordPress AI plugins are becoming increasingly popular among website owners, offering cutting-edge technology that streamlines the content creation process. These plugins assist with tasks ranging from content ideas to optimization, considering your website's traffic data, keywords, and content objectives.
Artificial intelligence is used to identify what works best for each piece of content, increasing the chances of engagement and page ranking. Creating quality content quickly and efficiently is essential for success for any website owner.
With WordPress AI plugins at your disposal, you can use the latest technologies to optimize your content, engage your audience, and boost your website's traffic and rankings.
Why Use an AI Plugin on WordPress?
Utilizing an AI plugin for WordPress can offer many benefits for websites of any industry. With technological advancements, AI plugins have become increasingly sophisticated and user-friendly, seamlessly integrating with WordPress.
These plugins can perform content optimization, language translation, and chatbot capabilities. Using an AI plugin lets website owners improve their website's overall functionality and user experience while also saving time by automating tasks that require manual effort.
Incorporating AI technology into WordPress can enhance a website's online presence and create a competitive advantage in the digital landscape.
Benefits of Using a WordPress AI Plugin
In today's digital age, websites are essential for businesses to market their products and services online. Managing these websites can be tedious, but technology has evolved to make it easier. One such technological advancement is the ai plugin for WordPress.
This Plugin leverages the power of artificial intelligence (AI) to enhance the efficiency and effectiveness of WordPress. With this software, website owners can automate mundane tasks such as content creation, SEO optimization, and social media sharing.
Additionally, the AI for WordPress can learn from user behavior to personalize the website experience, leading to increased engagement and conversion rates. The benefits of the ai plugin for WordPress are undeniable, and not utilizing it is a missed opportunity for website growth.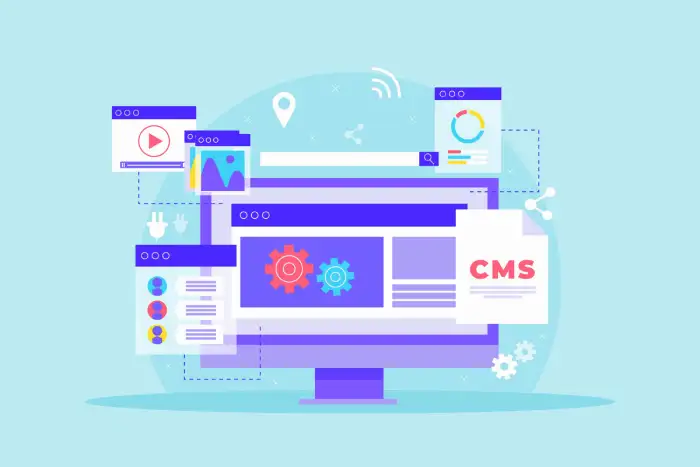 Features of the AI plugin for WordPress
As the world of digital media continues to expand at an unprecedented rate, businesses and individuals are seeking efficient and effective ways to manage their online presence.
One emerging solution is the AI plugin for WordPress, which offers an innovative and streamlined approach to website design and management.
This Plugin utilizes the latest artificial intelligence technology to provide a wide range of features, including automated content creation, personalized user experiences, and advanced analytics.
With its user-friendly interface and deep integration with the WordPress platform, the AI plugin for WordPress is quickly becoming an essential tool for anyone looking to make the most of their online presence. Whether you are just starting or are a seasoned veteran of the digital world, this Plugin has something to offer.
How to Install and Set Up the WordPress AI Plugin
Adding an AI plugin can benefit those looking to enhance their WordPress website with the latest technology. With the development of AI for WordPress, web admins can streamline their website's management and gain valuable insights into user behavior.
Installing and setting up a WordPress AI plugin may seem daunting, but anyone can do it with step-by-step instructions and a little patience. Once installed, a quality AI plugin will help improve website performance and user experience and even attract more traffic to your site. Why not embrace the latest technology and give your WordPress website the boost it deserves with a reliable AI plugin?
Many ai plugins for WordPress exist; In this section, we want to introduce some of them, which you can install from the WordPress repository.
AI Engine
AI Engine is a plugin created by Jordy Meow; these ai features are:
It can generate content
It can translate texts
monitoring statistics
etc
With a monthly fee, you can use the advanced features of this Plugin; you need to set the OpenAI key.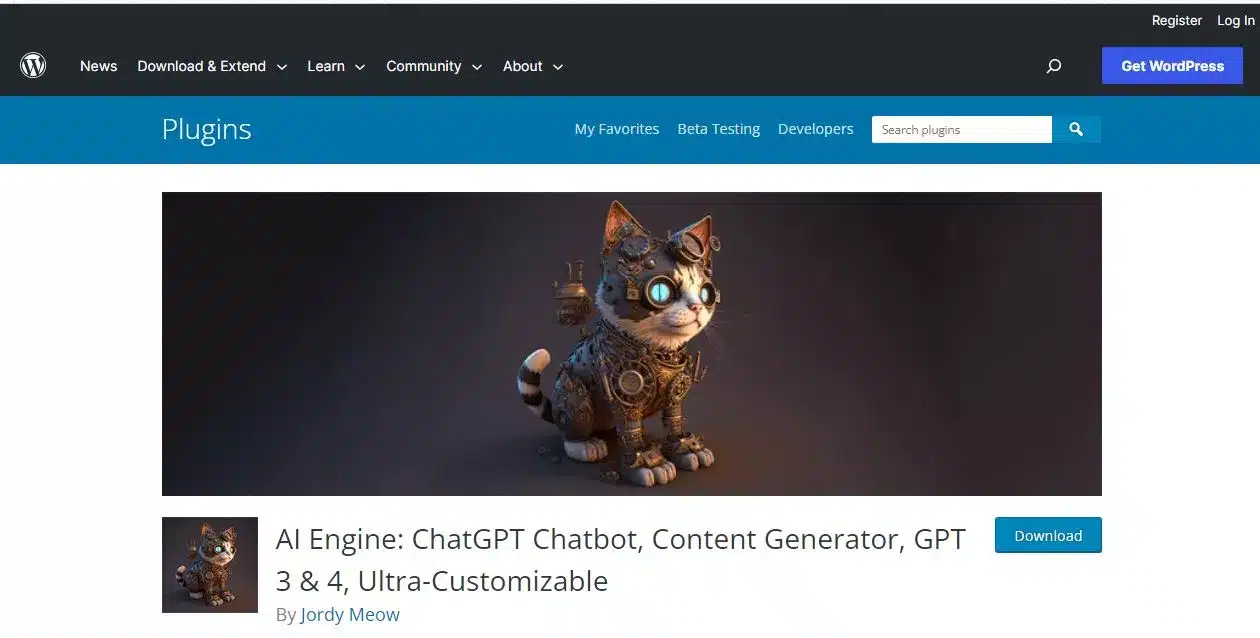 Bertha AI
Bertha AI is a plugin that uses chatbot-3; with this Plugin, you can generate content, images, etc.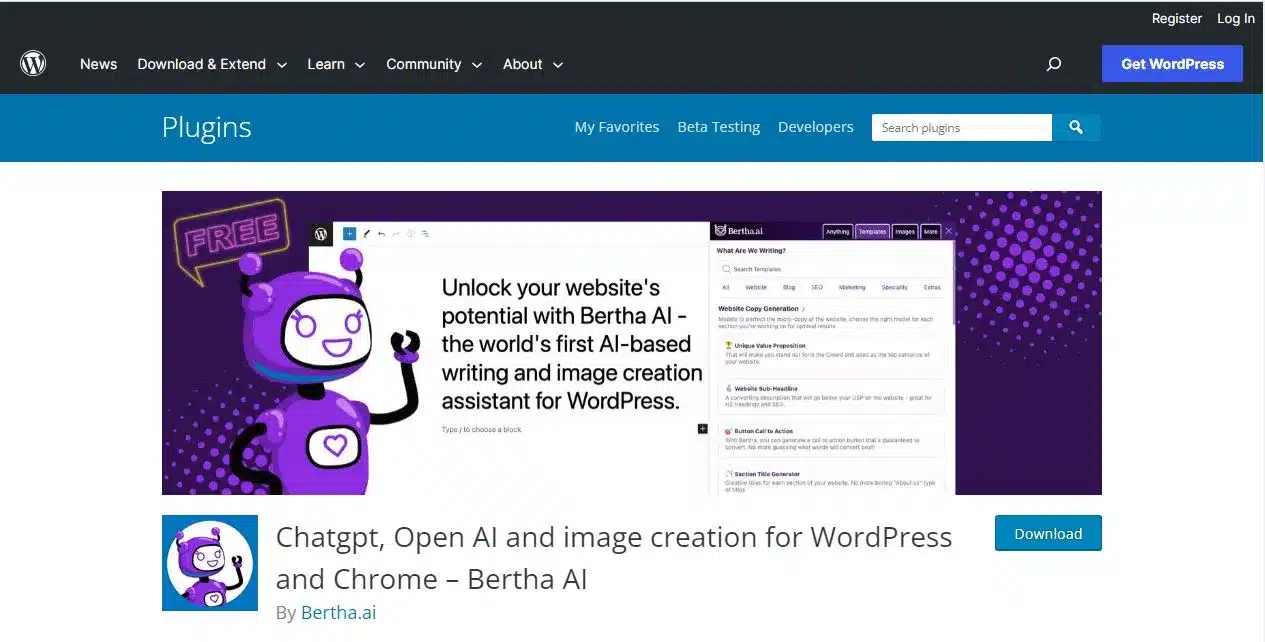 ContentBot AI Writer
Another content creator that uses the OpenAI GPT-3 natural language processing engine is ContentBot. This bot can generate powerful content with a great template.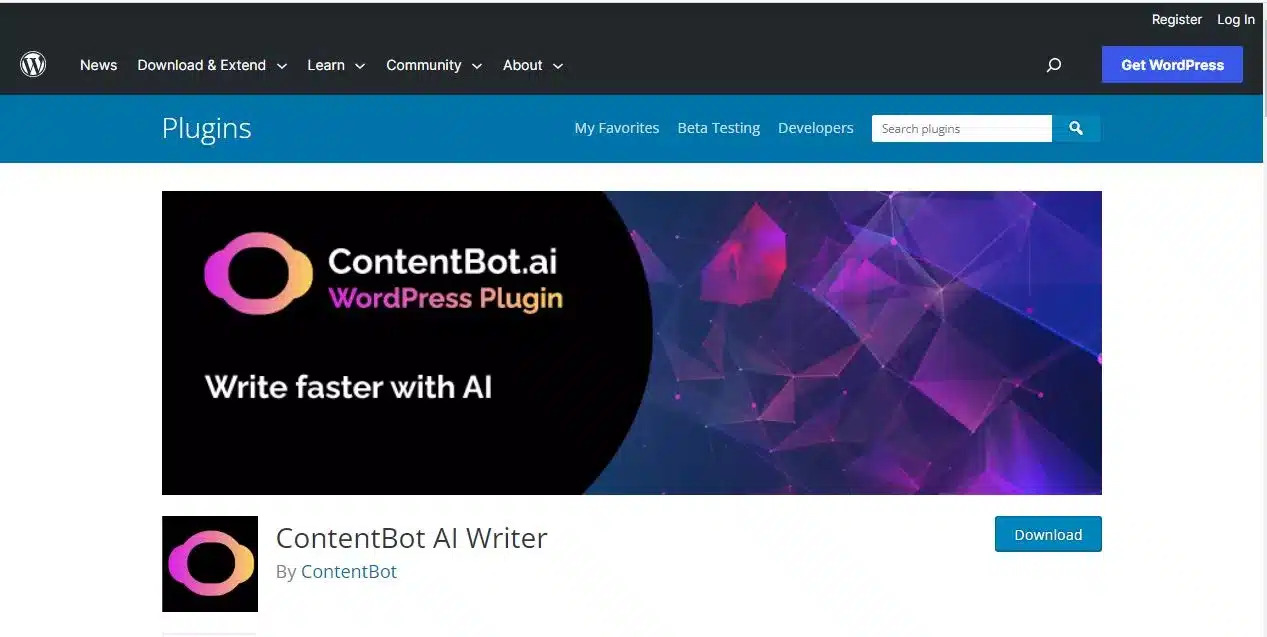 Troubleshooting for Common Issues with the WordPress AI Plugin
WordPress is a powerful platform for website creation, and AI plugins can help streamline the process. However, it's not uncommon to encounter issues when using these plugins.
If you're experiencing difficulties with the AI plugin for WordPress, don't worry, you're not alone. Some common issues users encounter include slow loading times, compatibility issues, and error messages.
Troubleshooting these issues can be frustrating, but it's important to address them to optimize your website's performance.
By following best practices such as updating your Plugin, checking for plugin conflicts, and clearing your cache, you can resolve common issues and ensure that your AI plugin for WordPress is running as smoothly as possible.
Want to get Canadian WordPress hosting (fastest)? Click here.
Conclusion
The WordPress AI Plugin is an invaluable resource for website owners looking to optimize their sites and user experience for visitors. The Plugin provides many features, including machine learning, real-time analytics tracking, predictive optimization capabilities, and more.
Its powerful tools promise users unparalleled control over any WordPress site. With its ease of use and intuitive interface, anyone can implement an AI plugin on WordPress in just a few minutes.
As technology advances, this Plugin will only become more essential for website owners looking to stay ahead of the competition while providing high-quality content for users.
With the amount of data it stores and the customizable features that come along with it, anything is possible when one has access to a powerful AI plugin on their WordPress site.