Domain Name

, Search and Register a Domain Easily
Establish your place online with a great domain!
With 700+ TLDs, easy-to-manage domains, and FREE privacy protection, getting the perfect domain has never been easier than this.
The Perfect Domain Doesn't Exist… Oh, Wait!!!
When it comes to running a website, nothing sets you on the right path better than a unique domain that makes you stand out before your target audience. We know this, which is why we are giving you access to over 700 TLDs at unbeatable prices. There is much more than .com for you; here are our most popular TLDs
Why Choose N6 Cloud domain purchase services
We believe in keeping it simple while giving you a ton more than you can ever bargain for. With N6 Cloud Servers, you are guaranteed robust cloud infrastructure that offers fast and reliable solutions for all VPS uses. When you choose N6 Cloud, you are also choosing
Hassle-Free Domain Management
We have simplified domain management so you can have all the control and flexibility you require without the boring and frustrating technical bit. From your domain manager page, you will have full control of your domain and be able to make the changes or updates you desire whenever you want to.
We understand the never-ending battle for catchy domains and how quickly unscrupulous third parties can snatch up domain names. To ensure you're protected, we offer an instant transfer lock once you register a domain with us, saving you from the frustrations of losing a crucial component of your site's identity.
In an age where scammers can easily misuse your contact information, you deserve to determine how much of your sensitive information can be accessed publicly. With our FREE privacy protection feature, we will automatically hide information you do not want to be shared online for the life of your domain.
Enjoy peace of mind with our auto-renewal feature that saves you from losing your domain because of an overdue subscription. You do not have to lift a finger to keep your domain active when we have you covered.
Unlimited Email Forwarding
Enjoy the freedom to create as many email addresses as you need based on your domain and forward them to existing mailboxes. The best part is that no matter how many emails you create, you will not need hosting services.
Professional Customer Support
We provide 24/7 customer support all year long. Got any concerns, questions, or ideas? We are ever available to offer expert guidance. Call us, Email us, or live chat for instant assistance.
Enjoy Your Privacy With Our Free Domain ID Shield
The privacy and security of your domain is crucial, as unauthorized third parties can easily access your private and sensitive information without it. We know how risky this is to you, and to ensure you avoid the risk of your sensitive information getting into the wrong hands, we provide FREE domain privacy protection to all our clients.
*Note: Some TLDs don't support this feature, and we do not guarantee privacy protection for these exemptions.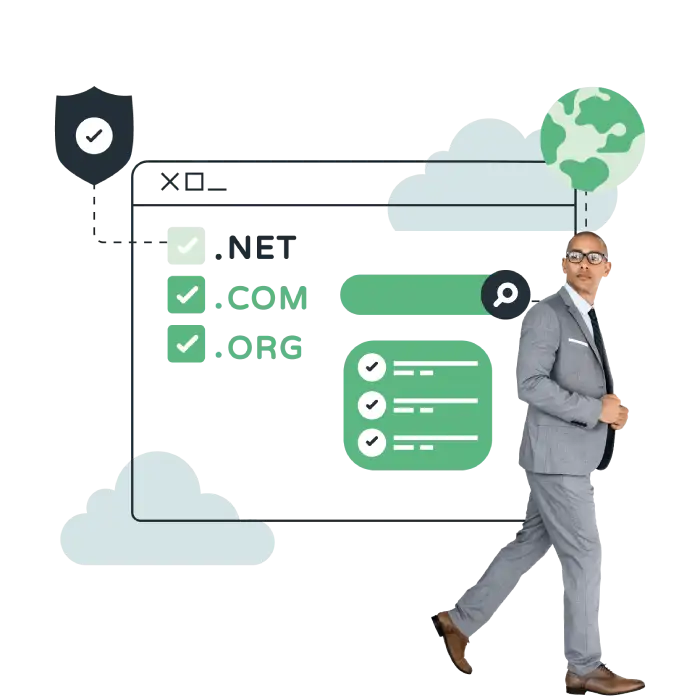 Take Control of Your Domain With Our Full Feature Control Panel
Domain management has never been simpler than our ultimate client control solution, a full feature control panel.
With this feature, you will have FULL control of your domain through simple clicks (Yes, nothing techy!) that enable you to update or make changes to your domain to suit your needs.
The tasks you will be able to manage as a client are:
● Update domain's name servers
Getting new domain name servers? Instantly update your domain's name servers without necessarily waiting for our technical team.
● Update WHOIS contact information
Instantly make changes to your WHOIS contact information whenever you start using a new address, phone number, and other contact information.
● Enabling Auto Renew
Set up auto-renew with a click of a button to avoid constantly worrying about whether you have an overdue subscription.
● Activating/Deactivating domain's transfer lock
With us, you have the flexibility to control the activation and deactivation of your transfer lock to suit your needs.
● Enabling/Disabling domain's ID shield (Privacy Protection)
We provide FREE domain privacy protection, but you can choose to disable this feature with a simple click from your domain manager page.
● Managing DNS records
With N6, you get to truly own your domain, which is why we allow you to actively be in charge of your DNS records
● Receiving EPP Code for transferring out
Need to transfer out? You can receive the EPP code without having to send an email or make a call to our customer support.
● Registering Name servers
Easily register name servers from your domain manager page to keep everything updated
● Configuring DNSSEC
Bolster your domain security by choosing the configurations you want for your DNSSEC
● Managing Email Forwarding
You can create as many personalized domain-based email addresses as you want and forward them to the mailboxes of your choice.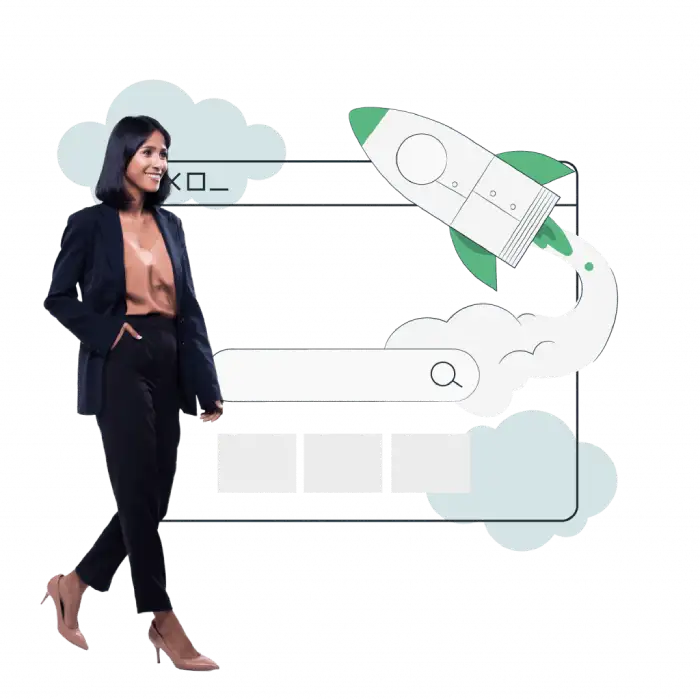 Transfer Your Domain the Easy Way, the N6 Cloud Way
We'll get your domain to its new home in no time. Do you have a domain with another company but would love to enjoy the N6 Cloud experience? Worry not, as we have made domain transfers easy and FREE. We have automated our domain transfer process, so you never experience any downtime during and after the transfer. It gets better as you will enjoy all our amazing features immediately after the transfer and instant renewal of your domain for 1 year.
Our Domain Transfer Process

● Contact Your Current Registrar
Get in touch with your current domain registrar and ask them to get your domain ready for transfer to N6 Cloud. Ensure they unlock the domain, remove any privacy protection from your WHOIS registration, and provide you with the EPP/authorization code for the transfer.
● Initiate your Domain transfer with N6 Cloud
Once you have the EPP code, you can initiate your transfer here. Simply enter your domain name, click on the transfer button, and enter the EPP code to start the transfer.
● Keep an Eye on Your Email Inbox
We will send you confirmation emails to ensure a speedy and secure transfer.
● Sit Back and Relax
Once your transfer starts, you will need to wait 5 to 7 business days for it to complete. Don't worry about it; we will notify you once this is done.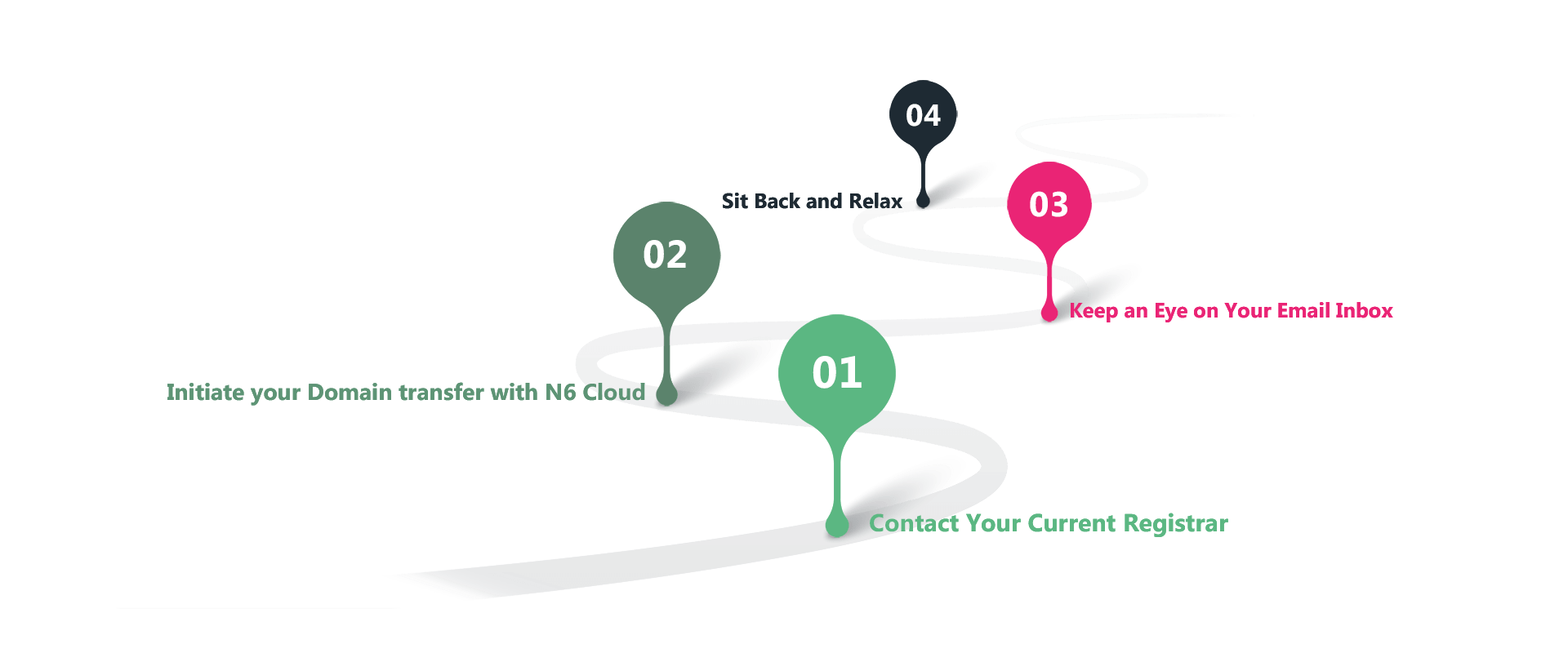 Tips for Choosing the Perfect Domain Name
Not all domain names are equal, and to solidify your online presence and add credibility to your brand, it is vital that you know how to choose the best domain name. Here are tested, and approved tips for choosing a domain name that will help grow your website audience
Your domain name is the online face of your brand, and it needs to reflect this naturally. Aim to include your brand name in your domain name.
Simplicity always wins when it comes to identity, as people easily remember a catchy and easy-to-pronounce name. If you struggle with the spelling of your domain name, you should consider getting another one.
Be Aware of trademark infringement
The perfect domain name should not violate other companies' trademarks, which is a primary reason why you should do your research before choosing your domain name. Never choose a similar name or one that can easily be confused with another company.
You want your domain name to instantly pass the right message about your brand to an audience. To achieve this, aim to make your domain name as descriptive as possible.
It is a competitive digital world, and the moment a brand's potential is realized, everyone will want to capitalize on it. Stay smart by protecting your brand as early as possible by registering its domain name while you are still creating it.
Get Creative with Domain Extensions
Domain extensions add value to your domain name, making it a critical element for consideration. A smart solution to avoid losing a domain extension to a competitor or domain squatters is to go for the most popular extensions in your niche.
Consider SEO
In today's highly competitive digital landscape, you cannot afford to lose to a smart competitor. Get on the right track for better rankings by including relevant keywords in your business line. But be careful to avoid generic and vague keywords on your domain name.
The Domain name Registration Provider That Is at Your Service 24/7, 365 Days
At N6 Cloud Domain Service, we are here to take care of all your domain needs. Make your online presence felt by creating and owning a domain with a team that cares about your success.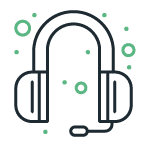 Our expert customer support team is ever available to attend to you 24/7, 365 days.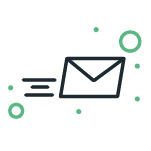 Open a Ticket at any time, and our team will get back to you.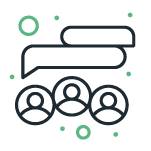 When online, simple live chat with our in-house staff 8:00 AM - 5:00 PM PT.