How to embed YouTube Video in WordPress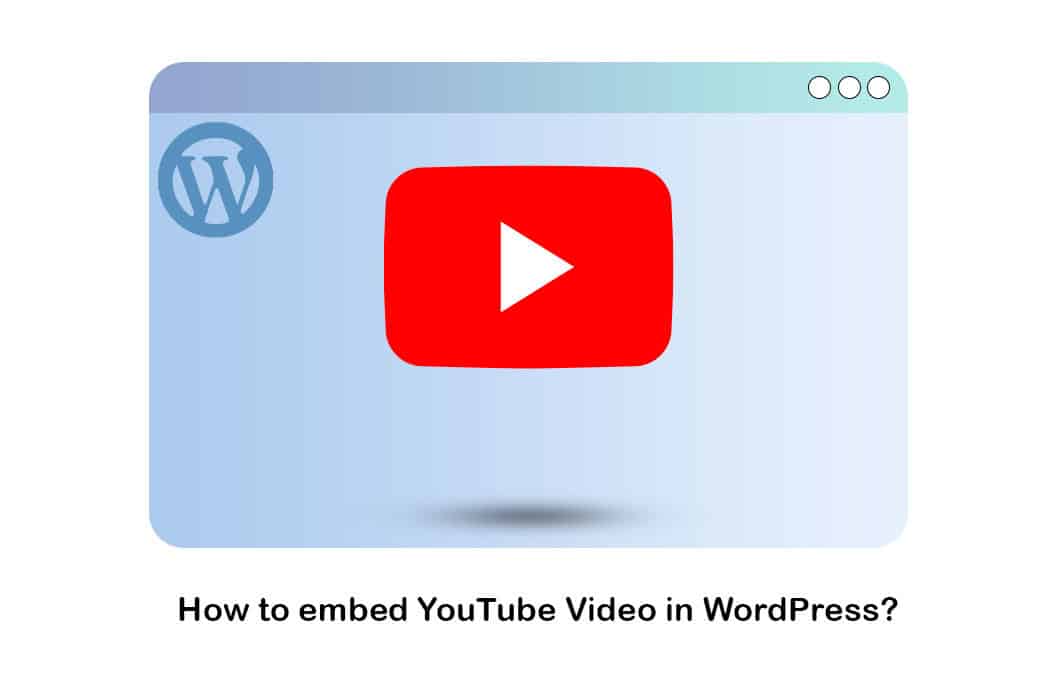 Are you looking forward to knowing how to embed YouTube videos in WordPress? This is one of the best things that you can do to engage with the users. For example, if you want to communicate something shared by a text message, you may think about embedding a video. However, it is still essential to clearly understand how to embed YouTube videos in WordPress in the right way. We will share more details with you on how to do it from this article. 
Upload Videos Directly to WordPress, right or wrong?
You should now upload videos directly to YouTube. We often see how many small blogs are running on WordPress shared hosting accounts. Even though it is technically possible for you to upload a video directly to your site, you are encouraged not to do it. That's because uploading a video directly to your host is going to cost a lot of resources. In case your video starts attracting a lot of traffic, there is a high possibility for the entire Website to crash as well. You can upload the video to YouTube and add YouTube videos to WordPress.
YouTube is the largest video hosting website that you can find out there. On the other hand, it is also the second most popular search engine. Therefore, uploading a video to YouTube can offer numerous other benefits. For example, you can make your YouTube video popular and attract more traffic. If you don't want to use YouTube, you may look at the other similar platforms available to upload videos, such as Wistia, Jetpack Video, and Vimeo.
Embedding Videos in WordPress Blog Posts and Pages Using Block Editor
As the first thing, we will share how to embed YouTube videos in Editor using the Block Editor. WordPress has an excellent auto-embeds function that instantly enables your site to receive the shortcode from significant video hosting providers such as YouTube, Vimeo, and others.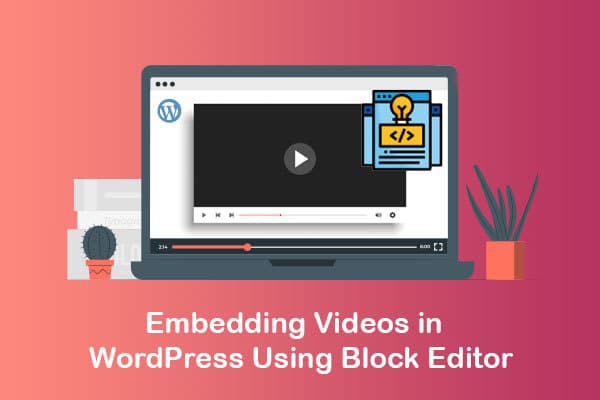 It's as simple as pasting the video Link to the Post editor. For example, you may copy the YouTube Link for just a video you wish to include. Then, enter the URL into the content section of the WordPress page or post where you plan to add the video. In the block editor, paste the video embed code.
WordPress will get the embed code & show the YouTube video within the Editor as soon as you input the video URL. To view the attached video within your current post, hit the 'Update' button and save your post.
After you've uploaded the video, you may adjust its parameters by clicking on that in the builder and using the top toolbar to make adjustments. You may edit the video's width, position, and more. You may also add a caption and keep the video's ratio on portable devices.
In the block editor, change the video display choices. WordPress can only conduct auto-embeds for video providers that are whitelisted. You'll still need to get the embed code from other websites and insert it into your blog entries. If you wish to upload a video from such a website that isn't on this list, you'll need the video's entire HTML embedding code. Try copying the HTML code from the video site and put it into the author's 'HTML' block.
Embedding Videos in WordPress Using the Old Classic Editor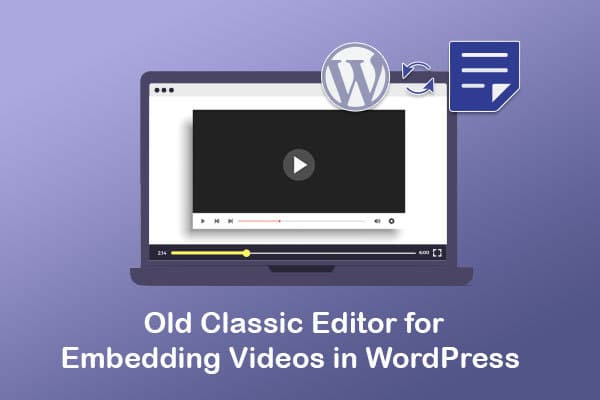 You can adhere to the same steps that we shared above to go ahead and embed videos in your WordPress website, even if you are using the classic Editor. You can go to a video streaming platform such as YouTube and then copy the URL of the video. Then you can paste that inside the Editor. If you are using the Visual Editor, it will be possible for you to look at the preview of a video.
When you are using the classic Editor, you will not be able to configure width adjustments. Hence, you need to understand that the features to tweak the videos are pretty limited. However, it will still be possible for you to upgrade to the new block editor on YouTube and get your work done. You may do this even at a later stage.
Embed Videos in WordPress Sidebar Widgets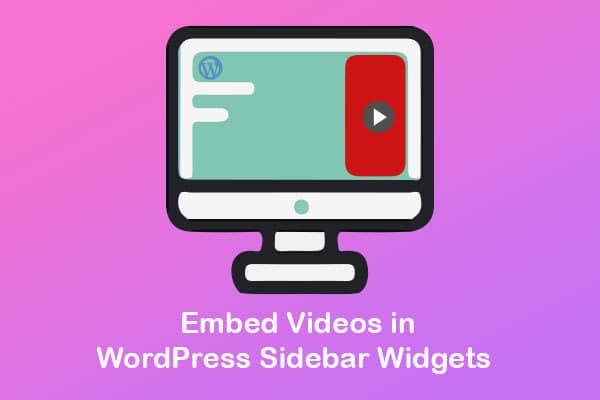 You can embed movies in the WordPress side widget as you do in posts and pages. In your WordPress dashboard, navigate to Appearance, select Widgets, and select the 'Plus' add block symbol. After that, use the search box to look for 'Video.'
Then choose the kind of video you would like to upload by clicking on the block. YouTube, TED, Vimeo, and other sites are examples. To the widget, add a new video block.
Next, put your video link into the box, and press the 'Embed' button, which will be placed in the widgets area immediately. After that, click the 'Update' button and the video widgets, which will appear on your Website. Update the embed URL by typing it in. You may now watch the video live on your Website. The movie will scale according to the size of your exhibit higher.
Using WordPress Video Embed Plugins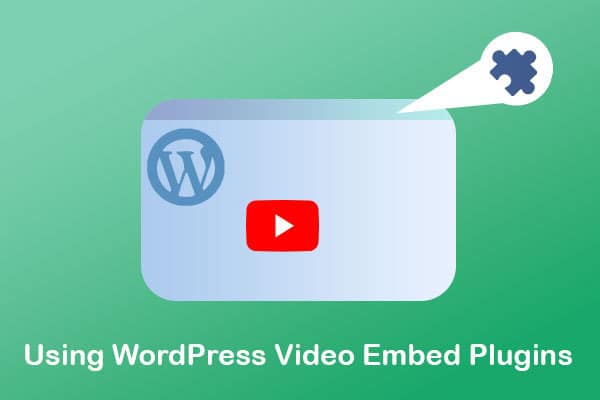 There are multiple plugins available for you to embed videos on your WordPress website. Here are four such plugins that you can use to get the job done.
The WP YouTube Lyte plugin allows you to lazily load your videos while also improving the performance of your Website. YouTube only begins operating when your users click upon that video thumbnail, slowing down your Website. Once you have a video gallery, this is extremely useful. Instead of the entire gallery being always heavy and exhausting your Website's performance, you need YouTube to require more speed after the user has picked on a video.
The YouTube Subscriber bar would show a YouTube subscribe button under the embeds of YouTube videos within your WordPress website. If you are looking for a convenient method to increase the total number of subscribers under your YouTube account, this is the best option. If you continue to upload good-quality videos to YouTube, you can see how your subscribers are increasing rapidly.
Smash Balloon YouTube Feed Pro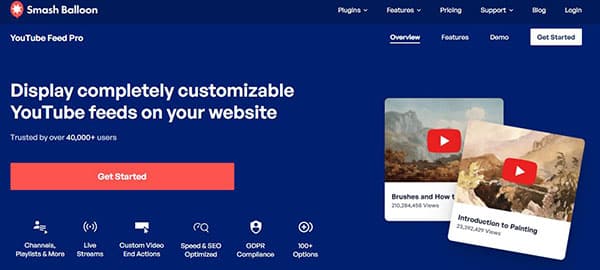 Smash Balloon YouTube Feed Pro is among the greatest Website YouTube video galleries plugins available. It enables you to integrate all of your channels on YouTube videos in a gallery style that you may customize. It can automatically combine YouTube episodes, merge streams, add live streaming, integrate YouTube playlists, etc. It also contains likes, comments, shares, and responses, contributing to your social proof. You may also use a free app of the YouTube feed plugins to connect your YouTube easily feeds to WordPress. You can also combine the Smash Balloon YouTube feed plugin with the Social Wall plugin to create a single page that displays all of your social media material from Facebook, Twitter, Instagram, and YouTube.
The YotuWP Plugin is a simple plugin to use. This plugin is ideal if you would not want to do anything but embed YouTube clips on your Website. The plugin also supports video slideshows and playlists. YouTube videos from the playlist, users and channels may also be embedded. It's an excellent plugin for beginners who want to deliver movies to their viewers.
Embedding a YouTube Video with an iFrame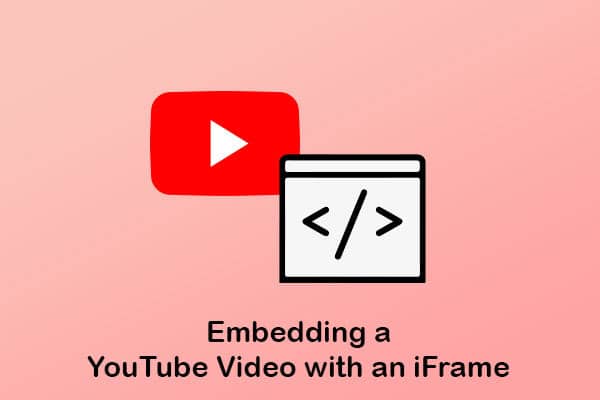 If you wonder how to embed YouTube videos in WordPress, you may think about using an iFrame. However, this is a bit of a technical process, and you should proceed only if you are technically sound enough to get the job done. However, this method can provide more freedom for you to design the look and feel of how you are embedding your video on YouTube.
As the first thing, you will need to copy the embedded code on YouTube. There is no need to worry too much because YouTube will provide you with the exact embed code that you want. You need to click on the Share button of a YouTube video and then pick the embed option.
Next, you will need to copy that code into your WordPress website. This should be done by adding a new block and selecting Custom HTML. You can paste the embed code inside custom HTML and save it. After that, you can update the WordPress post, and you will be able to see the video being streamed.
Conclusion
You have a clear idea of different ways to embed a video on a WordPress website. It is up to you to follow these methods and pick the best one based on your preferences.