What's the Difference Between Multi-Cloud and Hybrid Cloud Computing?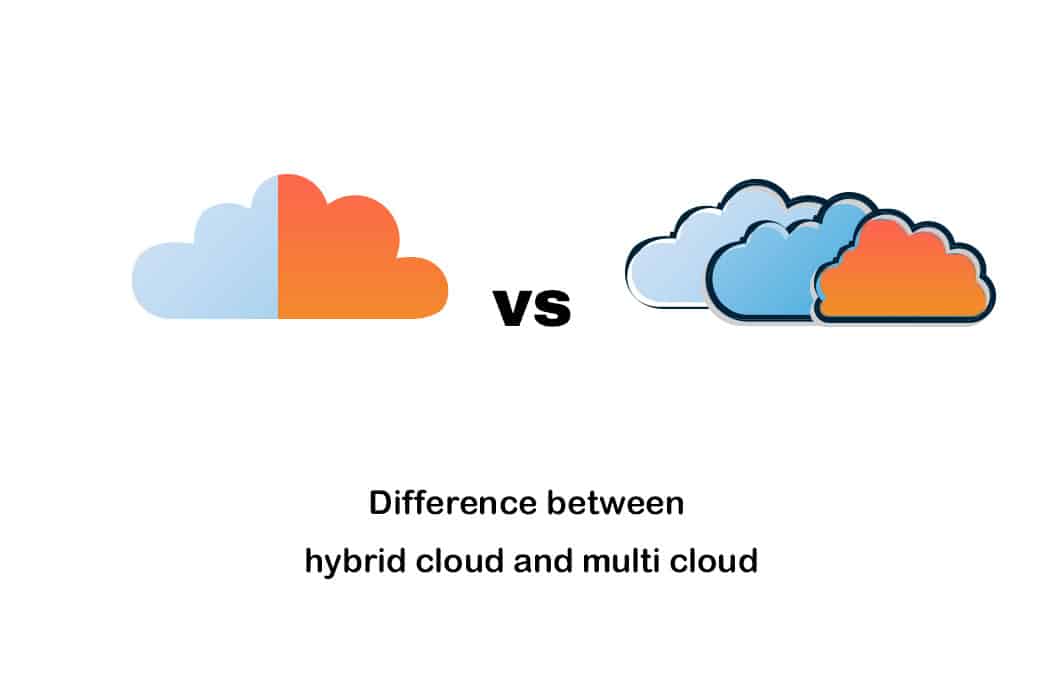 The concept of difference between hybrid cloud and multi cloud is quite confusing. That's because both of them refer to cloud deployments, which are integrating over one cloud. However, there are different types of infrastructure behind them. This is the main reason why we thought of sharing this article on difference between multi cloud and hybrid cloud. You may go through the article and figure out what it is all about.
What is the Multi-Cloud?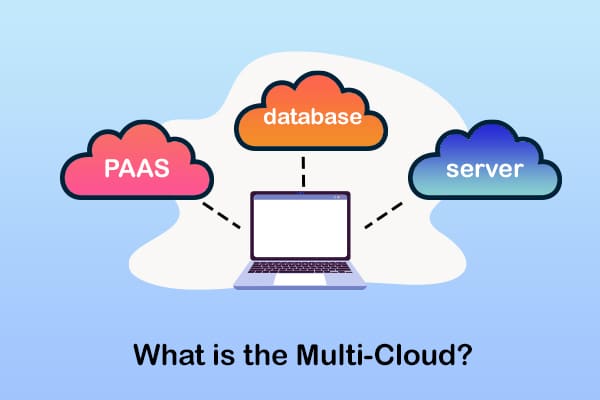 As the first part of this article on multi-cloud vs hybrid cloud, let's learn what is multi-cloud all about. Multi-cloud refers to the integration and combination of multiple different public clouds. A business can use multiple public clouds to get work done. For example, one public cloud can be used as PaaS, and the other can be used for the database. It is also possible to use another server for authentication purposes. Apart from clouds, there is a possibility to maintain on-premises data centers. This is where multi cloud transforms into a hybrid cloud.
If you want to know more about cloud server hosting price , click here.
What is a Hybrid Cloud?
In another article, we explained what is hybrid cloud. In summary, a hybrid cloud contains a public cloud and on-premises data center architecture. The on-premises infrastructure can be any IT infrastructure, including an internal data center running within the core network.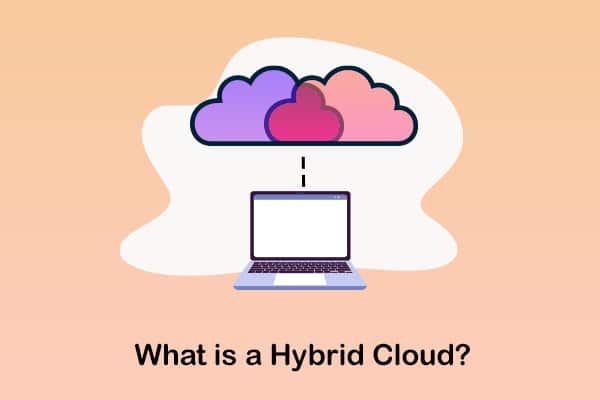 It is not so uncommon to find hybrid clouds out there. Most businesses out there in the world tend to use hybrid clouds. That's mainly because hybrid clouds provide them the opportunity to save a considerable amount of money in the long run. If you are looking for multi cloud vs hybrid cloud differences, you must keep that in mind. You will be able to adhere to the same business logic processes and data storage as you use hybrid clouds. This will provide businesses the opportunity to overcome challenges associated with on-premises architecture as well.
On the other hand, businesses looking forward to storing data in a properly controlled environment prefer to go ahead with a hybrid cloud. This ensures that you will not be storing your sensitive information in a public cloud. By understanding this hybrid vs multi cloud difference, you may proceed with using this option as well.
multi cloud vs hybrid cloud
Now you know what multi-cloud is and what hybrid cloud is all about. While keeping that in mind, let's explore the difference between hybrid cloud and multi-cloud.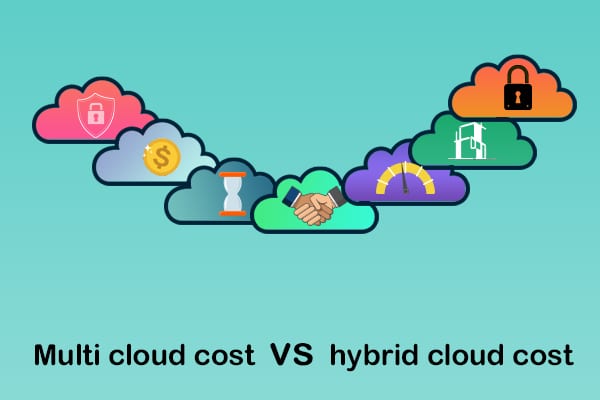 Security
A hybrid public cloud may be suitable for firms with strict regulatory demands for any fraction of their information or business logic. They can store some data in a much more tightly regulated environment, such as a cloud infrastructure and a data center, using a hybrid cloud.
One of the most significant risks that people in today's world deal with when it comes to cloud deployments is security. If you are mindful of safety, we would strongly encourage you to proceed with the hybrid cloud model. That's because the hybrid cloud model can provide security assurance and privacy that you are looking forward to getting in the long run.
For example, let's assume that you maintain highly confidential and sensitive information in a cloud. In such a situation, uploading those data to a public cloud can be risky. You can overcome that risk by storing data in a one-premises server. Hybrid cloud environments are popular among legal entities, corporations, financial firms, and healthcare providers. Going ahead with a hybrid cloud infrastructure will be possible to minimize the risk and keep peace of mind in the long run.
Cost
Compared to other forms of infrastructure, public clouds often have lower overhead and needless direct administration. Most, if not all, of the obligations associated with operating a data center, are handled by the cloud provider, such as procuring servers, applying security upgrades, and so on. As a result, firms that prioritize cost may consider a public cloud implementation or an inter-deployment.
Cost is one of the most significant factors you will need to consider when trying to choose between hybrid cloud vs public cloud. If you are looking to cut down on running costs, we will encourage you to proceed with a multi-cloud model. That's because the cloud vendor is provided with the responsibility of maintaining security updates and data centers. In other words, you will not have to bear those expenses on your own. The vendor will even take care of the cost of provisioning new users. This will help you manage expenses tasks and the overall end-user experience that you are delivering.
Architectural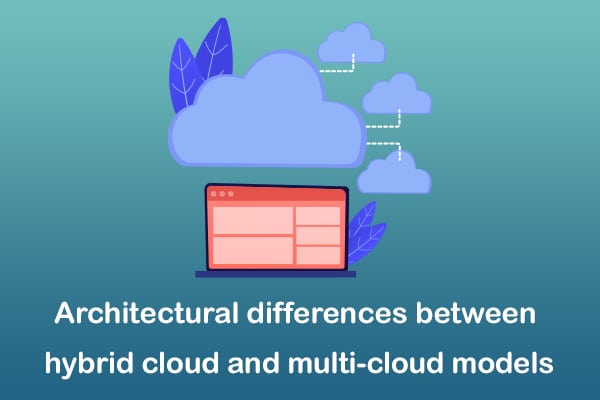 There are some architectural differences in-between hybrid cloud vs multi-cloud models. When you look at the multi-clouds, you will notice that all the deployment environments are located in public clouds. Not even a single environment would be situated locally. Due to the same reason, it is possible to overcome the process of managing on-premises equipment at all times. This would help you to decrease your overall expenses. Moreover, a multi cloud approach can help you enhance flexibility and overcome vendor-lock-in. You can get the best results based on your specific needs.
Hybrid clouds are architecturally different from multi-clouds. That's because you will also be maintaining private infrastructure. Here, private infrastructure would be on-premises environments. They would provide convenient access to enhance security. On top of that, you will be able to receive much-needed assistance with disaster recovery and compliance as well. You will also get agile ways to work as you streamline the functionality and day-to-day workflows. You will also be able to scale the most resource and cost-effective method, which will help you with getting work done.
Time and Effort Spent on Cloud Migration
Migrating all of your data and company processes to the cloud may be time-consuming. Some firms may not make a complete cloud migration right away, forcing them to choose a hybrid cloud approach.
If you aim to know more about what is cloud migration, click on the link provided!
Reliability
Multiple clouds may assist keep websites and apps up – and – running during times of heavy user demand since a backup server can take on the part of the duty if one cloud becomes overburdened. Because a task "bursts" through one cloud to another, this method is known as "cloud bursting."
Performance
 When a public cloud maintains servers near the network edge, migrating to the cloud may significantly improve performance by reducing latency.
Vendor lock-in
Using various public clouds might help you become less reliant on a single cloud provider. Cloudflare reduces vendor support by sitting in front of every shadow and improving performance, security, and dependability.
Locking into a specific vendor would introduce a series of challenges. For example, the vendor can abruptly increase the cost. This would lead you to multiple challenges. If you don't want to encounter such challenges, you should try your best to overcome vendor lock-ins as much as possible. This is where a multi-cloud environment can benefit you. You have all the freedom to pick a vendor based on your specific needs.
Can a Hybrid Cloud also be multi-Cloud?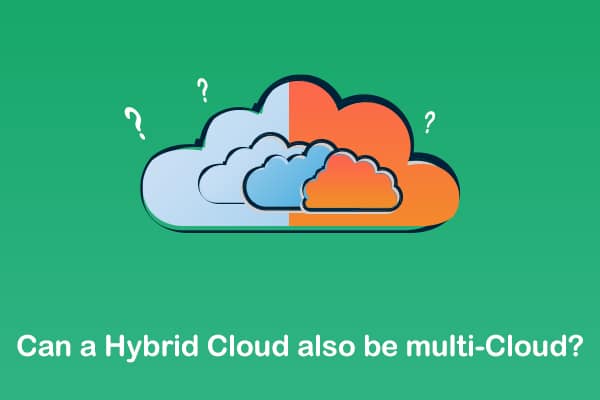 Now you have a good understanding of the difference between hybrid cloud and multi-cloud. While keeping these differences in mind, you should also figure out whether a hybrid cloud can be a multi-cloud or not. If there is a scenario where the cloud deployments incorporate multiple different public clouds, you may call it a multi-cloud deployment. Due to the same reason, you will be able to hear how people call these two terms interchangeably. However, these two terms give two slightly different meanings. It would help if you kept that understanding in mind and then selected between multi-cloud vs hybrid cloud.
Conclusion
It is high time for you to go ahead with cloud environments. However, this can be a challenging decision for some because there are many different types of cloud options available out there to consider. We hope this article on multi-cloud vs hybrid cloud-assisted that you wanted to clarify some of your doubts. On top of that, we also hope that you could overcome some of the most considerable doubts that you had to make a selection out of these two as well. The knowledge you have on the difference between hybrid cloud and multi-cloud would help you make the right choice at the end of the day and secure getting outstanding results in the long run.