Subdomain vs Subdirectory – What are they Diffrence?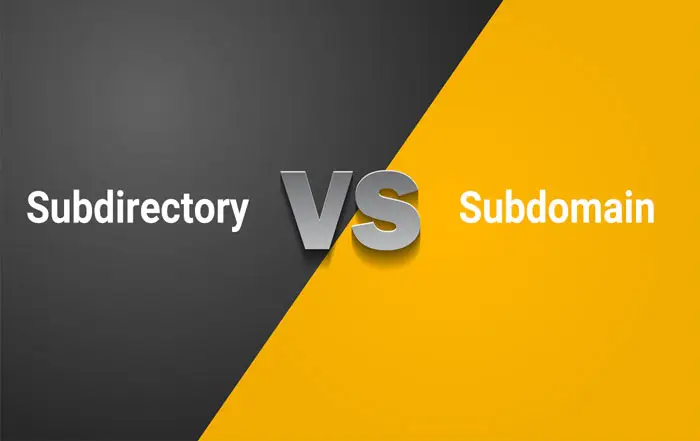 The question of whether or not to use a subdomain or Subdirectory for your website is one that many businesses face. Making the correct decision can impact search engine optimization, accessibility, and website organization. In this blog post, we will explore the differences between the two to help you make an informed decision when it comes to deciding which option fits best for your business needs. Additionally, we will discuss their effects on SEO and how they should be implemented into your web design strategy.
What is Subdomain?
Any split or extension of a domain that may be used to host different content from the main website is referred to as a subdomain. It is made by prefixing the domain name and separating the two parts with a dot. As an illustration, consider the website blog.example.com, where "blog" is the subdomain and "example.com" is the domain.
Because they permit autonomous control of content management and website functioning, subdomains can be helpful for companies and organizations that run various divisions or geographical regions. Additionally, by addressing the particular requirements of certain user groups, subdomains may improve the overall user experience. Subdomains are a strong tool for website owners to improve their online presence and offer a well-organized digital experience.
Read more about What is Subdomain in the other article.
Continue the article to know better subdomain vs subdirectory differences.
What is Subdirectory?
Subdirectories and subdomains are two often used yet misunderstood words in website building. Subdirectories, on the other hand, produce new web pages within the domain of an existing website, whereas subdomains constitute a distinct website with its URL.
To make it simpler for visitors and search engines to browse a website, subdirectories group information into categories or subjects. Because all the material is contained inside a single domain, employing subdirectories has the major benefit of enabling more effective indexing by search engines. Whether you are a novice or a seasoned web developer, understanding the difference between subdomains and subdirectories is vital in creating a more structured and user-friendly website.
Subdomain vs Subdirectory
The choice between a subdomain and a subfolder is crucial when it comes to website organization. While the two have clear distinctions, both approaches may be utilized to arrange material on a bigger website.
A subdomain is a separate domain that acts as a subdivision of the main website's content and functionality. A subdirectory, on the other hand, is simply a folder within the main website containing additional pages or content. One key difference between subdomains and subdirectories is that subdomains require a separate hosting account, while subdirectories do not. This can impact factors like website loading speed and SEO rankings.
Ultimately, choosing the right option for your website depends on your specific goals and organizational needs. Understanding the difference between subdomain and Subdirectory is crucial in making an informed decision.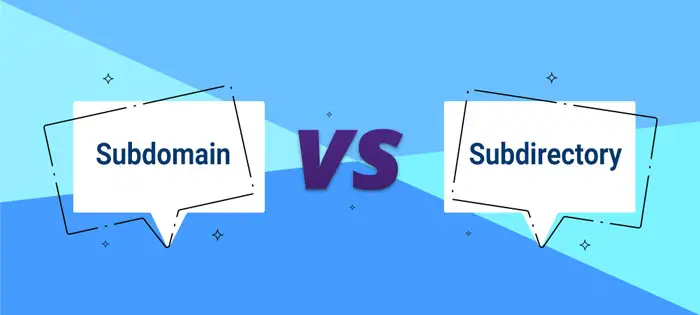 Subdomain vs. Subdirectory, which one is better for SEO?
In the cut-throat world of SEO, it is constantly debated whether subdomains or subdirectories are a more effective strategy. In order to answer this question, it is important to understand the differences between the two.
A subdomain is a separate domain created within a main domain, while a subdirectory is a part of the main domain that is separated by a slash in the URL. When it comes to SEO advantages, it is generally agreed that subdirectories are better for website organization, link consolidation, and providing a strong signal to search engines on the organization of your website.
However, subdomains may be useful if your website has distinct content with a separate branding, language, or user journey that needs to be separated from the rest of your website. Ultimately, the decision on which to use will depend on your website's specific needs and goals in regards to SEO strategy.
Subdomain vs Subdirectory Pros and Cons
Now you know subdomain vs subdirectory differences. When it comes to creating a website with various categories, the decision to use a subdomain or a subdirectory is a crucial one. The way you organize content on your website can affect its ranking, user experience, and SEO, making it a vital consideration.
A subdomain is a section of your website that operates on a separate domain name, while a subdirectory is a separate folder or directory on your primary domain. Both approaches have their advantages and disadvantages. On one hand, subdomains make it easier to manage different sections of your website.
They also improve website speed. On the other hand, subdirectories provide better control over your website's content and can help the main domain's SEO ranking. Ultimately, the choice between subdomain and subdirectory depends on your website's needs and long-term goals. By weighing the pros and cons, you can decide which option will help optimize your website's structure and effectively communicate your brand's message.
Conclusion
In conclusion, choosing between a subdomain vs. a subdirectory is at the discretion of any website owners, depending on their goals and needs. Subdomains and subdirectories may offer SEO advantages and disadvantages depending on other factors, but they can each be great tools for achieving business success.
Both options have advantages and disadvantages that should be considered by those who are debating which would best serve their requirements. Finally, before beginning to build up your domain structure, whichever route you choose, be sure to perform extensive study on the domain name registration procedure. You may make an informed choice that will assist assure long-term online success by being aware of your possibilities for registering domains.