What is Bandwidth in Web Hosting? (In Simple terms)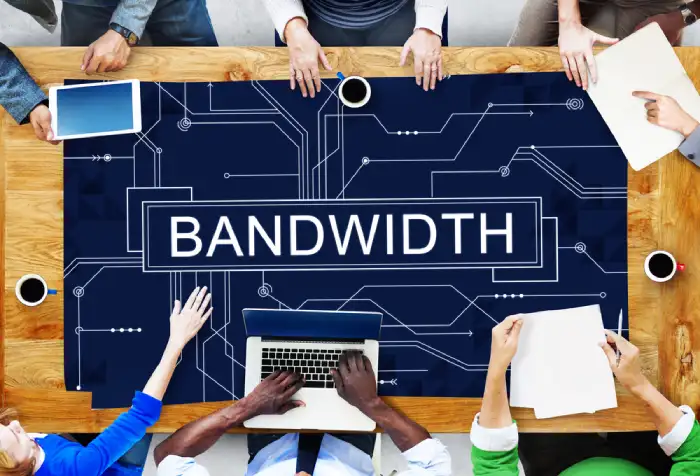 Are you considering buying a web host but want to know more about bandwidth and how much you need? If this sounds like something you are researching, read on for an overview of the usage and importance of bandwidth in web hosting.
Bandwidth plays an essential role in providing users with fast speeds, reliable performance, and a great website experience, so understanding its purpose is particularly important.
In this blog post, we will go through all bandwidth-related aspects, such as definitions, calculation procedures & tips on managing the amount needed for your projects.
What is Bandwidth in Web Hosting?
Understanding bandwidth is an important aspect to consider when it comes to web hosting. Bandwidth refers to the amount of data that can be transferred between your website and its visitors in a given time.
In simpler terms, it measures how much traffic your website can handle. The higher your web hosting bandwidth, the more visitors your website can accommodate without experiencing slow loading times or crashing.
Choosing the appropriate web hosting bandwidth is crucial for the success of your website, as it directly affects your audience's user experience. So, what is bandwidth for website? It's essentially the lifeline of your online presence.
How to Calculate Bandwidth
Web hosting bandwidth refers to the data transferred between a website and its users. It is crucial to ensure a website runs smoothly and efficiently.
If you're trying to figure out how to calculate bandwidth, there are a few factors to consider. First, you'll need to determine the size of your website, including any media content such as images or videos. Second, you'll need to estimate the monthly visitors you expect to receive.
Finally, you'll need to factor in any additional data transfer that may occur, such as file downloads or email usage. By considering these factors, you can determine the appropriate level of web hosting bandwidth needed to keep your website operating smoothly.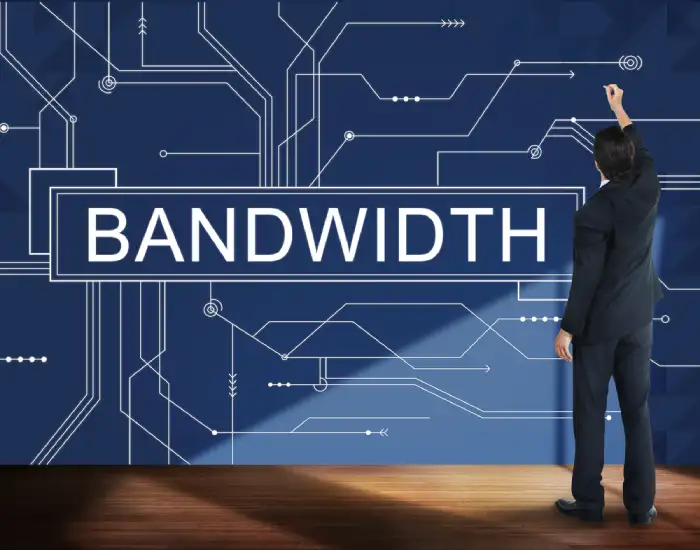 Want to get Canadian cloud hosting with high bandwidth? Click here.
What is Unlimited Bandwidth in Web Hosting?
Web hosting is essential for building a website, but it can get tricky when figuring out which one suits your needs. One term that comes up often is unlimited bandwidth. But what does bandwidth mean in web hosting? In simple terms, unlimited bandwidth in web hosting packages means no restrictions on how much data can be transferred between your website and visitors.
This means you won't be charged for data exceeding a stipulated limit. However, it's worth noting that there is no truly unlimited bandwidth, as resources are finite. So when selecting a web hosting provider, it's essential to look beyond the catchy phrases and read the fine print to understand what you're signing up for fully.
What is Monthly Bandwidth in Web Hosting?
Web hosting is an essential aspect of building an online presence. Many factors contribute to choosing the right hosting provider, including monthly bandwidth. Monthly bandwidth refers to the data transferred between the website and its users in a month.
It includes the total number of visits and pages viewed on a site. But, if your website has high traffic with a plethora of multimedia content, you require high monthly bandwidth to ensure your website is always available and responsive to users. In contrast, low monthly bandwidth is ideal if your website has minimal traffic. Monthly bandwidth is a key consideration when selecting a hosting provider and can impact your website's performance, speed, and reliability.
How Much Bandwidth Do You Need for Your Website
When it comes to hosting a website, there are many factors to consider, including bandwidth. Bandwidth is the amount of data visitors can download from your website each month.
Understanding this concept is important because running out of bandwidth can cause your website to go offline, resulting in lost traffic and revenue. So, what is monthly bandwidth in web hosting? Simply, it refers to the amount of data transferred between your website and its visitors each month.
To determine how much bandwidth you need, you'll want to consider the size of your website, how many visitors you expect to have, and what types of content you'll be offering. By understanding your bandwidth needs, you can choose a hosting plan that meets your website's demands and ensures a positive user experience.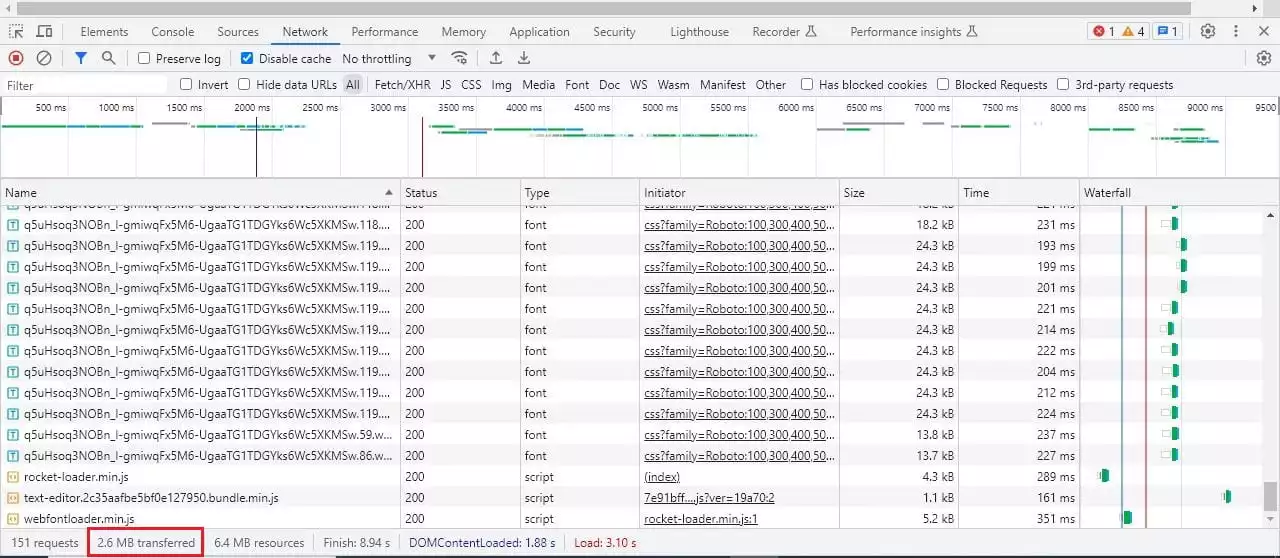 Factors That Affect the Amount of Bandwidth Required
In today's digital age, every website owner knows how important it is to have a website that loads quickly and smoothly. Bandwidth is a term that we often hear in this context. But what is bandwidth for website? It refers to the amount of data transmitted over an internet connection in a given period.
The bandwidth required depends on several factors, such as the website's size, the number of visitors, and the type of content hosted. For example, a website with many high-quality images or videos will require more bandwidth than one with only text.
Other factors that affect the amount of bandwidth required include the website's traffic patterns, the hosting provider, and the user's internet connection speed.
Understanding these factors can help website owners optimize their online presence for better performance and user experience.
Tips to Reduce Web Hosting Bandwidth Usage Costs
As online businesses grow, web hosting costs can quickly become significant. One of the biggest contributors to these costs is the bandwidth usage necessary to keep websites and applications running.
However, businesses can use some tips and tricks to reduce their web hosting bandwidth usage and save money. One effective strategy is optimizing website and app files, reducing their sizes, and loading them faster.
Another approach is to leverage caching mechanisms and content delivery networks (CDNs) to reduce the amount of data that needs to be transferred across the server. Additionally, implementing measures such as file compression, image optimization, and lazy loading can help businesses keep their bandwidth usage within manageable limits. Applying these tips and tricks allows businesses to enjoy the benefits of a robust online presence without overspending on web hosting costs.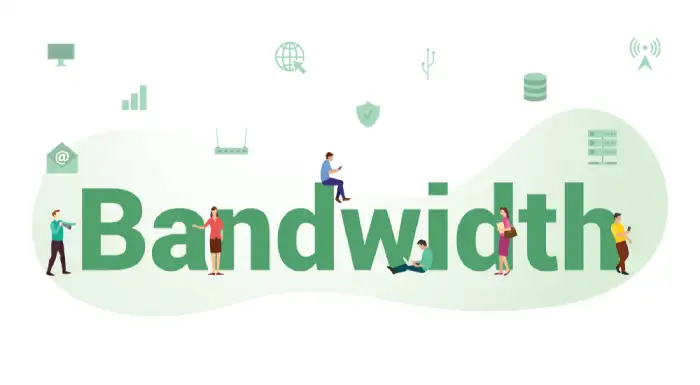 Conclusion
In conclusion, when it comes to web hosting bandwidth, there are a lot of factors to consider. It is important to understand what bandwidth is, how to calculate it, and the different packages offered.
This knowledge will help you determine the bandwidth your website requires and what package is best for you. There are also ways to reduce your website's bandwidth usage costs to lower monthly expenses.
With this in mind, if your business's website performance depends on reliable bandwidth availability and fast loading speeds, you can get Dedicated Server with high bandwidth with lightning-fast performance, so no matter how heavy the traffic load gets, your business will handle it without issue.