Difference between Cloud hosting and Web hosting; Choose the Right One!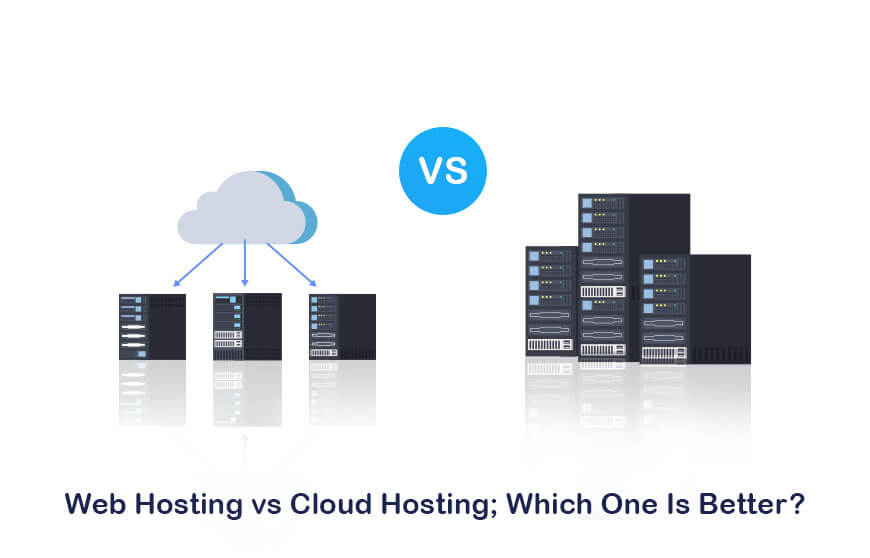 The website of your company is the most important thing, and if it is down, the name and the reputation of your brand can significantly be impacted. There are many providers that can offer various types of hosting. These options range from virtual private servers to cloud based hosting.
One of the major decisions when making a website is to choose web hosting or cloud hosting. All these systems are tiered at a similar level, offering essential functions, but by entirely different processes. Although some might argue that one is better than the other, the hosting that works for your company largely depends on your individual needs. In this article, we will talk about the difference between web hosting vs cloud hosting and which one is right for you. So, stay tuned!
Suggest you read our article about how to choose a web host
Cloud Hosting vs Web Hosting
When you want to choose a hosting service for your website, one of the primary things that you should think of is the difference between cloud hosting vs traditional hosting. But first, you have to know the definition of each one and then decide which one is a better choice for your business.
What Is Web Hosting?
It is a more general concept, referring to where and how you can store the files on your website. Essentially, the web server is where all the files on your website are stored and kept. Your website is at its heart a bundle of files that are sitting somewhere on a server. Once a user enters your domain name, the browser downloads these files and shows them from your web server. With a regular plan, you can store the files of your website on a single server. The type of server environment you select depends on the scale of your website, how much traffic you are getting, and your technical skill level.
If you aim to know about vps vs shared hosting differences, check this article out!
Types of Web Hosting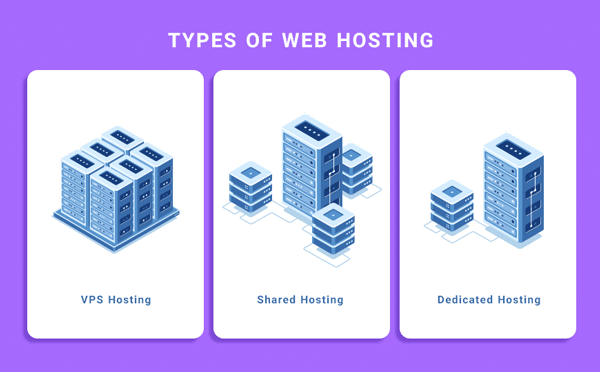 1- Shared Hosting
This is the most popular hosting type and the cheapest option as well. A single server is partitioned with shared storage, and you rent one slice of that server along with dozens or hundreds of other websites. Shared hosting is best suited for beginners interested in getting their first sites online as quickly as possible.
2- Dedicated Server
With this hosting style, you have a whole server allocated only to your website. That, along with excellent performance, gives you complete control of your server environment. Dedicated hosting, however, is much more costly and would take some technical expertise to configure and maintain properly.
3- VPS
You can still use a shared server environment with a VPS server, but you are running a virtualized server on top of it. You will have an allocated amount of space, use of CPU, memory, and more, all of which can lead to improved loading times and website performance. VPS represents a big improvement from a shared hosting environment.
Related article: cloud hosting vs vps
4- Managed Web Hosting
With Managed Hosting, you get access to a better quality server that is managed and tailored for you. Usually, it will be tailored for specific websites, such as the managed hosting operated by WordPress. Managed hosting can cost more, but you let a team of experts run and manage your server for you. The final form of hosting that you will find in your quest is cloud based hosting that we will get into next. As you will soon know, it is an entirely different form of hosting, mixing shared and dedicated hosting.
What Is Cloud Hosting?
It is a hosting method that uses multiple servers to handle the load and optimize uptime. Your website can tap into a "cluster" that uses resources from a centralized pool rather than using a single server. This means that even if one server crashes, a new one kicks in to keep things going.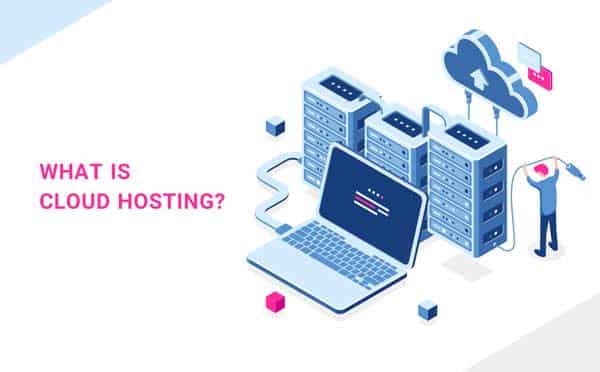 Visualize it as a network of various computers that are all interconnected. When more than one computer is hooked up to the network, the total cloud contributes to more power for the website operations. You get a section of the so-called cloud cluster from providers. This happens as opposed to traditional hosting services, in which you will get some space from a single server.
Advantages
Critical advantages include a significant emphasis on uptime, isolated infrastructure, ease of scaling, and a dedicated IP address. Below you can read more about the benefits.

1- Prices
Pricing is adjustable, so you pay just for what you are using. This way, you can quickly scale up your resources if you have a  high traffic month. And, if the traffic declines again, you scale down your needs again. You're never stuck to pay for the server space that you do not need.
2- Scaleable
It is very scalable. As we mentioned above, if there are ups and downs in your website's traffic, you need a host that will work with you. When a shared host is not going to cut it, and at the same time, a dedicated or managed host has so many server services, then cloud hosting will suit your needs.
3- Uptime and Performance
It offers outstanding uptime and performance. If you encounter problems causing slow performance and speeds of loading, then your site will automatically be moved to a better-performing server. It is used by large websites such as search engines and social networks, as no single server could manage such a load. Big projects like these either create their infrastructure or hire services from providers.
Cloud storage is a great idea when a website is mission-critical, which means the business can not work without it. Many e-commerce shops, lead generation websites, corporate websites, and high-traffic ventures often choose cloud based hosting. Ultimately, in most cases, cloud hosting is a pretty decent option which is why it can compete with shared hosting and virtual servers.
Related article: benefits of cloud hosting
Difference Between Web Hosting and Cloud Hosting
Crucial variations exist between traditional hosting vs cloud hosting. Knowing how these two styles vary will help you select the best hosting solution for your website. Here are some of the main differences the traditional hosting (dedicated and shared hosting) and cloud hosting.
1- Management
In conventional hosting, the servers operated by the hosting company feature a limited amount of storage space. The processing power can be entirely specific to a client (dedicated hosting) or shared (shared hosting) between multiple clients. A lot of website owners who are running their first website support shared hosting. Because usually, the hosting company handles server management and maintenance, including security services and updates of the operating system.
On the other hand, cloud hosting requires multiple virtualized servers to consolidate their resources to host multiple websites. Such servers are all configured to function as one entity so that a load of hosting hundreds or thousands of websites is balanced over several servers is balanced.
2- Resources
Traditional hosting companies may also provide additional services to their users, such as free domain registration, automatic backups, email account setups, a security certificate, a website builder, search engine marketing tools, and other things that a first-timer may require for getting online.
Users enjoy administrative/ root access to their hosting system, a control panel, and help with disaster recovery if a website crash occurs with cloud hosting. Although shared hosting can be more convenient for amateur web owners, cloud hosting will be the perfect hosting solution for you if you have a fast-growing site or are looking to create one.
Cloud based hosting also protects your website from malfunctioning servers. Plus, you can easily migrate to any of the servers if the current one does not perform at the desired level due to the abundance of servers.
3- Scalable
In conventional web hosting, particularly for shared hosting, a fixed amount of computing power and storage space is allocated to each website. Thus, if you wish to obtain more resources as a website owner, you may either need to upgrade your shared hosting plan to a higher level or turn it over to another company altogether. Essentially, conventional web hosting provides restricted hosting, and you will be penalized with either decreased performance or fees if you surpass the allocated space.
Cloud hosting, meanwhile, has the scalability to be one of its most significant advantages. Here, you have access to various servers that allow you to modify processing power and disk space quickly and conveniently to match your needs as they change. Some providers also give their customers an intuitive management platform to track their usage and scale of resources as required.
4- Performance
Once again, cloud hosting outshines the classic shared and dedicated hostings when it comes to performance. The more accounts hosted on a server in shared hosting, the longer it will take to process requests for information which results in much slower performance. However, in this situation, the performance of one website depends primarily on the speed and efficiency of other sites hosted on the same server.
Cloud hosting, on the other hand, provides tools that make for super-fast page loads. Speed is essential for online businesses, and if the web pages take too long to load, at least 80 percent of users do not return to a site. Most providers often include custom configurations to allow users to customize their websites according to their desired requirements to maximize performance metrics.
If you are interested to know best web hosting control panel , don't miss this post!
5- Security
Shared hosting companies typically go to great lengths to protect their servers from data breaches, mainly since many clients depend on them for protection. Traditional web hosting security plans usually provide automatic malware scanning, security plugins, SSL certificates, anti-spam, and anti-virus protection.
In general, web hosting is the safer hosting option in terms of protecting your website info. In addition to the data encryption mechanisms provided by traditional web hosting companies, cloud hosting packages often require web application firewalls, intrusion detection systems, and other monitoring tools to ensure the highest degree of protection for each account on their servers.
6- Cost
The market structure is somewhat different for conventional web hosting vs cloud hosting. Although shared and dedicated hosting is usually provided on a per-month/ annual billing scheme, cloud hosting requires a pay-as-you-go form of payment. Shared hosting is the cheapest of all hosting solutions, and many users seem to enjoy the flat fee which comes with traditional web hosting.
However, the pay-as-you-go model is still very convenient because consumers can be sure that they only pay for the hosting services they use over a given period. It can also help them manage their technology investments better. For example, if a user decides to rely on additional services, they would know how to budget toward the hosting service, anticipating the cost of the other resources they will use.
Conclusion
With all types of web hosting available, it can be challenging to choose the correct option. When you want to determine between web hosting vs cloud hosting, think about what sort of stuff your host needs. For example, if you are a complete beginner who loves your online website, shared hosting will work for you.
But if you do not want to think about running your server on a high-traffic website, it is better to find a managed host instead. Shared hosting is a conventional networking strategy, and for many larger organizations, it can be a great cost-effective solution. cloud based hosting is ideal if you encounter traffic or hits during visits or need detailed safety features.
We will recommend cloud hosting for companies and businesses that require heavy traffic. Since you do not rely on a server alone, your website can be easily and rapidly transferred to another server when there are issues. It is a good choice when you have a massive website with many resources at the rear and have speed issues.
Nonetheless, it is important to note that if you find that your chosen hosting service does not have the services you require for your business, you can always upgrade or migrate to another hosting solution. If you are willing to know more check this article .