16 Best Web Hosting Canada Reviews in 2021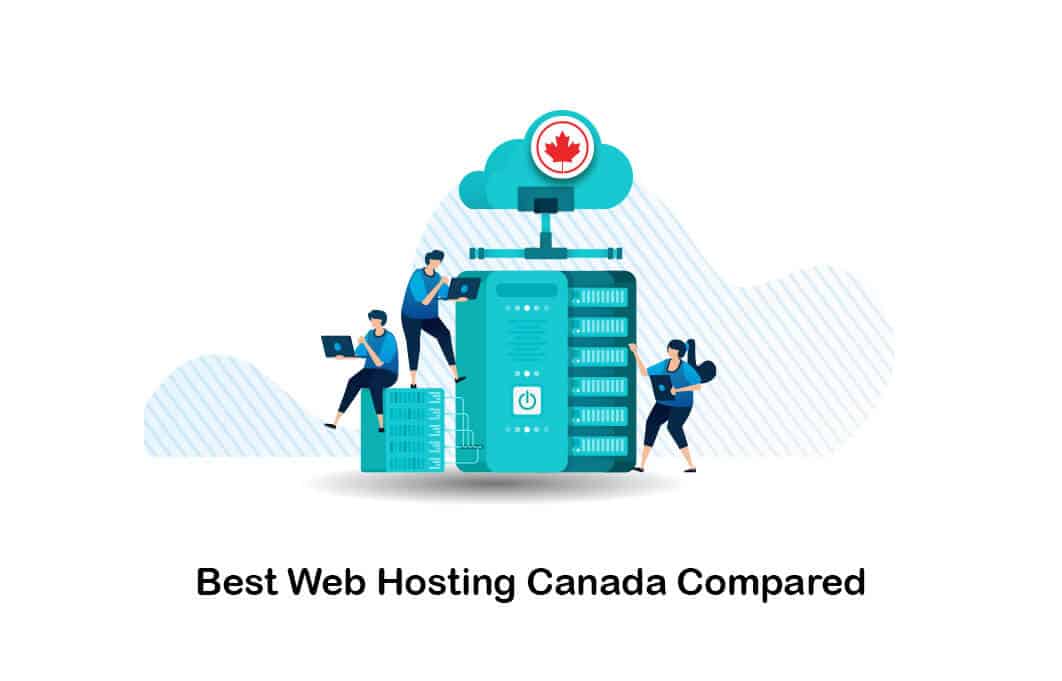 Choosing the right web hosting is essential for growing online. Users must understand and compare reviews between different hosting companies before selecting the plan. It will help the customer to comprehend the knowledge, including pricing, server location, features, and many more catalogs. The location of the webserver is a resolving factor for getting appropriate speed and uptime facilities. This post will help the users to select the best web hosting Canada and figure out how much you need to pay for web hosting in Canada? It will assist the Hosting buyers to choose a perfect hosting plan based on the web hosting Canada reviews and quality services.
16 Best Web Hosting Canada
1- Site Ground
2- Bluehost
3- FastComet
4- Web Hosting Canada
5- A2 Hosting
6- Hostpapa
7- Canadian Web Hosting
8- GreenGeeks
9- Host upon
10- Hostinger
11- Kinsta
12- Canspace Solution
13- HostGator
14- InMotion
15- Cloudways
16- Dreamhost
In the following, we are going to explain each of the providers completely.
1- Site Ground
site ground is the fastest growing hosting provider for professionals involved mainly in running e-commerce or WordPress website all around the world. It comes with the following features:
Plans: Three hosting plans with USD 6.99/month, $9.99/month, and $14.99/month are available.
Domain: Website limitation is one for startup plans, but the rest two programs allow linking unlimited domains.
Service Availability: It doesn't own any server in Canada, and neither provides customer support in the local region.
Extra features: User can avail the benefit of using the unlimited email address, databases, and bandwidth
If you are willing to know the cloud hosting benefits , this article can help you!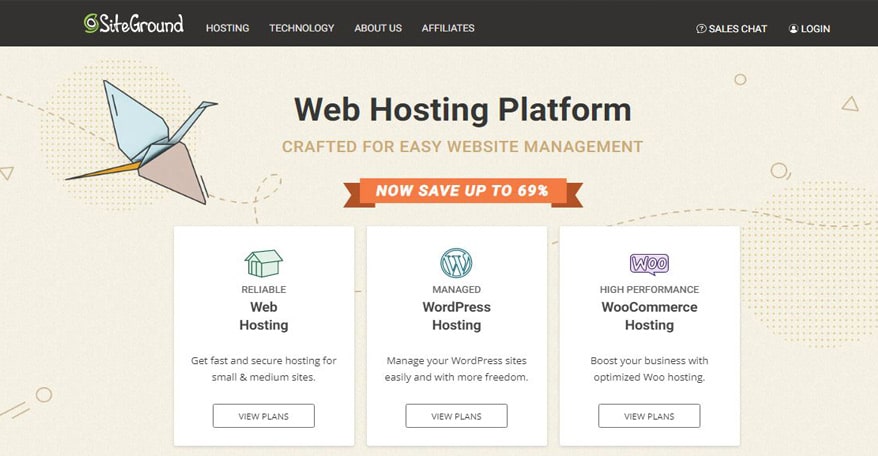 Pros
You have the option to choose your server locations.
Affordable pricing on the various plan.
Comes with advanced security features.
Many free features to enhance your web hosting are offered with each project.
Cons
Entry is easy, but when it comes to renewal, the cost is too high.
Storage capacity is very low for beginner web hosting plans.
No option to upgrade the shared hosting to VPS or dedicated plans.
Customer Support
SiteGround is always there for your rescue when things are not going as per the plan. A well-prepared customer support team member will assist you in getting out of the crisis and making your site active again.
The team is capable of handling all kinds of server-related problems. The friendly nature of the group would allow you to communicate pleasantly.
Reviews
SiteGround Web hosting plans are beginner-friendly. Whether you are looking for a hosting blog or an advance WooCommerce website, the Siteground features will enable you to make your full-fledge website live in a minute.
A wide variety of hosting plans give you access the advanced features. Additionally, the server hosting is backed by Google's most powerful processors. It delivers sub-300ms loading speeds with an uptime of 99.99%. Also, enjoy the free SSL Certificate for all websites hosted on the server. Managed WordPress site comes with 10GB of storage.
SiteGround is compensating for their lack of VPS and dedicated options with the premium cloud hosting plans. A user who looks for future upgrades can quickly expand their business with cloud hosting resources.
Sitegound has redefined server hosting with a strategic plan to allow users to enjoy cheap hosting services without compromising on essential features. We appreciate how Siteground has made server hosting possible for beginners and small businesses who do not want to deal with a high upfront cost.
2- Bluehost
Bluehost is the recommended hosting provider for WordPress users. It comes with extensive categories of hosting plans. Some of the highlighted features are:
Plans: Three schemes with $3.58/month, $6.44/month, and $7.09/month are available.
Website & Disk limitation: It allows to host only one website with disk space of 50 GB on the plan of $3.58/month, but there is no restriction of bandwidth and website linking on other programs.
Data centers: It doesn't permit selecting a location for data centers, but customer support is available globally to resolve queries.
Domain: It offers a free domain for one year for new users
If you aim to know the difference between plesk and cpanel , don't miss this post!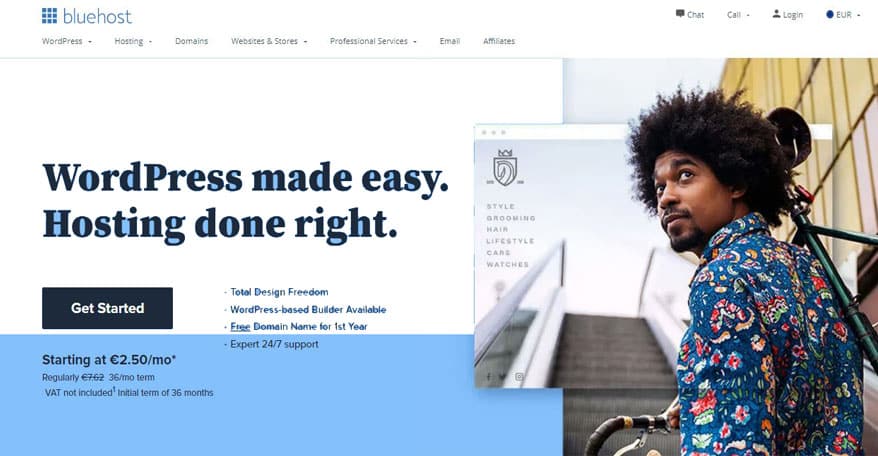 Pros
• Pricing and package are designed to meet the beginners need
• Cheap hosting packages are available
• Good customer support
Cons
• Compared to the competitor, the price is a little higher. However, the difference may be negligible if you prefer quality over quantity.
Customer Support
Bluehost has been in the business for quite a long time. Their team has gained a significant amount of knowledge solving various kinds of hosting problems. When you approach them and share your problem with the team, they will immediately reach the problem and fix it in a minute. You will be amazed to see how the customer support team solves the problem without needing additional details. They got administrator access, so they do not rely on your credentials. Once you verify your identity with the given login details, their team will manage the rest.
Reviews
Bluehost is one of the top players and highly influential web hosting companies. No matter what you search online about web hosting, you will encounter their name somewhere in the list. Because of their excellent marketing technique, they are available everywhere. So we thought we should try their web hosting services.
The first thing you have noticed in the blue hosting user panel is that they have built an amazingly simple and easy-to-understand cpanel. It is beginner-friendly and requires no effort to control. Bluehost has made it easy for the users, making them stay loyal to the Bluehost for an extended period.
This is the reason behind the too many positive reviews about Bluehost on the web. The loyal customers are spreading the word. If we talk about the hosting services, so they are as per the standard. Once you make your website live, you do not have to change or customize your plan to meet the growing demand.
3- FastComet
FastComet is the most preferred web hosting provider of Canadian origin. It can be the
best web host Canada for driving websites to targeted locations. Some of the service features include:
Plans: It comes with three essential plans of $2.95/month, $4.45/month, and $5.95/month
Storage limitation: The primary plan user gets 2GB of disk space with 15 GB SSD storage. The storage gets doubled to triple on the other higher plans.
Bandwidth: It provides traffic limitations because of the targeted region. The highest can plan handles traffic up to 1 million per month.
If you are intersted to learn how to connect domain and hosting , don't miss this post!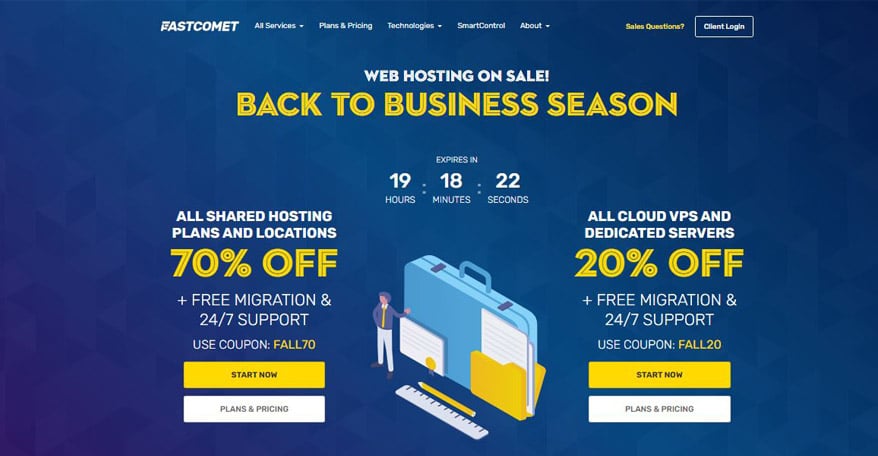 4- Web Hosting Canada
It is famous by the name of WHC in Canada. The plan gives installing access to more than 300 web apps, making it very easy to build and launch websites. This facility ranks it among the best Canadian web hosting companies. Some of the fantastic features to explore are:
Pricing: Basic plan comes with $3.99/month, but at the time of renewal, the user has to pay $5.99/month for the same project.
Server and Customer service: Both of the facilities are available in Canada. Users don't face issues related to website loading and unresolved queries.
Limitation: The Disk space limit for the mailbox is up to 1 GB, but it doesn't have any restriction for website storage and bandwidth.
If you are interested to know the best web hosting control panel , this post can guide you!
5- A2 Hosting
A2hosting is a globally famous hosting provider company. People interested in taking the benefit of the right website metrics can go for A2 Hosting.
Pricing: The regular plan charges $4.08/month, but it also has higher plans for getting extensive features.
Datacenter and customer service: It doesn't hold any data center and customer support center in Canada.
Website limitation: The basic plan has a restriction of linking one domain, but higher goals have no impediment to bandwidth and email accounts.
Pros
Perfect hosting provider for the website that requires speed
High uptime rate
Great customer support
Cons
The entry-level price is low, but the renewal rates are relatively high.
Customer Support
A2 Hosting customer support team is highly responsive. They respond to you quickly as well as deal with your query politely. Their understanding of the server problem is relatively good. They know where the problem arises and how to fix them quickly.
You can blindly rely on their customer support team during an emergency. The group offers permanent solutions to the client. If they cannot fix any of the problems related to the website, they will provide you with a solution to avoid similar issues in the future.
Reviews
Our test conducted on the various hosting company has shown that the A2 hosting offers solid uptime to the website. The A2 hosting servers are highly reliable for running heavy scripts and multi-functional websites with excellent browsing speed and quick run time.
A2 hosting offers many packages to the users, making it easy to buy and launch their website in a minute. From basic to advance, all kinds of hosting packages are available to the users.
Easy upgrade offers instant access to more resources when demand surges and visitors are growing on your website. The support team is accessible all the time for your help. In our experience, the A2 Hosting platform has done a tremendous job. It is highly recommended to small businesses.
6- Hostpapa
It is the best web hosting Canada Company is running since 2006 and has hosted millions of websites till now. It has been the choice of people in Canada because of its quality features like:
Plans: CAD 3.95/month to 5.95$ on regular and pro plans
Data Center: Server location in Canada with local customer service
Bandwidth: Unmetered bandwidth with 100 GB SSD storage & Static website builder for building two pages.
Domain limitation: Basic plans allow hosts only two websites, but higher plans don't restrict hosting sites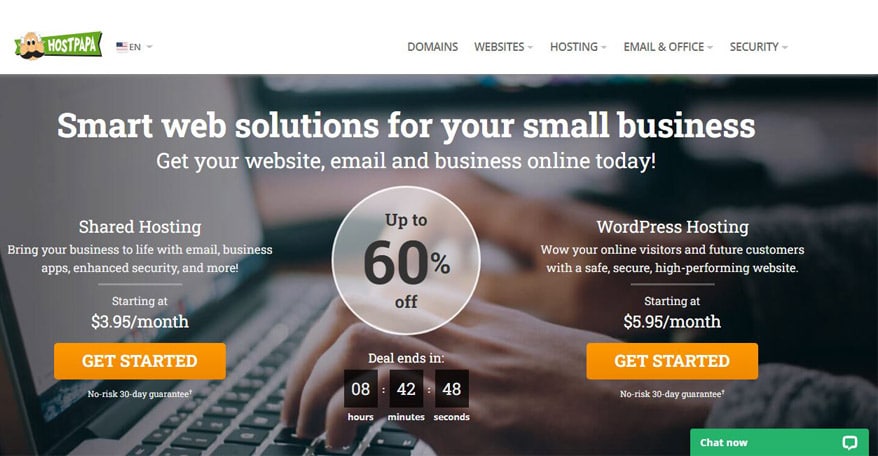 Pros
• The hosting plan comes with SSL Security.
• Get a free website builder.
• Free domain registration for first-time buyers.
Cons
• Customer response time is delayed during peak hours.
Customer Support
HostPapa customer support is well equipped with the necessary tools to handle any technical query in a minute. You get 24×7 consent with a highly experienced team working on the job to deal with any emergencies. Whenever you get stuck or need technical help, raise the query, and the team will do the needful. HostPapa customer team is polite and deals with the client with patience.
Reviews
HostPapa has gained our trust with its reliable and fast data hosting services. One of the critical characteristics of their success is instant access to their services.
We have tried different ways to identify the loopholes in the services, such as manipulating the server data to find the backdoors, functional errors on the server, information leakage from the pages, site downtime monitoring, and data security-related issues. On every parameter, HostPapa has come out as excellent in dealing with essential web hosting services.
Furthermore, we tried hosting multiple sites using different users' accounts to verify their reliability. The test was successful, and we haven't faced any critical issues during the run for a year.
One drawback that we faced during the trial was the customer support waiting period. If you tried to contact customer support during peak hours, there might be a slight delay in the response.
The site gets a faster loading time in Canada. When you approach the team through live chat support, you will be sent to the queue, which could frustrate some users who want instant customer support.
Also, the majority of the HostPapa servers are located in Canada. It gives the local Canadian companies an advantage but may not be fruitful for the businesses working in other regions. If you are looking for the best website hosting Canada, then HostPapa is the solution to your hosting need.
Overall the hosting service offered by HostPapa comes with a complete package with added security layers. Also, the price is comparatively low, which will help you save money on the hosting plan.
7- Canadian Web Hosting
The name itself suggests the origin of the hosting provider. It provides the best web hosting Canada services for its highly optimized service in Canada. It also offers SEO and email marketing tools instead of Hosting services. Some of the features available to explore includes:
Pricing: The starter plan comes with a price of $3.89/month. Higher plans that include PRO and ENTERPRISE plans charge $3.92 and $11.89 per month.
Site Transfer: Users can quickly transfer their site data for free.
Data centers: The server's Geolocation is available in Canada. It builds an opportunity for Canadian people to avail self-made services.
Customer support: It has very reliable customer support that doesn't take more than 6 hours to resolve any queries.

Pros
Focus on the Canadian business and their needs makes this company more reliable for the local companies.
Years of experience in the industry.
Every package is designed to offer an edge to the companies in Canada.
Free integration of Cloudflare services to improve the speed.
100% Canada-based servers.
Pricing in CAD
Cons
Non we detected during our research. They are the best in what they offer.
Customer Support
Web Hosting Canada has a brilliant customer support team available all the time to solve your query. They are available on live chat, phone calls, and email. Choose any of the sources to contact and get your query resolved.
Reviews
The company is based in Montreat, Canada. When we purchased their services, we were a little sceptical about their performance. They are operating only for the local clients living in Canada. The company has many international clients as well but is primarily focused on local companies.
When we signup for the service, the first thing that we have observed during our operation is they are highly dedicated to the Canadian business. The vision can be experienced when you login to the control panel. Simplify version of the control panel makes it easy to manage the resources.
Some add-on services are given for free, which helps local businesses to maintain their website effectively. Fast loading pages, easy-to-access server, one-click script installation, and many other essential services are offered to the client to manage their website comfortably. It is the best web hosting for small business Canada.
8- GreenGeeks
GreenGeeks can be the best option for small Canadian business persons. It is highly compatible with managing WordPress, VPS, and dedicated servers. Some of the features include:
Plans: It has Standard, Pro, and Enterprise plan that charges $3.89/month, $3.92/month, and 11.89/month
Datacentre: It is located in the Vancouver and Montreal region of Canada. This facility rank it among the Canada web hosting companies.
Website and space: The only hosting provider gives unlimited disk space for all the plans. But the feature of linking total domains is only available in the PRO and ENTERPRISE plan.
If you are willing to know the best shared hosting for small business , don't miss this post!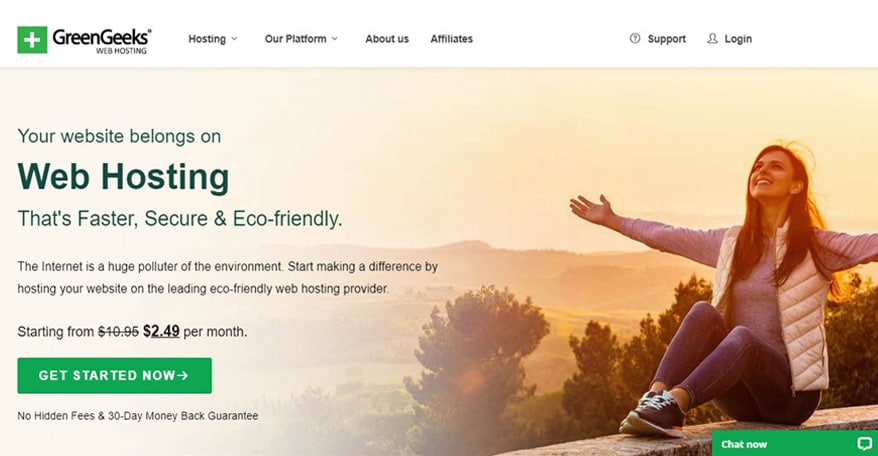 Pros
The company is focused on sustainability through its eco-friendly services.
Get unlimited disk space on the beginner package.
Highly reliable 24×7 and 365 days customer support team.
30 Days Money back guarantee on all packages.
Many free features are bundled in the box.
Cons
Upgrade facilities are limited.
Customer Support
GreenGreek customer support team is fully equipped with the tools and knowledge. They respond quickly to the customer query, answer with interest, and ensure that your problem is resolved. Every question will be kept open until you respond to them with your confirmation email or chat. GreenGeeks is committed to delivering the best customer support to users.
Reviews
Well, my experience with GreenGreek was extraordinary. We like to support the companies that are offering services powered by renewable energy. While managing the website on the GreenGeek server, we have not encountered any severe server issues. It provides good uptime and monitoring services. Every case is handled professionally by their expert team.
Hosting packages are a little higher side compared to the other players in the industry. The reasons for the high package cost is understandable because they solely rely on the renewable energy source. Companies willing to support the renewal energy source and promote a green energy-powered hosting service can get their hosting transfer to GreenGeeks.
9- Host upon
Host upon can be the best hosting provider for the Canadian website builder. The primary data center of the Host makes it the best web hosting Canada for the easy run of the website. Its features include the following:
Plans: The standard plan cost around $2.95/month but pro plans are also available that charge $5.95$/month and $12.95/month
Website and email: Users having the standard plans can work with a single website and ten emails. But, other higher projects don't have any limitation of linking sites and domains.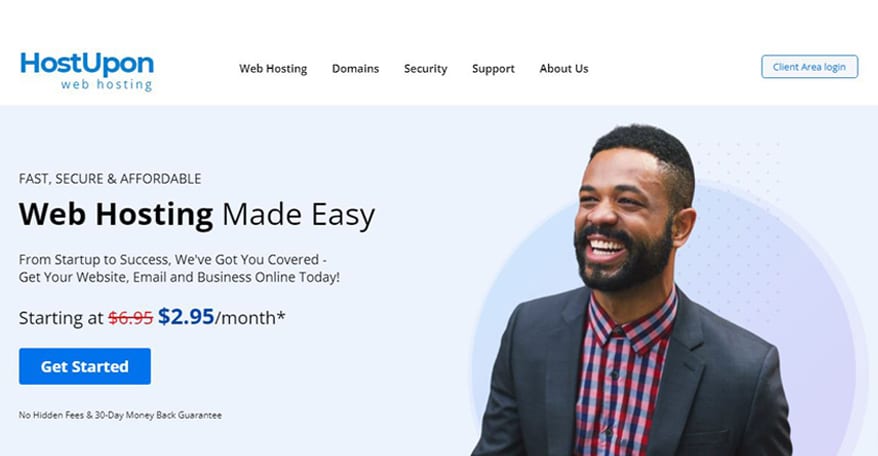 Pros
Easy to use interface.
Email account with the hosting plan.
Different packages are designed to suit all types of customer needs.
Great uptime record.
Cons
No SSL Certificate with hosting plan.
A backup facility is not available.
Customer Support
A highly skilled and trained customer support team offers reliable services to customers who reach them in an emergency. The team knows how to handle the emergency query with ease and peacefully. Knowledge-based pages are available to offer instant access to the common problem.
Reviews
HostUpon is a privately owned company based in Canada. The dedicated resources and extensive infrastructure to manage the growing demand of the users made the company one of the world's well-known hosting service provider companies. It is also the fastest-growing company in the industry, which has served more than 50000+ clients worldwide.
I hope that Web hosting Canada reviews have put some light on the various hosting companies and their services. Continue reading to know how to choose web hosting companies.
10- Hostinger
The hosting features are highly optimized for WordPress but capable of carrying out operations with MySQL and PHP. hostinger offers the following facilities:
Plans: 3 plans with $0.99/month, $2.89/month and $3.99/month
Website limitations: The basic plans allow linking of only one domain, but the rest two plans provide support to link unlimited domains
Disk space: 100 GB SSD disk storage for startup plan but no limitations for other two plans.
Customer support: It provides a team of customer support in maximum languages at 24*7
Datacentre: Location of datacentre includes USA, UK, Brazil, Netherlands, Indonesia, Singapore, and Lithuania.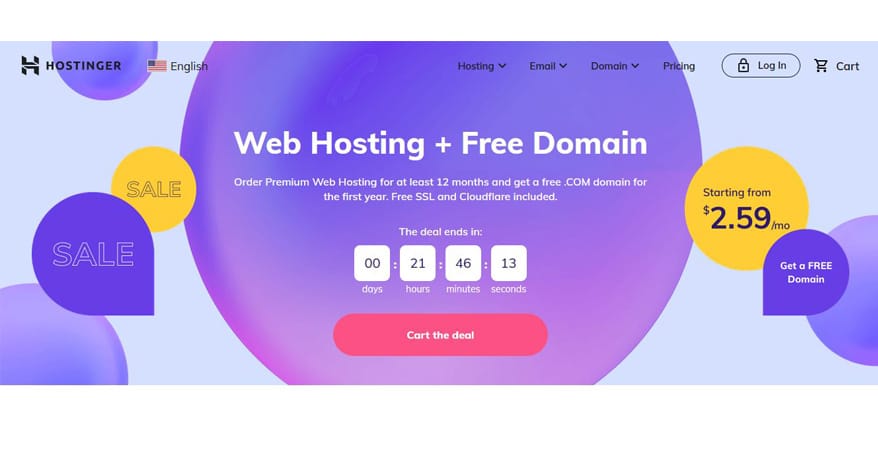 Pros
• Hostinger offers a unique website builder called Zyro.
• Get unlimited bandwidth.
• Enjoy 30 days money-back guarantee.
Cons
• Live chat is only available to the members. You must be logged in to chat with the support team, which sometimes causes a delay in reaching customer support during an emergency.
Customer Support
Hostinger's customer support team is highly trained and professional in communication. They are available 24×7 and 365 days to assist you with any query. When you get in touch with customer support, they will politely respond to your question. While chatting with them, you will realize they are very experienced and know where the problem occurs on your website. As soon as you share the problem, they will reach the exact location where the problem has arisen and apply the solution to fix it. Fast response time is one of the critical elements of the Hostinger services, which provides an edge over other players.
Reviews
We were very curious to test the services of the Hostinger on a few of the websites. Promotional pricing and various options have made us overwhelmed. All the packages are designed to get the beginner on board as quickly as possible. Hostinger has master marketing, and they know how to attract new customers with the different pricing strategies and add-on services. It benefits us as we got an excellent deal on the hosting package. If you get the hosting for more than one year, you will save a good amount on the hosting plan.
We thought the low price might result in lousy services, but when we made our site life and monitored it for a few months, we did not encounter a single issue with the server. We took our experience further and added few more websites to see how they perform. The numbers we went in the monitor were beyond expectation. Services were way better than other hosting companies in the same niche.
11- Kinsta
kinsta is among the most reputed hosting provider that can deliver a good advantage of scaling and speed in all plans. But, the prices are a little higher in comparison. Its features include
Plans: The pro plans have a $30/month pricing while the business plan charges $60/month to $100/month.
Bandwidth: The visitors limit ranges from 20,000 to 1 million from low to higher plans.
Website limitation: The basic plans link only a single domain, and other programs also have a restriction of linking only 2 to 5 websites.
Data centers: Available in limited counties like the USA, UK, Hongkong Australia, etc.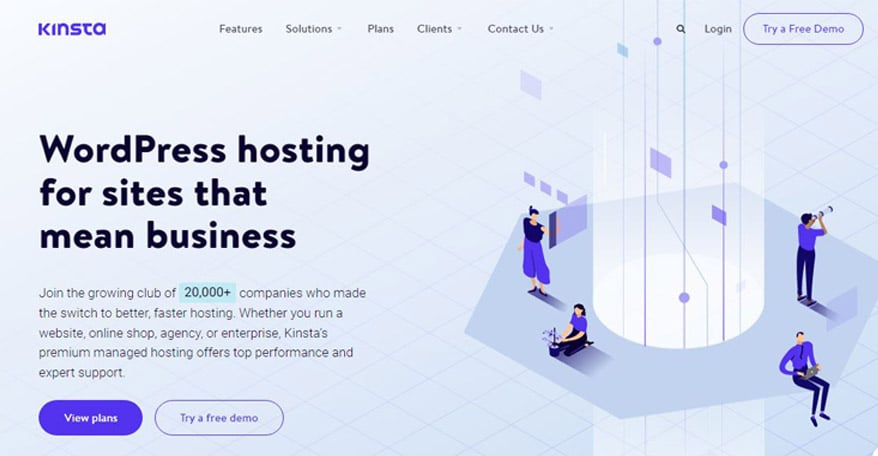 12- Canspace Solution
CanSpace solution is among the best web hosting Canada services for working with MySQL databases. The company has insisted on many awards for its amazing services. Some basic features include the following:
Plans: Three plans starting from $4.99/month, $9.99$/month to $22.99/month
Website & Database limitation: The basic plan allows working with only 5 MySQL and domains, but the higher plans don't restrict website and database limitations.
Memory: The size of disk storage for the lowest plan is approx 5 GB. Other schemes offer memory space from 50 to 200 GB. Datacenter It has many data centers throughout Canada. Users are allowed to select any of the data centers based on their targeted traffic.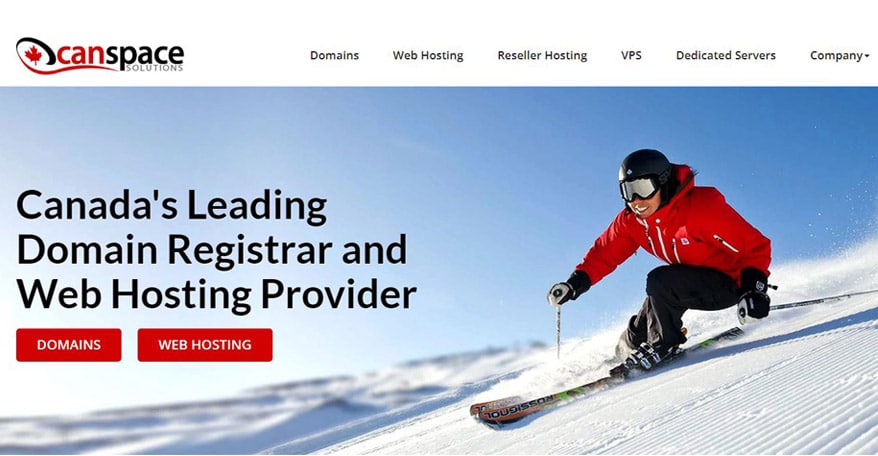 13- HostGator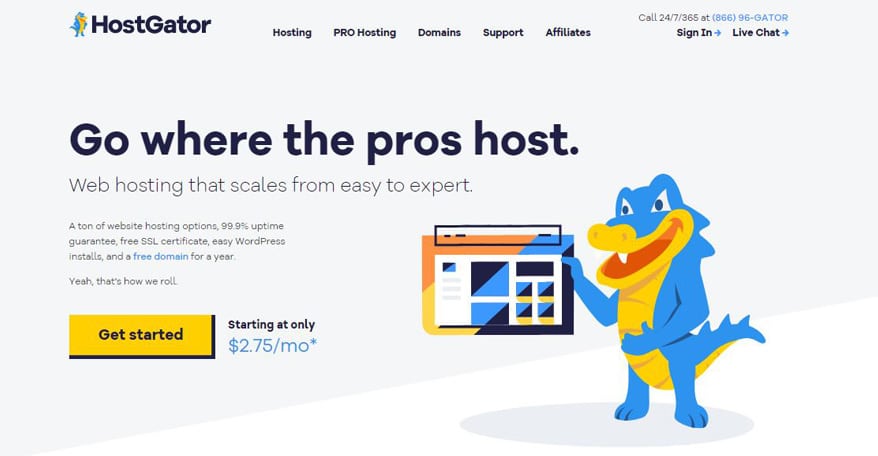 Pros
Highest uptime rate at the lowest investment
Experience customer support team
Inbuild website builder design to develop a professional quality website.
Cons
Growing customers of HostGator has increased the stress over their customer support. Sometimes you have to wait longer to get your query resolved.
Customer Support
HostGator has different departments in the customer support team that handles specific queries. Billing, Technical, Upgrade, and General questions are categories offered to the users when they reach the customer support team. Select the department and talk to the experts in the domain. This structure provides the customer support team with better management and handles each query quickly.
The only drawback with customer support is waiting in a long queue during peak hours. Sometimes the waiting period is more than 20 minutes.
Reviews
HostGator is the first choice of the developers. Hostgator has made packages for the different needs of website owners and developers. They have made the packages simple, so you choose the desired package at an affordable price. If you compare the services offered by HostGator with other top players in the industry, you will notice, the Hostgator price is always on the lower side. Their business model is designed in a way that you cannot resist their offer.
We also noticed that the entry is swift. The first-time buyer gets their hosting plan in a minute and gets on board immediately. Also, the server resources are ready to launch your new website.
No need to wait for the configuration or instalment of the software. Quickly software installation through Cpanel provides instant access to popular CMS applications that can be installed on your hosting with the click of a button.
Low-price packages have unlimited bandwidth, good uptime, easy upgrade, 24×7 customer support team, and easy scalability to the existing plan. Hostgator offers great competition to other players in the industry.
14- InMotion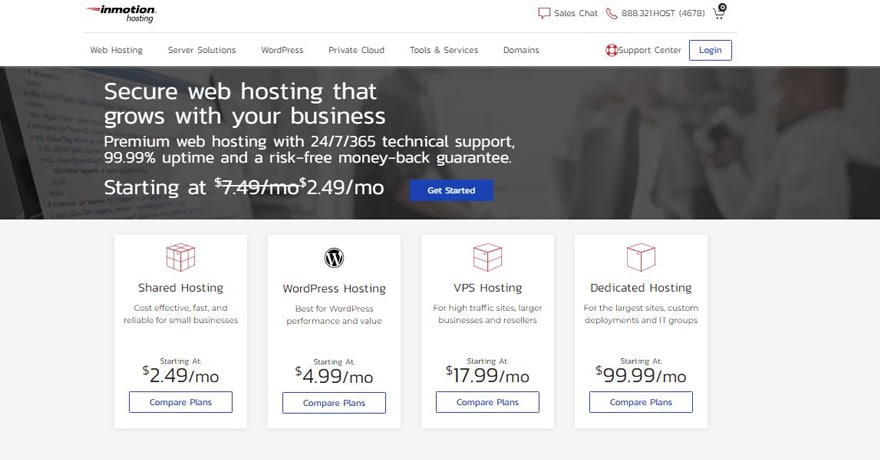 Pros
Best quality hosting services
Get unlimited disk space from the beginner package.
Advance support for the different types of apps and CMSs.
Free and Paid services combined with the plan to enhance usability.
Cons
Local data centers missing
Comparatively high cost.
Customer Support
Experience customer support team available instantly through LiveChat and email support. Phone calls are available for the advance hosting package members.
Reviews
We have become a fan of the customer support and knowledge-based content made available by InMotion. The company has reduced the strain over the customer support team by offering reliable hosting services that never go down. When you encounter an issue with your server, you have access to high-quality knowledge-based content that makes it easy for the users to reach and solve the most common problem while managing the hosting plan. We are impressed with the hosting services offered by InMotion.
15- Cloudways
Pros
Multiple cloud facilities are offered to the customers.
Cloud-based hosting provides high performance and fast loading speed.
Access to modern hosting technology.
Easily Scalable.
Cons
Costlier then shared hosting plan.
Need advance hosting management knowledge.
Customer Support
The customer support team is ready to serve through email, chat, and phone call support. No restriction on how many requests you send to the customer support team. Get in touch with the team whenever there is a problem with the hosting. Your issue will be resolved as early as possible.
Reviews
We decided to test the cloud-based services offered by CloudWays. The first thing that we noticed, the interface needed an upgrade. New users may get lost if they do not understand some of the terminologies of cloud hosting.
Also, there are high chances that users will miss essential features if they do not know what the particular features could do to enhance their hosting performance. We thought there was a big learning curve after you get the credentials of your hosting plan. Due to their advanced features, the company is primarily ranked in the top web hosting Canada.
16- Dreamhost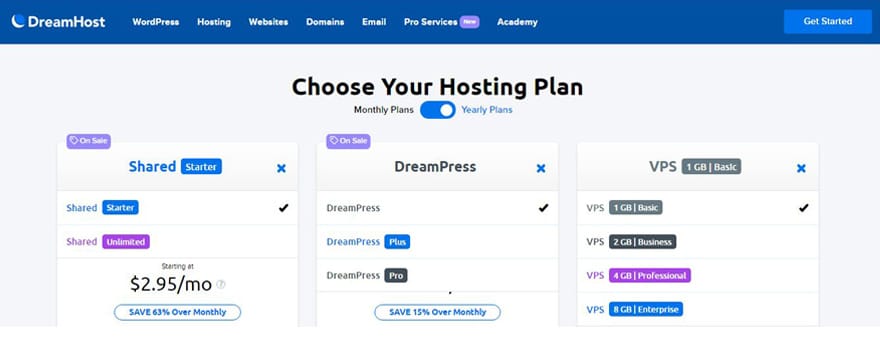 Pros
Experience the best quality service and good performance.
Get unlimited disk space.
Cons
No local server benefits to the business in Canada. The hosting company doesn't have servers or data centres in Canada.
The server's cost is too high.
Customer Support
Email support and Chat support of the Dreamhost are responsive. You can expect an immediate reply to your query. Phone call support is available for the premium members who have purchased the VPS or Dedicated server packages.
Reviews
One of the problems that we have faced with the Dreamhost is the unmanaged bandwidth. We have experienced the site suddenly slow down. We assure the slow down occurs either by increased traffic on the shared site or the system runs backup in the background, which may affect the site's performance. In both the case, the site performance is comprised. Dreamhost should work on this problem and find out some alternatives to avoid impact on the website uptime.
What To Look For in the Best Web Hosting Canada?
People interested in buying a hosting plan must check the following comparison to get an idea of contrast:
Uptime Limit
Users mostly choose the hosting services with an uptime above 99.95% uptime to fix the website loading issue.
Allowed Domain Limit
Different hosting companies allow domain linking limits in their hosting plans. Users must check the restriction of linking domains to take extra benefits.
Ease of Transfer
It refers to the facility of upgrade and website migration. Buyers must check if the hosting provider is providing a one-click upgrade from shared to cloud hosting or not.
Loading Speed
Factors like data servers, uptime limit, and disk space are responsible for maintaining the loading speed of web pages. The loading speed of the website is affected by the farther data center.
Free Domain
Most hosting provides a free domain on the purchase of hosting. The user who wants to save big can take benefit only after checking the overall scheme of the hosting company.
Server Location
When you decide to buy the plan from the hosting company, check the server location before you purchase the package. The server location plays a critical role in website growth. Server location helps you to improve the speed in the region and get a faster loading website. Local servers serve the data quickly to the users browsing the website from the area. A website that browsed quickly received added benefits from the search engines.
Security
One of the most significant challenges of the hosting provider is offering a high level of security to their customers. Server hacking, DDOS attacks could result in a data breach. Thus, you should check what kind of precautionary steps are used by the companies to prevent hacking. Security vulnerabilities could cause significant losses if you do not take proper measures to safeguard your online assets.
If you are interested to know security issues with wordpress , don't miss this post!
SSL
SSL has become mandatory for all websites. Google confirmed that they are giving less importance to the website that does not have SSL certificates active. SSL creates a protective layer around the site to prevent a data breach. Information on the SSL is securely transmitted from one source to another with an encryption method. The encryption ensures that only authorized sources get access to the data. Today, a basic SSL certificate is free. Many hosting companies are offering SSL as a free service with the plan to their client. Check if the hosting provider provides the SSL with the program before buying the service from them.
Disk Space
The basic hosting plan comes with a limit on disk space. Different packages will have extra disk space capacity. After the limit is reached, you will not be able to add more data to your plan. In this case, you have to upgrade the hosting to the upper package to keep adding new data. While choosing the plan, check the disk space offered by the hosting provider. A small website may not need more disk space, whereas the eCommerce site may require more disk space to host high-quality images and users information.
Support
No matter what hosting plan you choose for your business, every hosting plan needs support in their lifetime. Thus, you should confirm the customer support service of the hosting service provider. Check what kind of support and mediums are available with the hosting company. Also, see if there is any limitation on how to contact and what kind of request will be handled by the customer support team. Get more clarity on the support service. Once you get the hosting plan, you will entirely rely on the customer support team in the case of an emergency. Hence, the customer support team should be highly experienced in dealing with unexpected events.
Bandwidth
Bandwidth is consumed when the visitors land on your website. Every visitors consume some amount of bandwidth. As you begin your marketing and advertising campaign, more and more visitors will reach your site to check your product.
Whenever the visitor browses your website URL, the server data such as HTML/CSS and other multimedia files are downloaded on the browser. Every time the information is downloaded or uploaded to the server, the bandwidth is consumed. The hosting company offers unmetered bandwidth with a standard plan. Your bandwidth is shared with other sites hosted on the same server.
Every group of the site will have maximum bandwidth. Once the set limit is caused, every place in that group will face downtime. Therefore, check the bandwidth criteria of the hosting company. VPS and Dedicated plans come with unlimited bandwidth features. Choose the hosting plan according to your need.
If you aim to know the difference between joomla vs wordpress security , check this article out!
Location-Based Comparison
Mode of payment: The user must check if the hosting company is accepting payment in Canadian dollars or not. Another way of payment except this currency can block maximum users from availing the features.
Location of server: It will be much better if the server's location resides inside Canadian cities or nearby countries. Buying shared hosting outside the server range can slow down the performance of the website in distinct zones
Suggest you read our article about website hosting cost
Conclusion
Finding the best hosting can help to continue the long-term growth of the online business. Comparison of the services can excavate out the resilience and drawbacks of hosting providers. It creates an opportunity for customers to decide which hosting services best suit their requirements. Users can independently make choices for best web hosting Canada by focusing on the above qualities before purchasing a hosting plan. For more information click here .