Best Website Hosting for Small Business; Which Is the Best for You?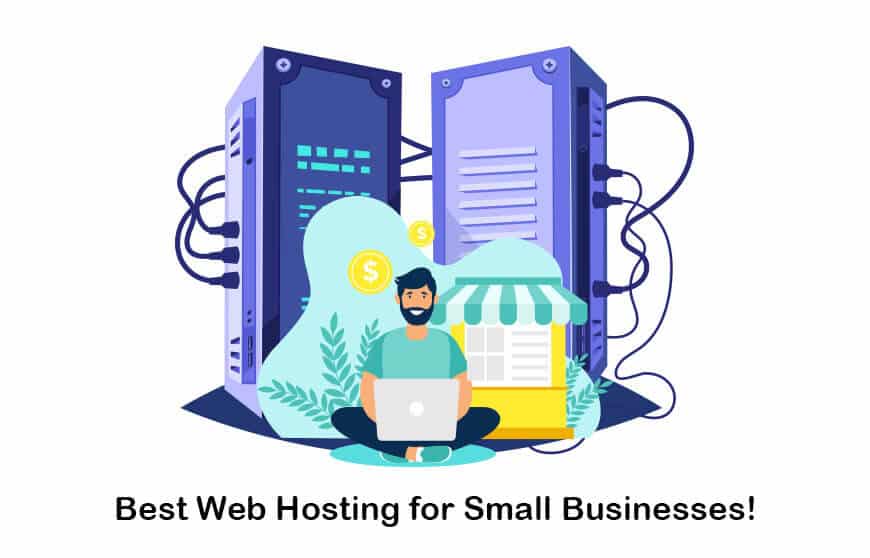 Small businesses struggle with their sales and often face a cash crunch. Investment in the web hosting plan would be a concern for the company. Your website may need more resources and power to handle the traffic as the visitors grow. Thus, new investment is necessary to control the condition and make your users surf the website error-free.
Remember that visitors' growth will not guarantee an increase in sales. There is a time when you receive colossal success from your marketing campaign.
You will attract many visitors to your site through marketing, but people might not buy your product. Your web resources are used during this time, and you have to bear the cost until your business turns profitable.
While buying the web hosting plan, you should consider these unexpected events. Pick a reliable provider known for delivering flexible solutions and offering state-of-the-art services.
The compiled list of the best web hosting services for small business in 2022 is made available to understand services better and save your valuable time.
Which Web Hosting Is Best for Small Businesses?
best website hosting for small business is as follows:
1- Bluehost
2- InMotion
3- HostGator
4- A2 Hosting
5- GreenGeeks
6- Hostinger
7- Dreamhost
8- Liquid Web
9- iPage
10- Namecheap
1- Bluehost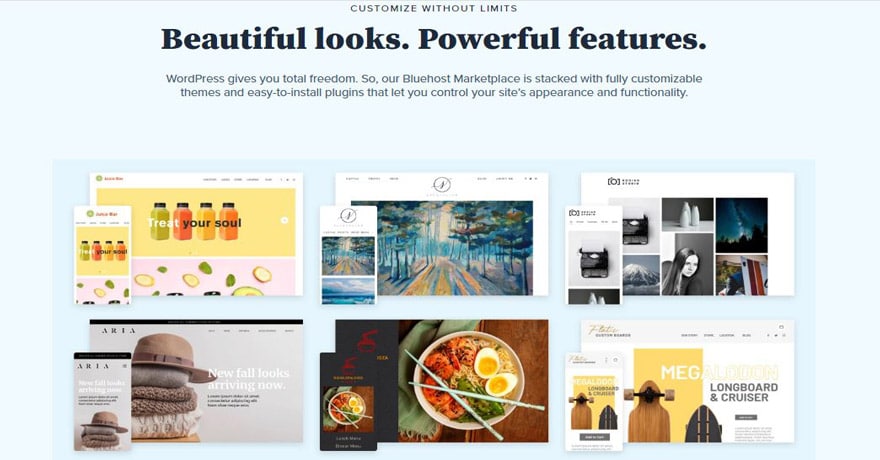 Features
Bluehost is among the decades-old and best web hosts for small businesses with easy-to-use and efficient services. It comes with instant WordPress script integration support. The one-click installation doesn't need technical knowledge. Your site will be live and ready to launch in a minute.
The website plan of Bluehost is beginners friendly. The web host helps you integrate various third-party scripts and applications to enhance the function. With all the projects, you get the unmetered bandwidth, free SSL certificates, cPanel to manage the site, and a 24×7 customer support team available to solve all your queries.
Moreover, you have complete control over your web hosting plan. Whenever you need to upgrade the space on your server, you let the team know about the additional resources, and your plan will be boosted immediately to meet the growing demand.
With Bluehost, you can start with small and, as you progress, increase the disk space capacity to fulfill your business requirements. Bluehost's services for small businesses give you the freedom to choose a wide range of plans with complete flexibility to upgrade.
Support
The Bluehost support team is well trained and equipped with the required resources to solve any problem instantly. The response time to your query is immediate in most cases, which tells you that the teams are well versed with the situation client generally deals with while managing the website. The team is highly knowledgeable to understand and solve the problem in no time. There are multiple options to choose from, including Phone, live chat, and email support teams available 24×7 to deal with any circumstance.
Uptime
Enjoy the 99.98% uptime with the Bluehost plans. Compared to other companies, the Bluehost uptime service has proved beyond expectation.
Considering that 100% uptime is impossible in the world of technology, Bluehost has been utterly transparent about the uptime of its services.
Pricing
Plans are designed to meet the need of small to large-scale enterprises. Check the prices below.
Shared Hosting – $2.95 – $13.95
WordPress Hosting – $2.95 – $5.45

WooCommerce Hosting – $12.95 – $24.95

VPS Hosting – $18.99 – $59.99

Dedicated Hosting – $79.99 – $209.99
2- InMotion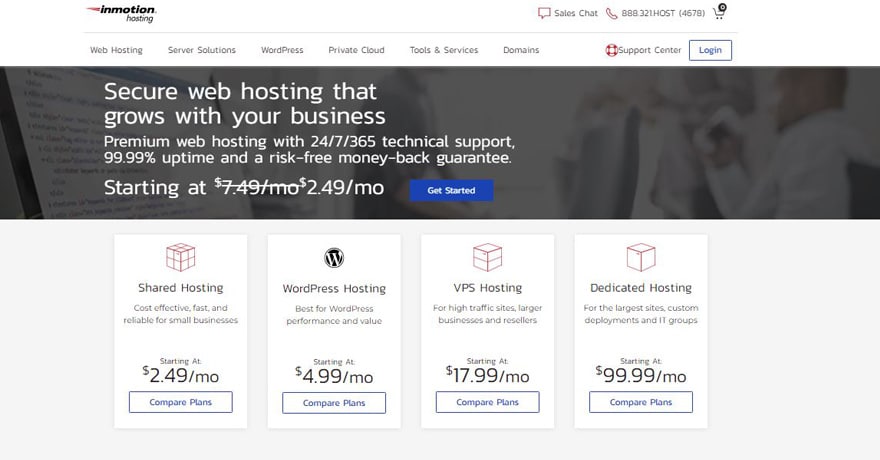 Features
InMotion serves small businesses at the lowest price hosting plan and reliable service. Most plans are shared programs that offer unlimited bandwidth, free SSL, and free email accounts for your business.
InMotion is a provider that allows you to host two websites on a single plan. Most of the providers will limit the hosting to a single domain. You have the option to upgrade the program from lite to launch a shared project to add more power and resources to your web hosting.
Inbuild tools such as InMotion website builder, free advertising credits, and email assist you in launching your website quickly.
Support
InMotion support staff are friendly and offer end-to-end solutions to the customers. They are highly trained, making it easy to explain queries and get the answer quickly.
Quick email support, instant access to your hosting, fast turnaround time makes InMotion one of the reliable service providers in the industry.
Uptime
InMotion offers 99.97% uptime to users. This data shows that you will encounter less than three hours of downtime per year, which is impressive for the cheap shared hosting plan.
Pricing
InMotion is offering affordable pricing options. Anything is possible with its plans from a single website to multiple domain hosting.
Lite – $2.49/month

Launch – $3.99/month for a two-year subscription, or $4.99/month for one year.

Power – $3.99/month for a two-year subscription, or $7.99/month for one year.

Pro – $12.99 /month
If you are interested to know how shared hosting works , don't miss this post!
3- HostGator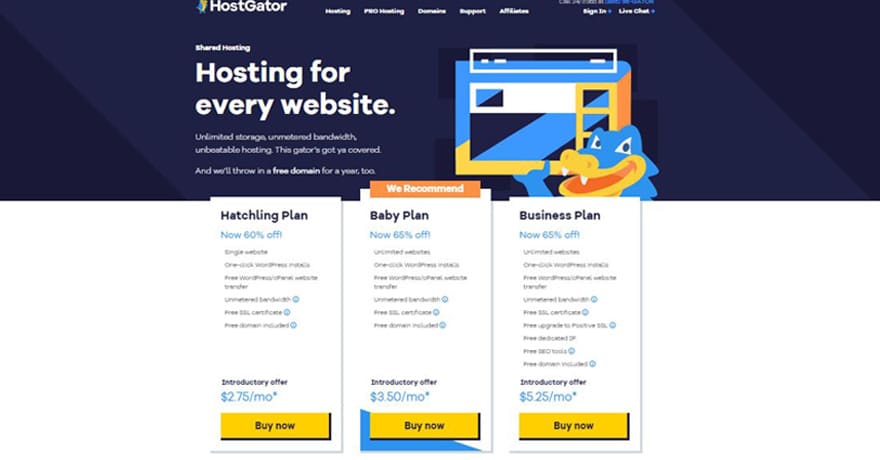 Features
HostGator plans come with top-notch features, including unlimited storage, unmetered bandwidth, one-click WordPress installation facility, free SSL with each hosting plan.
Launching a website with HostGator is one click away. Additionally, choose multiple features such as constant contact, email marketing software, email account, one-click script installation, and many more to speed up the site's development. HostGator is the best website provider for small businesses.
Support
HostGator has a decent support system. We say decent because they have gained so much popularity in the industry that their customer base has grown exponentially. Thus, the support team will handle thousands of queries at any point, which sometimes delays the response time.
You may have to stay in the queue for 20 minutes in the pick hours until you get your turn. Hence, a shared hosting plan has limited access to support. However, you can upgrade the project to a higher package that offers excellent customer support to the customers.
Uptime
HostGator is a well-known brand when it comes to uptime rates. It offers 99.99% of uptime to the users. That means less downtime to your website. It translates to less than an hour of downtime experienced in a year.
Pricing
HostGator has come up with many new shared hosting plans that suit small to large-scale businesses. Choose from plenty of options in the shared package.
Hatchling – from $2.75/month.

Baby – from $3.95/month.

Business – from $5.95/month
In the case, you aim to know about the best marketing strategies for online business , don't miss this post!
4- A2 Hosting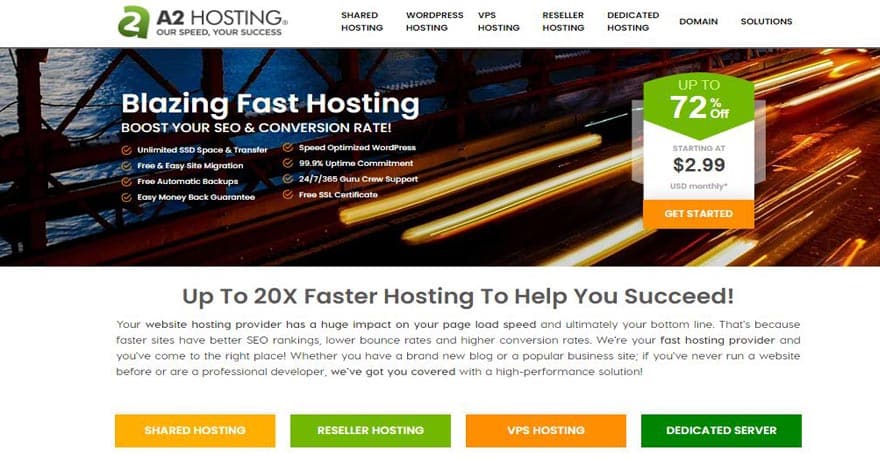 Features
A2 Hosting offers you additional functions that include Windows and Linux server hosting plans. The shared program consists of 100GB unlimited storage, unlimited email accounts, free SSL. Choose the cloud plan that has the option to root access, 150 – 450GB storage, 2 – 4TB data transfer.
It offers you complete flexibility when it comes to scaling your plan. As your business grows, you can upgrade the program to meet the growing needs. You also have the opportunity to shift the project from shared to the cloud whenever you desire.
Support
A2 hosting team is quite impressive in resolving customer queries. Experience seamless support, quick response time, range of other support services while you are putting your baby steps in the web world. Backing consists of a global phone line, real-time live chat support, tickets, and even jargon to read and solve the problem. The 24×7 customer support team is readily available to solve any problem, and you can comfortably focus on your business and let the experts deal with the situation.
If you are interested to know best hosting control panel , don't miss this post!
Uptime
Plans come with 99.95% uptime, which is not bad at all. The uptime rating translates that the server will be down for less than 4.5 hours in a year. The numbers may seem a slight downside, but if you consider the number of services and features you get to enjoy at a price for a shared hosting plan, the A2 easily outrank many top players in the category.
Pricing
Shared Hosting: $2.99/month – $14.99/month

VPS Hosting: $49.99/month – $99.99/month

Dedicated Hosting: $169.99/month – $349.99/month

WP Hosting: $7.99/month – $75.48/month

Cloud Hosting: $5/month – $371/month
If you aim to know top cloud hosting providers , don't miss this post!
5- GreenGeeks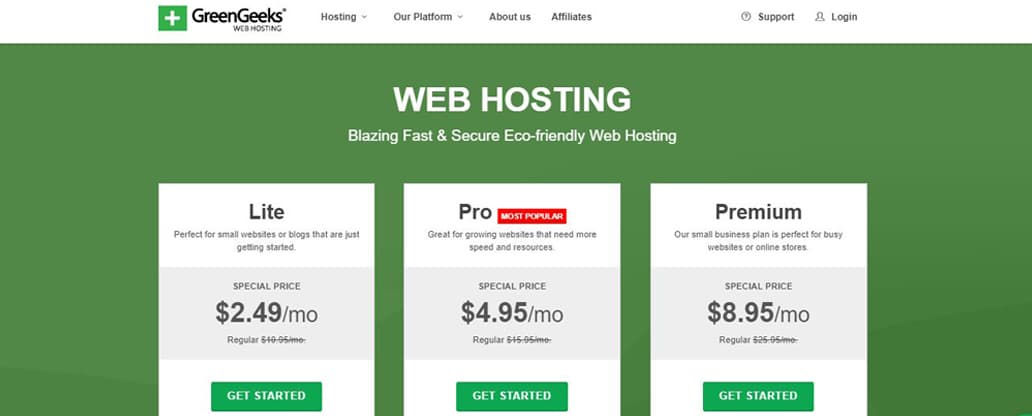 Features
GreenGeeks is focusing on green energy-powered hosting services. It is one of the eco-friendly providers in the industry. As per the company, they put three times the amount of energy they use in the grid.
Most importantly, you do not have to compromise on the quality due to the transition into green energy. The services offered by the company are pretty competitive and offer incredible features to the users.
Features
• Free backups
• Unlimited storage and bandwidth
• Unlimited email accounts
• Free SSL
• Free website transfer
Also, get the services such as free website transfer to the host. Migration is possible for the new customer who wants to join the hand with the GreenGeeks. The hosting plan has unlimited storage and capacity, offers impressive features to the users, and offers freedom to scale their website.
Support
The GreenGeeks has made knowledge base available publically, so you can solve the common problem you face while using web hosting. Additionally, live chat support, a phone call between 9 am to 12 am EST with email support. GreenGeeks is known for the fastest turnaround time when responding to customer emails. Experts handle every customer query so that the team will ensure the 100% guaranteed solution to your problem.
Uptime
One of the challenging parts of the hosting service is the uptime. GreenGeeks offers 99.90% uptime. It is ideal for small businesses. Compared to other providers, the rating might appear less. Still, if you consider the number of benefits you will be enjoying with the plan, the uptime might not become a big obstacle for your business.
Pricing
GreenGreeks' plan is wisely designed to meet customer expectations.
Shared Hosting: $2.49 – $11.95/month

WP Hosting: $2.95 – $11.95/month

VPS Hosting: $39.95 – $109.95/month

Reseller Hosting: $19.95 – $34.95/month
If you want to know cdn vs cloud This post can help you!
6- Hostinger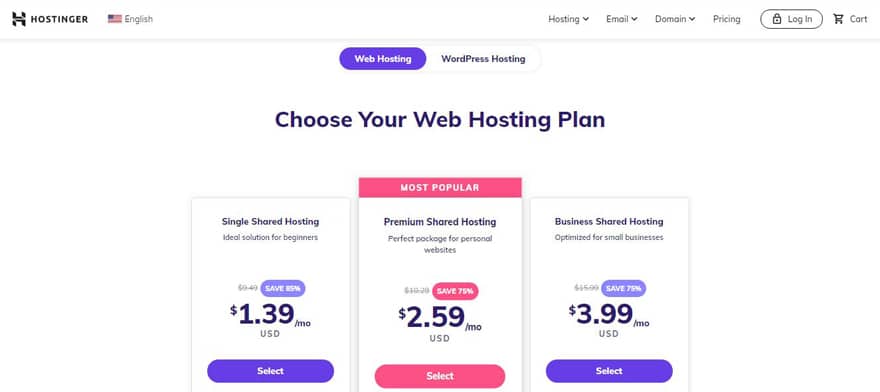 Features
Hostinger offers low-priced services to beginners. Businesses looking for the cheapest shared plan should consider this provider for their business. Programs come with free SSL, 10 GB storage, up to 100 GB bandwidth. The shared plan gives you unlimited bandwidth, complimentary daily backup, and a 100 email account would provide a complete package to your business.
Remember that Hostinger doesn't have a dedicated plan as of now. If you are planning big and you think you may need reliable resources in the future, then consider other providers. The resources may limit your growth and reduce the efficiency of your online business.
Support
Hostinger has a decent customer support team available 24×7 through email, support tickets, and live chat. Also, for quick solutions, you can take the help of an extended knowledge base. Additionally, the support team is multilingual so that you can communicate effectively in your regional language and get the problem resolved.
Uptime
The uptime rate is measured to 99.90%. It is comparatively the lowest in the industry, but Hostinger offers many other services that compensate for the uptime. If you are a beginner and do not need many resources and a high bandwidth rate, Hostinger would be the best choice.
Pricing
Hostinger has every plan that suits your business needs.
Shared: $0.99 – $3.99/month

WordPress: $2.15 – $$14.95/month

Cloud: $7.45 – $37/month

VPS: $3.95 – $29.95/month
If you are interested to know web hosting vs wordpress hosting , don't miss this post!
7- Dreamhost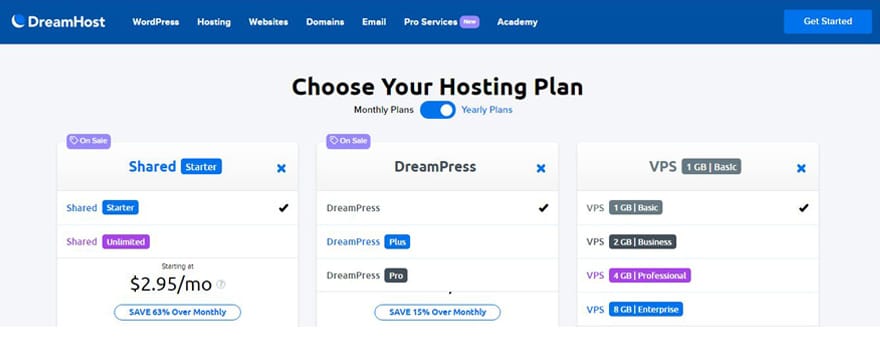 Features
Dreamhost may seem like any other best web hosting company for small businesses discussed until now, but it has many impressive features. One of the unique qualities you enjoy is the free automated WordPress migration. A one-click WordPress integration offers instant access to all WordPress services.
Get 50GB of storage which can be extended on demand. Unlimited bandwidth offers instant scalability as you grow in your business. Daily backup and free SSL are other reasons you should prefer buying hosting from Dreamhost.
Dreamhost also comes with a cloud plan that offers security and flexibility to users. A dedicated program supports large enterprises that want to run extensive scrip and need root access to the server. When buying the best hosting for small businesses, DreamHost will give you the perfect service that suits your needs.
Support
DreamHost doesn't have phone support, so you have to reply to the email and live chat support only in the case of an emergency. It is a drawback of the plan.
Instead of a direct call, you have the option to request a callback. You have the opportunity to speak to a person overcall, but the response time may get delayed. Live chat support is available for a limited period between 5.30 am – 9.30 pm PT. Email support can be used to get a reply from an expert when chat support is not available.
Uptime
DreamHost relatively offers decent uptime at 99.95%. It is not too shabby as it gives you the perfect condition to host your website at the lowest price. The uptime accounts for 4.5 hours or less downtime per year.
Pricing
The Dreamhost plans are mentioned below:
Shared Hosting: $2.59 – $4.95/month

WordPress Hosting: $2.59 – $27.50/month

Cloud Hosting: Max $4.50 – Max $48/month

VPS Hosting: $10 – $80/month

Dedicated Hosting: $149 – $379/month
In the case, you aim to know about the best linux distro for experienced users , don't miss this post!
8- Liquid Web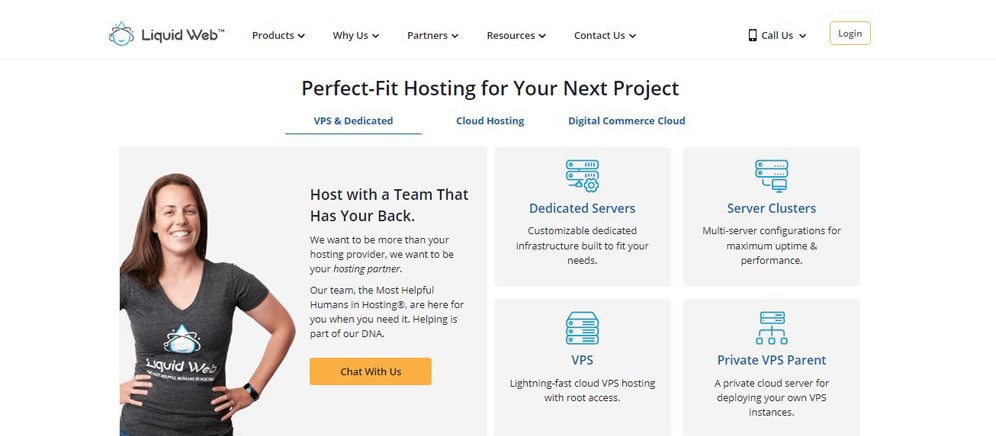 Features
Liquid Web offers shared, managed, cloud, private VPS, and VPS cloud hosting with dedicated servers to the users. You also get a premium business email id for your support. WooCommerce and managing WordPress is possible with the LiquidWeb plans.
If you plan to move your website to LiquidWeb, you will get a free migration service from the company. Professionals perform the migration, so you do not have to worry about the technical aspect of the process. All the plans are highly secure and protect the website from any crisis.
Support
LiquidWeb ensures that the clients always get their queries resolved in the shortest time. For that, the LiquidWeb offers 24×7 support to the users.
Trained staff are highly professional and skilled in handling any queries, including technical problems. Highly responsive teams are placed at the front desk, so you instantly get the solution to your problem. Live chat and phone calls with email support are answered immediately.
Uptime
LiquidWeb is offering 99.99% uptime to the customers. Stay worry-free and enjoy steady growth by getting a LiquidWeb plan.
Pricing
Managed WordPress hosting plans pricing.
Spark: $9.50/mo

Maker: $39.50/mo

Designer: $54.50/mo

Builder: $74.50/mo
9- iPage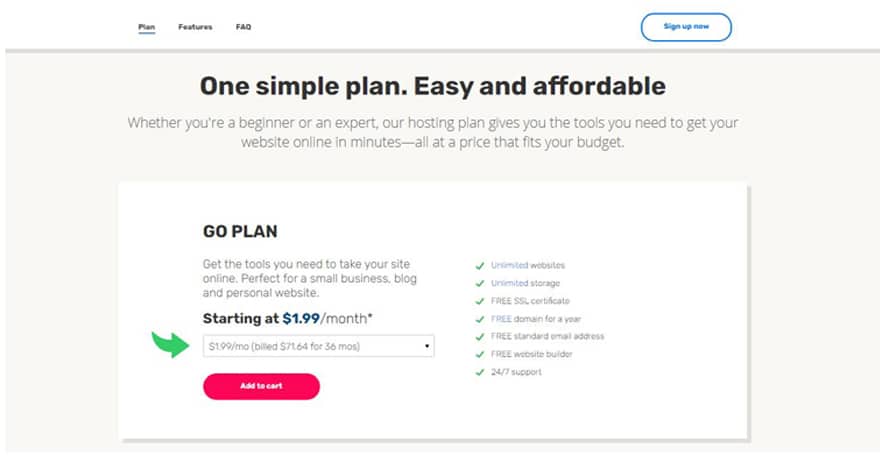 Features
Get your business online with instant access to the world-class control panel system. iPage plan comes with end to end solution. A single program consists of everything you need to run an online business. Make your site with an intuitive site builder and flexible web hosting package.
Everything you find in another plan is available with the iPage. Get the free domain for a year when you signup for the shared hosting plan. A 24×7 support makes it easy for the users to solve their queries and get their site back to normal. Every project comes with an SSL Certificate and unlimited bandwidth.
Support
The iPage has a fantastic track record for serving the customer with state-of-the-art services. The 24×7 support team is readily available to deal with any unforeseen events.
Uptime
iPage claims that they offer 99.94% uptime to the users. Fewer downtime results in an excellent user experience, which iPage is trying to achieve for their customers.
Pricing
Plan 1: $1.99/month

Plan 2: $2.49/month

Plan 3: $2.99/month
10- Namecheap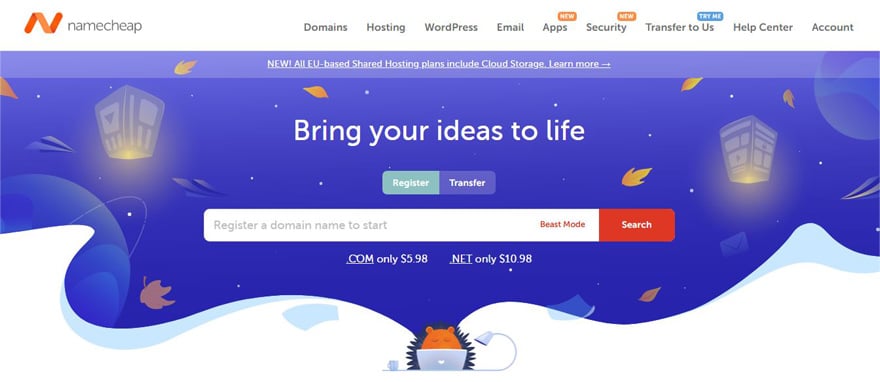 Features
NameCheap allows you to bring your idea to life. The affordable pricing options are designed to meet your expectations and start your online journey. Data is secure on the server with 100% privacy. NameCheap is recommended as one of the best web hosting for small businesses.
Support
The plan comes with 24×7 customer support. Get expert solutions to all your queries.
Uptime
NameCheap claims they offer 100% uptime, but many independent agencies have recorded 99.94% uptime on the website hosted on the NameCheap.
Pricing
Stellar: $1.58/mo

Stellar Plus: $2.68/mo

Stellar business: $4.80/mo
How Can Small Businesses Go Online?
The first step in starting your online business is getting web hosting and domain name. Web hosting is the storage system provided by the hosting company. It is virtual storage where all your files are kept and made available to access. The hosted files are linked to the domain name.
The domain name is the name of your website. You have to purchase the domain name from the domain selling authority. Choose a short and simple name for your sites that will be easy to remember. The domain is connected to your web hosting files.
We suggest you read our article about how to connect domain with hosting .
Once your website is live, people can visit your site to view the product that you sell. Produce good content and publish it on your website. Offer discounts to your customers and make them come back to purchase more. Web hosting plays a crucial role in elevating the business in a competitive environment. You can easily upgrade the plan to a new server and increase efficiency as you grow.
Shared hosting for small businesses is a proper choice. Prices are determined based on the storage and the bandwidth of the server. The few GBs of storage for small businesses would be sufficient as you may not have much data to publish on your site. The bandwidth is calculated using the data accessibility by the users. The more the data is accessible through your website by the users, the more bandwidth is used. The hosting company allows you to change your plan whenever you see a spike in bandwidth. Your existing project will be upgraded to the upper plan giving your users smooth access to the website content.
Small businesses can not afford to spend a fortune on managing and modifying their hosts and servers. So they need a convenient control panel for their hosts to make the necessary changes quickly. We offer you C Panel. You can read what is Cpanel in the following article.
How To Choose the Best Web Hosting for Small Businesses?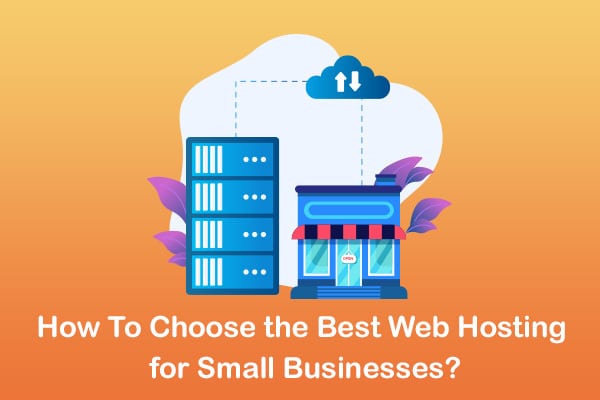 If you are planning to start your online business, web hosting is the first thing you must consider to build your online presence. A website needs a hosting plan to host resources, and your success depends on its performance. Thus, it would help if you chose the only reliable method for your business. The guide will help you find the best website hosting for small business.
Suggest you read our article about how to choose a web host
Safety and Security
When you plan to go online, all your resources will be shared on the website. The content, product details, information, payment details, etc., are published on your website. All this information is kept on the server. Therefore, it is essential to choose a provider that offers a high level of data security. Any vulnerability in data handling or rendering would result in a data breach. You do not want your payment details, or your client information is accessible by third-party companies or hackers. It is crucial for any business to choose the hosting plan from the reputed websites only. Consider data security as a primary concern when buying the plan. Do not fall into the trap of a cheap web hosting plan. The offer might look lucrative, but you may encounter problems in the service in the long run.
Don't miss this post if you aim to know public cloud definition!
Uptime
The uptime of the website plays a significant role in online business. If the website goes down frequently, the users who visit the website may have a bad experience. They might look for the other option in the region. The majority of the hosting provider uses automated systems to track the bandwidth of each hosted website. They quickly transfer more resources to the site if it reaches its limit.
However, there are chances your site may go down even if your website is not using much bandwidth. The situation occurs when you host your website on a shared server. The resources are assigned to all the websites hosted on the same server on the shared hosting server. If one website goes down, it impacts other websites as well. Therefore, always check the uptime feature provided by the provider.
Don't miss this article if you are willing to know the difference between cloud servers and vps!
Speed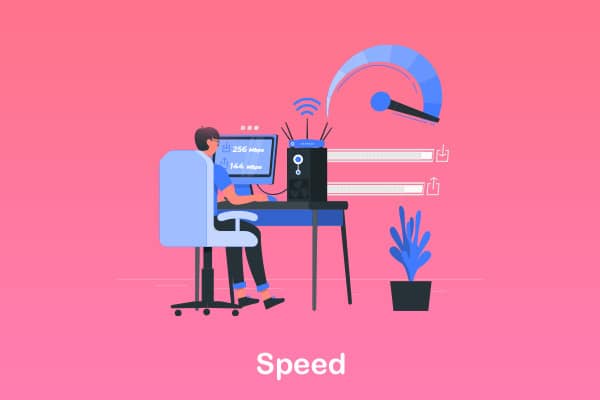 The website's speed is another essential factor that decides the purchasing experience of the users. The users generally ignore the slow site. People do not have patients while buying a product online. Your site must run smoothly, and all the functions should work perfectly. The low speed increases the bounce rate, which leads to a low ranking in the Google search engine.
Multiple Server Types Available
Observe different types of plans available with the web host. Every plan consists of some advantages and disadvantages. While selecting a web hosting plan for your website, you should also consider future demands. As you grow, the need for a high-end server will become necessary.
You should pick the company that allows easy upgrades to host plans without needing more resources from one server to another.
Hosting a website on a shared server would not be efficient when you have rapidly growing visitors on the site. To meet the growing demand, you may have to shift to a private VPS or dedicated server.
Customer Support
Once you purchase the plan from the company, you entirely rely on the provider during unforeseen events. If their customer support is not quick, your website visitors will struggle to access the site.
Hence, it is crucial to have a reliable customer support team for your backup. Also, the tech team at the hosting provider should be proficient in dealing with different situations and fixing the problem quickly. It is vital to get your website live again as early as possible.
Check for live chat support, email support, and phone call support. Please keep all the support details handy, so you can instantly get those details and reach the customer support team at the hosting company when you require them.
Built-in Website Building Tools
Build-in website builder tools will allow you to access your website with drag and drop functions. The device typically comes with advanced features that enable the users to make quick progress in website building and start their business without needing the help of a professional designer. The tool will help you save costs on website building and get your business live immediately.
Ease of Use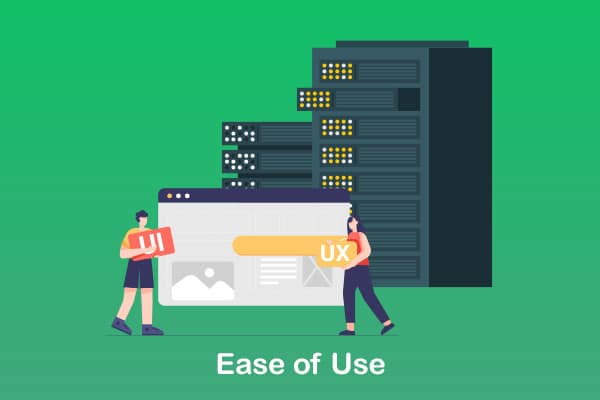 The complicated process makes it challenging to manage the web hosting plan. The clunky interface also takes away a good amount of productive time, and you will feel lost in the process. You should know what to do next when you gain access to your plan.
Check what dashboard or management tools the company is offering to the users. Read the reviews of the hosting company and learn from the experience of existing users.
If more people had a bad experience with the interface, then there is something wrong with the platform offered by the hosting company. You should avoid buying services from such companies.
Scalability
One of the essential factors is scalability. As the business grows, the demand for additional resources also rises. You should be prepared for the instant upgrade whenever the visitors to the site grow. The sudden spike in the visitors may cause the site to go down if the hosting service provider is not flexible. You will lose potential buyers as well as it will affect your reputation in the industry. Always consider a service provider that is reliable and scalable.
How Much Does best website hosting for small business Cost?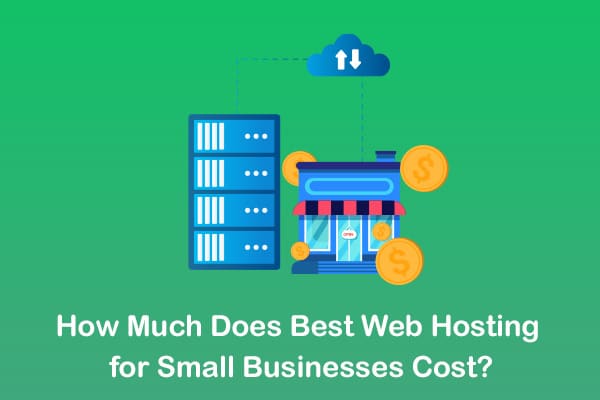 The cost will be varied depending on the plan that you choose. It is calculated based on the storage capacity, memory, bandwidth, and software applications provided. Starting your small business online, you might not require large hosting plans. You can initially go with a small package to make the website live. As you progress, you can upgrade the program anytime. Shared hosting for small businesses is among the best choices. Under this plan, the resources are shared with the other websites, which reduces the maintenance cost, and the benefit is provided to the customer by the provider.
The shared hosting plan starts around $2 to $6 per month. It would give you sufficient resources, which will make your website live immediately. If your business demands a high-end server and advanced resources, you can choose VPS or dedicated servers. These plans provide you with dedicated space on the server. It means you will have the sole right to use the hardware and software offered by the server. No other website will be hosted on this type of server. But remember, the extra facility comes with a high cost. Small business owners might not initially require high-end servers, so they make decisions wisely to avoid the additional cost burden.
we suggest you read what is VPS hosting.
Conclusion
Finding website hosts for small businesses can be challenging in the first step, but if you follow the given instruction carefully, it won't be challenging to find the best web hosting provider on the web. Get your small business up and running to leverage the growing opportunity.