Website Hosting Cost; How Much Does It Cost to Host a Website in 2023?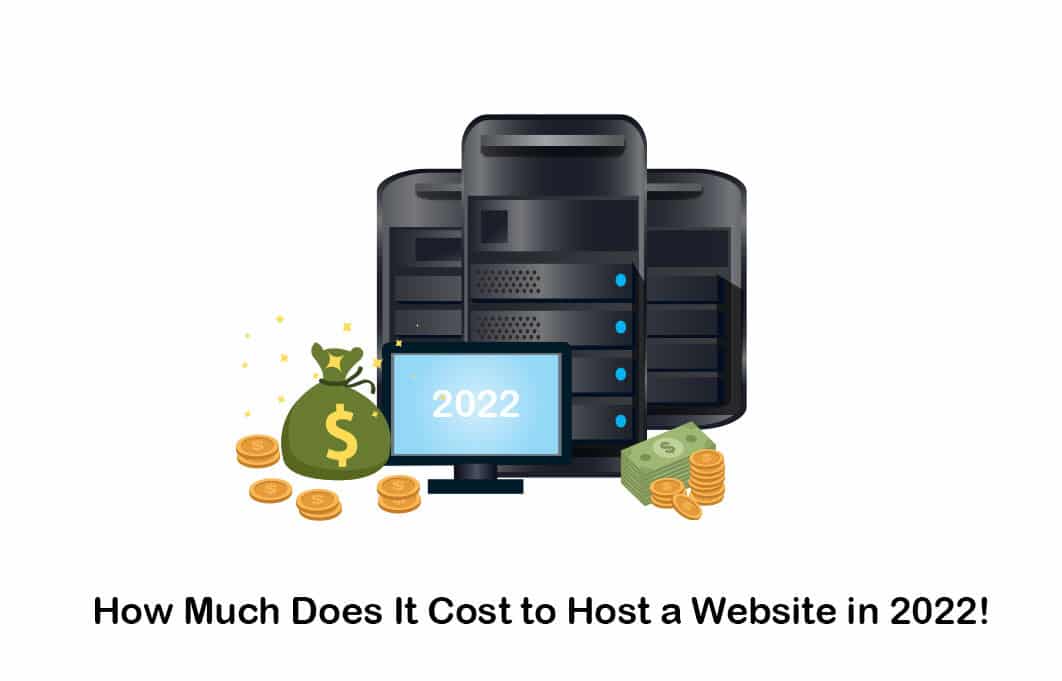 The whole stardom of your online enterprise or product depends on which type of hosting you choose. It is the reason why you have landed this page. Here you can grab enough knowledge regarding website hosting costs and their services. Every hosting company offers packages with different facilities. The web hosting price is based upon the types of facilities they provide to the customer. Logically, cheap web hosting providers either work on low commission or furnish less value on their products.
Website Hosting Costs Explained
When trying to host a website, you will need to look at the domain hosting cost. This will assist you in being familiar with the amount of money you have to spend out of your pocket to get your website up and running on the internet.
The web hosting cost per month can vary based on numerous factors. You can expect the prices to start at around $2.49 per month. Then it can go all the way up to $729 per month, or even higher. This is why you should be aware of all the factors that significantly affect total costs. On top of that, you should also be careful to select the right hosting plan based on your visitors.
Let's take a look at the five most prominent types of website hosting available for you to consider. Along with them, we will also be sharing a quick overview of the cost you have to bear. This will eventually help you locate the right hosting plan you should select among the available options.
If you are a beginner at website hosting, you may look at shared hosting. This is the cheapest type of hosting that you can get as well. Shared hosting is ideal for static websites that receive low traffic. When you buy shared hosting, your server resources will be shared among multiple other websites. This is the main reason why you can buy shared hosting at a lower price tag. The shared hosting plans usually start at $2.49 per month.
VPS resources are limited. But unlike shared hosting, it is private and allocated to you. You will be able to get extra server resources when needed. Due to the same reason, VPS hosting plans can help you overcome one of the biggest challenges associated with shared hosting. Shared hosting plans would cost around $17.99 to $85. Any person concerned about website hosting charges may also take a look at VPS hosting.
Along with the help of dedicated hosting, you can get a server on your own. However, you will have to pay for this entire server. You don't need to worry about the impact caused by other websites hosted on the same server. That's because there aren't any such websites hosted on the same server. However, dedicated hosting plans can be pretty expensive, and you will have to spend around $119 to $149 per month on them. If you can compare website server costs and benefits, you will notice that this is a worthy option to consider.
Cloud hosting is not about cloud services such as OneDrive and Dropbox. Here, you can discover a cluster of servers that work together. Due to the same reason, the web service would not go down. The group of servers is quite effective when keeping your website up and running at all times. Cloud hosting plans start at $5 per month. (If you are willing to know top cloud hosting companies, this article can help you!)
If you plan to host a WordPress website, you should look at Canadian WordPress hosting. The best thing about WordPress hosting is that it can offer 24×7 support to the WordPress website. These hosting plans start at $6.99 per month.
Related: WordPress hosting vs web hosting
Extra Web Hosting Costs to Consider
Apart from the above-mentioned web hosting fees, you will have to deal with numerous other expenses when hosting a website. Let's focus on those other factors that can contribute to the cost of server hosting.
You will have to renew your hosting plan regularly. If you subscribed to monthly hosting, you would have to restart it monthly. On the other hand, people who subscribe to annual web hosting should renew the hosting plan annually. When you look at web hosting costs per year, you will determine that hosting yearly plans are much cheaper.
When you want to host your emails separately, you must add that to server hosting charges. The extra cost of server hosting will be utilized to store all your incoming and outgoing emails.
If you don't want other people to find that you are the owner of a specific domain, you should get domain privacy. This will cost money to you as well.
It is a must for you to get an SSL certificate when hosting your website. It will help you to create an encrypted connection with the visitors. This certificate is going to cost money as well. (If you desire to know what ssl certificate stands for, check this post out!)
You can either get G Suite or Office 365 with hosting. Then you can get your customized email box with the domain. You will have to pay for it as well.
SiteLock can help you enhance the security and protection of your website against malware. You should consider its cost as well.
Automated Site Backup and Restore Services
If you don't want to face any challenges during unexpected disasters, you need to ensure that you have got the help of automated site backup and restore services.
There is a cost of registering the domain as well. It would help if you also considered that as you host your website.
If you are interested to know how to connect domain to hosting , this post can help you!
10 Web Hosting Prices
GoDaddy
GoDaddy doesn't need any introduction. It is already the top domain registrar brand globally with the broadest customer support. For more information about this registrar's web hosting server price, check the information below.
Web Hosting product
Economic plan ( works with basic websites )
Price
$ 2.19 /month
Bonus
Users get a free domain for one year
Features
Easy to use control panel

Access to 150 apps

1-click domain set up

24×7 network security
Comparison
Godaddy is one of the most trustworthy hosting platforms. But, in comparison to other hosting providers like Hostgator and Siteground, the price is very economical for a user to work as a startup. GoDaddy takes better care of its customers by regularly bringing promo codes and discounts.
If you are willing to compare Plesk vs Cpanel, this post can guide you!
Hostgator ( Starting at $2.75/Month )
Hostgator is one of the oldest hosting services providers. It provides specific products for hosting WordPress, VPS, cloud-based products. Users can furthermore avail the advantage of a free SSL certificate and uptime guarantee in the pro-host feature.
suggest you read our article about what is wordpress hosting .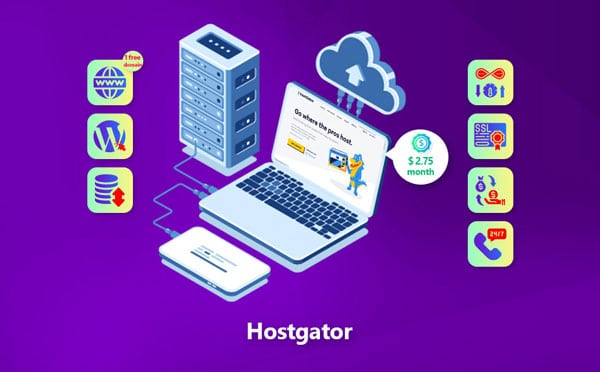 Web Hosting product
Hatching plan
Price
$2.75/month
Bonus
One free domain for a year
Features
Support to host only a single domain

One-click WordPress installation

Free WordPress/cPanel website transfer

Unmetered bandwidth

Free SSL certificate

Refundable hosting fees within 45 days

24/7/365 support
Comparison
In Hostgator, the server charges for websites are a little more expensive than GoDaddy and Dreamhost. It can be an option for those users who don't want to compromise with slow navigation and loading speed.
Suggest you read our article about web hosting Canada reviews
Siteground
Siteground is one of the fastest-growing web hosting providers that offer an enormous feature to its clients.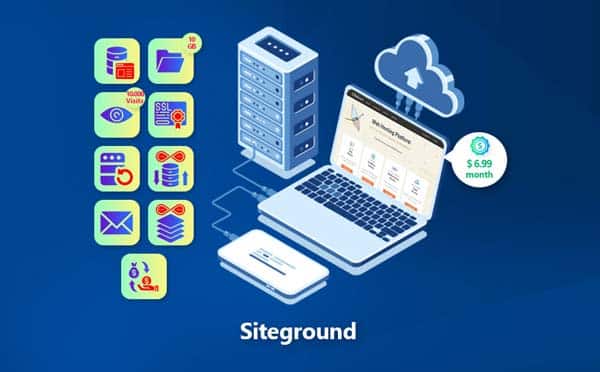 Web Hosting product
Startup plan
Price
$6.99/month
Bonus
Not available in the startup plan
Features
Host a single Website on the starter plan

10 GB Web Space

Handle 10,000 Visits Monthly

Free SSL certificate

Daily Backup & Free CDN

Unmetered Traffic

Free Gsuite Email

Unlimited Databases

30-Days Money-Back
Comparison
Siteground offers the most expensive website hosting server cost. The server and data centres operate so well that they don't give any chance to receive complaints from their clients. People dealing with massive traffic and e-commerce website usually prefer hosting from Siteground.
Don't miss this post if you are interested in comparing tls certificate vs SSL!
Dream Host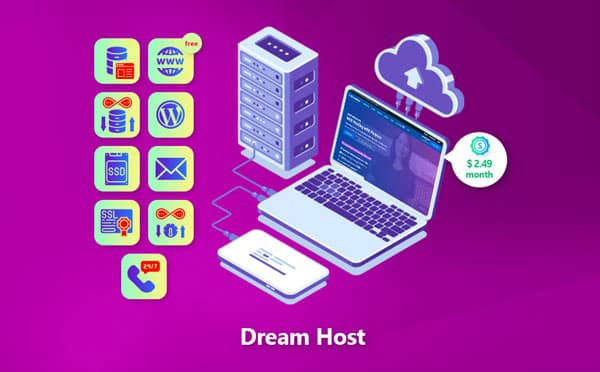 Web Hosting product
Starter plan
Price
$2.49/month
Bonus
free domain available for one year
Features
1 Website

Free Domain included

Unlimited Traffic

Unmetered Bandwidth

Fast and reliable SSD Storage

Pre-installed WordPress

SSL Certificate for free

Additional charges of $1.67/month for email

24×7 customer support
Comparison
Website hosting prices of Dreamhost come with an easily affordable range. It provides a customized control panel that makes the operation very simple in the hosting portal. The Web hosting packages had different categories for small, medium, and large businesses. It assists the person to decide which product is suitable for their website.
Bluehost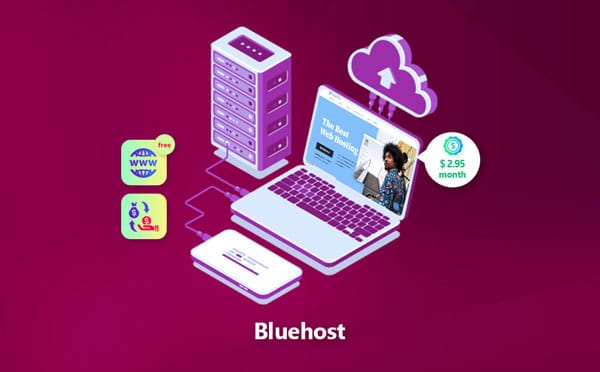 Web Hosting product
Shared hosting
Bonus
1 free domain for a year
Price
2.95$/month and renew at $8.99/month
Refund Policy
Money-back guarantee within 30 days
Comparison
Bluehost gives more priority to bringing new customers for hosting. In the beginning, it offers huge discounts on hosting services. But later, it charges a little higher cost. It also gives huge discounts on web hosting services cost based on occasions and festivals.
Inmotion Hosting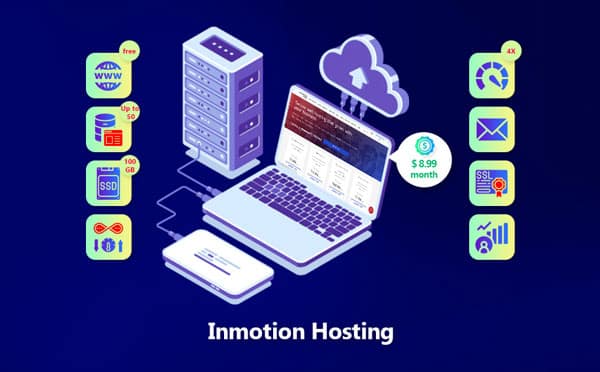 Web Hosting product
Charter plan
Price
8.99$/month
Bonus
1 free domain for a year
Features
Free Domain
Host Up to 50 Websites
100GB SSD Storage
Unlimited Bandwidth
4x Performance and Speed
Generate up to 50 Email Addresses
Free SSL & Security Suite
Advanced Marketing Tools
Comparison
Inmotion always comes with new tools. This feature makes it unique from other hosting services. Concerning the cost, it also provides quality services by providing tracking and analysis marketing tools that can monitor your website from time to time. For more detail about this company's web hosting prices, check the information previously mentioned.
suggest you read our article about shared hosting vs vps
Site5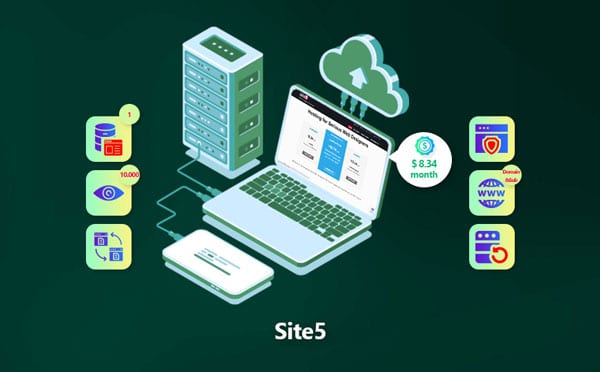 Web Hosting product
Host basic
Price
8.34$/month
Bonus
Not available
Features
1 Website
Suitable for ~10,000 Visits
Website Migration
Malware Protection Available
Domains & Subdomains
Daily Backups
Comparison
Site5 is the most preferred website for professionals. It provides extensive features like CDN facilities, GIT access, daily backup & website transfer features in one click. The web page hosting cost is kept higher in comparison to other hosting providers because of its comfortable accessibility.
Hostinger
Web Hosting product
Single shared hosting
Bonus
Not available
Price
0.99$/month and $2.99/month on renew
Refund Policy
30 Days Money Back Guarantee
Features
1 Website
10 GB SSD Storage
handle 10 000 Visits Monthly
1 Email Account
Free SSL ($11.95 value)
Free Domain ( on offer period )
100 GB Bandwidth
WordPress Acceleration
2 Databases
If you want to know difference between cloud hosting and vps hosting This post can help you!
Comparison
Hostinger is a new website that has grabbed the attention of a lot of digital marketers. The website hosting costs fluctuate in different countries. It launches new plans for grabbing attention on the web. Till now, no complaints are out from the customer. So, it can be a symbol of trust for hosting under the minimum price range.
A2hosting
Web Hosting product
Shared hosting
Price
2.49$/month
Bonus
Not available
Features
Unlimited Email Accounts
Unlimited Transfer
24/7/365 Phone, Live Chat & Email Support
Easy cPanel Control Panel
9% Uptime Commitment
Free SSL Certificate & Cloudflare CDN
Free Website Builder
Website Staging & Choice Of Data Center Location
Comparison
A2hosting is the best choice for bloggers and WordPress websites. It comes with a cheap website hosting cost. It is relatively satisfactory for those who want to start with a minimum amount. Later, you can upgrade by shifting to higher plans.
If you are interested to know the best web hosting control panel , don't miss this post!
Namecheap
Web Hosting product
Stellar
Price
1.58 $/month
Bonus
Not available
Features
Disk space: 20 GB SSD
Bandwidth: Unmetered
Websites: 3 Websites
Comparison
The name itself suggests the identity of the website. It offers the lowest web hosting prices for its services from all the above companies. Namecheap can be the best website for beginners who want to experiment and run blogs for less traffic. City stores and shops mostly prefer this website to expand their business.
If you are willing to know asp net hosting comparison , this article can help you!
Cost to Switch Web Hosts
If you are not happy with your current web host, you will come across the need to switch it. This will cost your money as well. The average cost of migrating a website from one host to another would be between $150 and $400. This would vary depending on the number of extensions, files, and images on the website. You can pay this amount to the new host and get the job done.
Conclusion
Website hosting cost plays a considerable role in choosing the product. Everyone looks for the best quality service at affordable prices. The above pricing list has given you enough idea about the feature and benefits of the hosting providers. Users must go through customer reviews from social media before availing any hosting service.
The web hosting price plays a significant role in product selection. Everyone is looking for the best quality service at affordable prices. The high price list gives you enough ideas about the features and benefits of hosting providers. Users should check social networks before using any hosting services.
After reading this article, we suggest that you review how to choose a web hosting provider and the essential points you should pay attention to.