Joomla vs WordPress Differences, Pros and Cons | Which One Is the Best?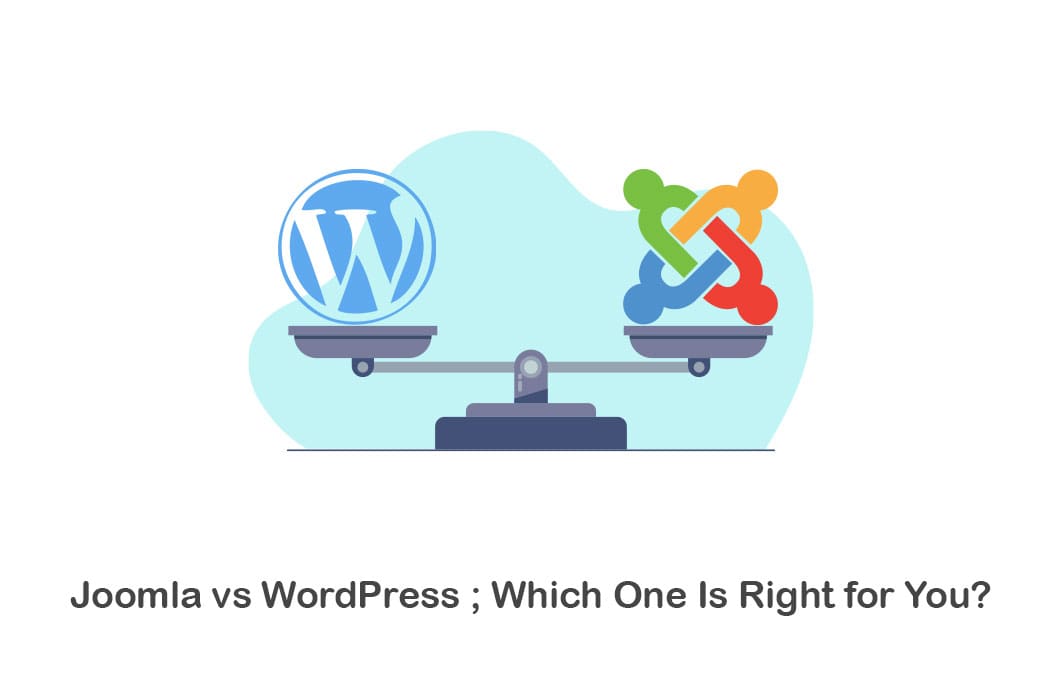 Deciding on the ideal CMS (Content Management System) for your website is a significant decision that affects your portal's functionality and efficacy.
You need to go through several factors to choose the correct alternative between the two. Comparing Joomla vs WordPress can help you understand each platform's benefits and drawbacks and pick the right one.
The content management system (CMS) has made website development quick and easy. It is maintenance-free & decreases the cost of the product.
However, when it comes to selecting the CMS platform for a website, it may confuse you as there are many popular platforms available in the market. Each of them is different and offers many unique features to manage the website.
Joomla and WordPress are two of the oldest CMS that has gained more popularity in the community. Both the platforms have gone through several upgrades to reach this milestone. Today, millions of websites are running either on the Joomla or WordPress CMS platform.
The CMS platform focused on offering the easy-to-use back-end system with the more advanced features to expedite the outcome that the customer expects from the CMS software.
The developer can add or remove any section from the CMS and produce the desired output with complete customization. The flexibility of operating the CMS software is what makes people use them in the first place.
If you plan to build a custom website using CMS software, choosing one of the platforms, Joomla or WordPress, would be an excellent decision.
However, while WordPress and Joomla sound promising software for website development, they have some pros and cons that you should know before you start using them.
Don't worry! We will guide you in the process and help you select the right Content management system. So keep reading the article and learn more about their use, pros and cons, and future upgrades.
If you are looking for the best cms for website , this article will guide you!
Differences Between Joomla vs WordPress
WordPress and Joomla are two feature-packed software that adds value to your website and helps determine the proper positioning on search engines.
You need to closely observe each of these websites to select the right option. Let's start with the study on the difference between Joomla and WordPress and the best option out there.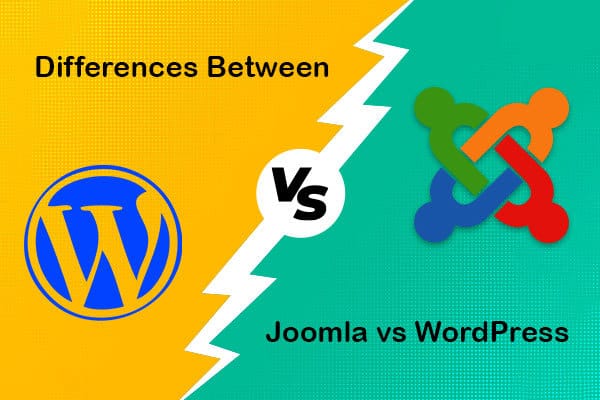 The primary difference is that Joomla offers a great CMS for portal-like websites, while WordPress focuses on a blogging website. Any of these websites can enable you to run the website effectively.
Looking at the technical side, they are easy to install and supportive to most web servers. For website creation, you need to hang several aspects of working with servers and the software configurations.
For identifying the best option in WordPress or Joomla, you need to look over the aspects stated below.
suggest you read our article about what is wordpress hosting
Joomla vs WordPress Pros and Cons
1- Joomla vs WordPress SEO
Search engine compatibility CMS would give you an edge over your competitor. Hence, it is crucial to choose the right platform that offers the freedom to optimize the website's core functionality without any limitations. Continue the article to learn about Joomla vs WordPress pros and cons.

WordPress
WordPress has an incredible Yoast SEO plugin that is a gripping feature for website users. You can get to know the correct SEO score with lights like yellow, green, and red. It is backed by the various customized plugins developed by the users, which extend the power of WordPress and allow the users to manage their SEO.
Yoast SEO plugin developed for WordPress is the best website SEO optimization plugin available on the web. The plugin comes with many advanced optimization features.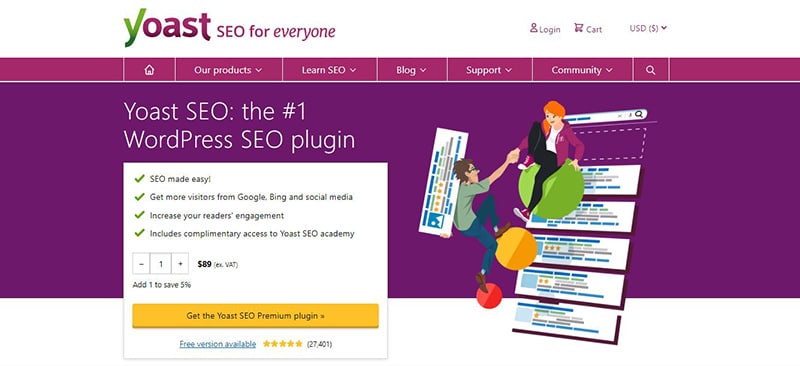 Joomla
On the other hand, Joomla stands in a slightly better place as it helps the users set keywords and meta descriptions for all the articles. Joomla comes with the inbuild section where users can easily update the meta tags such as description, title, and keywords of the pages and each article published on the website.
When you edit the meta information, Joomla helps you generate the data much more comfortably than WordPress. It also has a great plugin (Easy Frontend SEO (EFSEO)) which is a good alternative for the Yoast plugin. But in the end, Yoast enables you to handle more SEO-related tasks.
So, since WordPress has more features for SEO. it will be a better option for you!
related article seo rules for website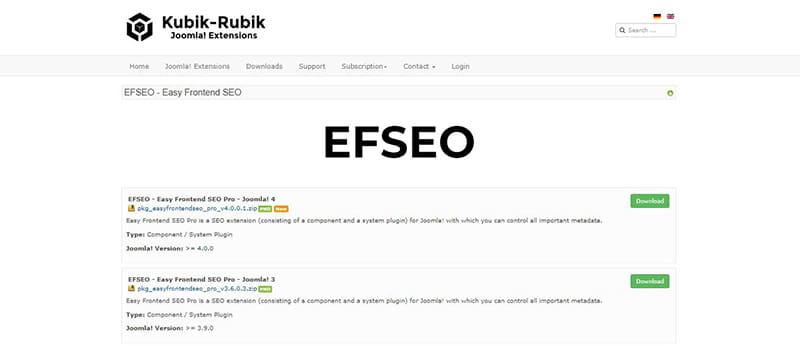 2- Joomla vs WordPress Security
Web security is the challenging part of website development. Every software comes with some loopholes, and it is tricky to assess the security level for both of them. Your data could become vulnerable to the hacker if the platform is not safe.
Any system with a backdoor would leak your data on the web, and your personal information will be compromised. So the first question that you should ask when selecting the CMS platform is: Which Content Management System (CMS) platform is highly secure?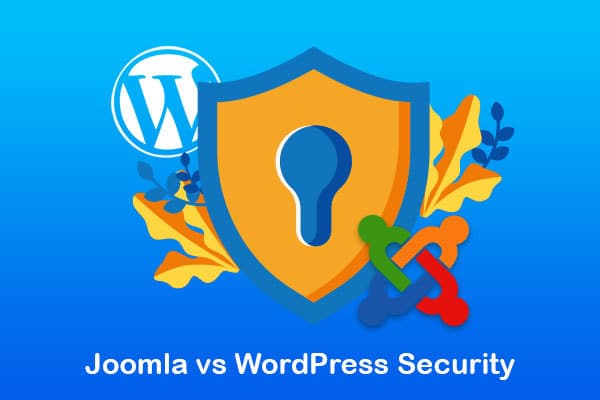 WordPress
WordPress is a mega CMS system for millions of website users, increasing its potential vulnerabilities. With WordPress installation, you can check out the latest themes and select the best for your website. But in terms of safety standards, it is a bit on the lower side.
WordPress does not offer a Secure Socket Layer (SSL) feature, and it enables Two-Factor Authentication (2FA). It is easy to target and can be hacked in multiple ways. For example, if the hacker can penetrate a single plugin or any of the platform's features, they can run the mass cron job to hack the WordPress websites using a similar plugin.
If you are willing to know what is the use of ssl  , don't miss this post!
Joomla
Joomla follows a safety standard like an SSL connection along with 2FA mode. It also has a couple of other security extensions that help cope with the website's vulnerability. It is difficult to hack and does not allow third-party plugins to enter the code into the core files keeping it safe from the code injection.
So when it comes to security issues, this one wins the race. The reason for that is the WordPress has gained more popularity among users due to its easy-to-use functionality and wide range of extensions developed by the users.
Suggest you read our article about the difference between ssl tls
3- Customizing Options
After knowing about the safety and security of WordPress vs Joomla, the next thing is to find out its customization. Both CMS have several polished offerings in terms of plugins and themes and other additional customizing options. If you wish to opt for a better pick between the WordPress themes and the Joomla templates, WordPress aces the race!

WordPress
High-quality and HD effect WordPress themes woo most users as even the customer support and assistance are also on a higher side. Joomla templates have a design and development keeping in mind the website users' functionality and usage.
You can get a better landing pages solution while making a take amongst the CMS and customization option in WordPress vs Joomla. Even for complex sites or simple blogs, WordPress
However, it is more flexible when it comes to customizing the core function. Also, WordPress is user-friendly. It means any layman can also add or remove the features without needing deep coding knowledge.
The community is widely available for any issue you encounter in your CMS. You can open the query on the open forum and get the relevant answer immediately.
Joomla
The community of Joomla is not widespread and may lack real-time communication with the users. If you are working on the Joomla-based website and want to customize specific applications, you may rely on the developers. The information may not be readily available on the web. It may delay your project and cost you more if you decide to hire the developer of the Joomla CMS.
So, WordPress will be a more user-friendly CMS for customization!
If you are looking out for the best canadian web hosting sites , don't miss this post!
4- Content Management
The next point of comparison is CMS Joomla vs WordPress content management's efficacy. WordPress and Joomla both offer user-friendly dashboards to publish the content. Both are flexible enough to design any website.

WordPress
WordPress is a pro software for CMS feasibility as it works great for landing pages and other information. WordPress has gained more ratings when it comes to simplicity. Joomla, on the other hand, needs basic training to understand the features and core functions.
Using a WordPress CMS, you can build a business website, blog, or even an eCommerce website, but most users prefer using WordPress for blogging. There is less learning curve and no need to have prior experience of handling the WordPress platform.
Joomla
Joomla, on the other hand, is known for its advanced complexity and other documentation. Hence, first users or website beginners might find it tricky to manage content with the Joomla. For managing the web content, the right pick is WordPress for sure.
It can handle large size websites, and it can be evolved into any website. You can even convert the Joomla CMS into a big eCommerce website and run your online store. On the other hand, WordPress is mainly seen as a blogging platform.
So, despite both platforms enabling users to create blog posts and pages, WordPress is a more user-friendly platform that helps to create different content types in just a few clicks!
If you are interested to compare prestashop vs woocommerce , this post can help you!
5- Joomla vs WordPress Speed
To determine the speediness of both these software, you can check out the user reviews. Unless your website is responsive and speedy, you cannot gain user attention.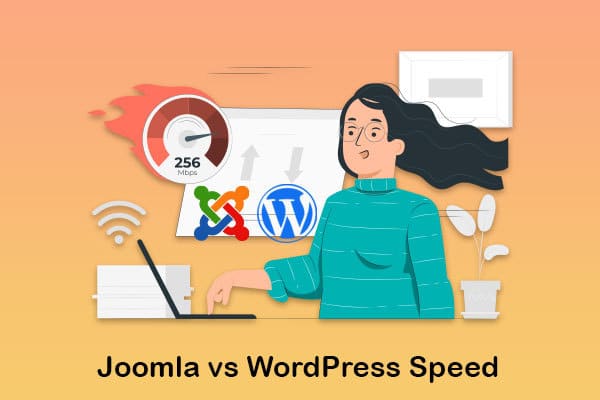 WordPress
WordPress is compatible with long and complicated sites and hence ranks better in terms of speed and efficiency. WordPress offers a speedy interface than Joomla for sure.
Joomla
Joomla, on the other hand, lacks behind due to its low support to heavy websites. As a result, search engine optimization for WordPress sites is more effective than Joomla ones.
After getting an idea of the brief difference between Joomla and WordPress, you can lock anyone between the two. If you wish to get better ranks and perform a higher SEO level for the websites, WordPress is a good deal.
6- Joomla vs WordPress Ease Of Use
WordPress is easy to use, and it has no learning curve—anyone with a basic understanding of how the CMS works can learn to operate WordPress without needing support.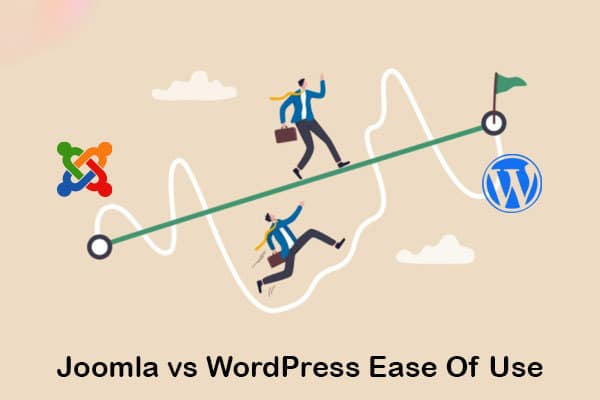 In comparison, the Joomla would require prior knowledge or help from the person who has used the Joomla before. Joomla comes with various features which sometimes challenging to understand. If you do not have prior knowledge, you will be confused while operating the Joomla CMS.
7- Plugins and Themes
Plugins allow the CMS to extend its power beyond its primary function.

WordPress
The large plugin developer community backs WordPress. Much private organization also develops plugins for the WordPress users and earn from the subscription.
Plugin development for WordPress has become the marketplace for the developer. You can find almost all kinds of the plugin on the WordPress plugin store. Similarly, the WordPress themes are available at a large scale on the web. You can choose to go with the free or premium WordPress themes for your website.
Joomla
Joomla community is saturated over time. Fewer plugins are developed, and limited themes are available, making it challenging to build the website. You have to rely on the developer to integrate new functionality.
If you are interested to know the wordpress hosting ranking , don't miss this post!
8- Customer Support

WordPress
WordPress offers personalized customer support to its users. You can also take the help of the large online WordPress community available 24×7 on the discussion forums. Many of the common queries are already solved by these community users, so you will instantly find the solution to your problem.
Joomla
On the other hand, Joomla has a well-documented manual that helps users identify their queries' functions and solutions. Also, many video tutorials are available for the users to watch.
Suggest you read our article about wordpress security vulnerabilities
9- Multilingual Sites
Multilingual sites are essential for global businesses. Both of these platforms support this feature but they have some differences.

Joomla
The Joomla cms outrank WordPress in this category. You get exceptional support from the Joomla website for building a multilingual site. No need to install the new extension. The site has an inbuilt function. Choose the additional language, and your site will be ready to publish in a new language.
WordPress
In WordPress, you may have to take the help of third-party plugins if you want to build a multilingual website. Unfortunately, these plugins are not free, so you may have to pay the additional cost to get these plugins and make your website multilingual.
10- Joomla vs WordPress eCommerce
eCommerce platform setup using WordPress has become easy, thanks to the WooCommerce plugin. The plugin comes in handy and offers instant customization to the essential WordPress website to convert it to a fully optimized eCommerce website.
Joomla comes with eCommerce extensions that allow the users to convert the website easily.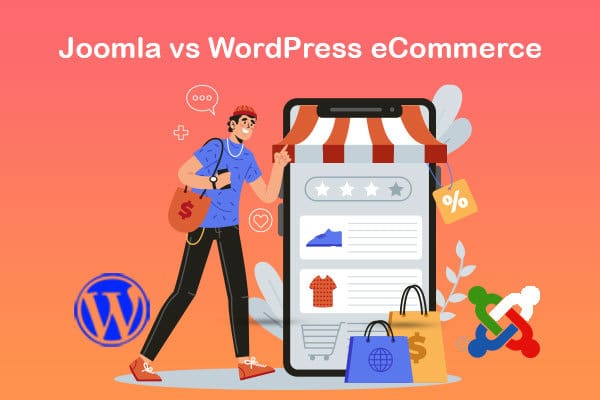 Some of the popular Joomla extensions are:
MijoShop

HikaShop

VirtueMart

DigiCom
11- Pricing
Joomla and WordPress are both open-source platforms. Therefore, there are no upfront fees to use the CMS platform and build your website. However, you need a hosting plan and knowledge to set up the WordPress or Joomla on the server. Most of the hosting companies are offering quick installation services to the users.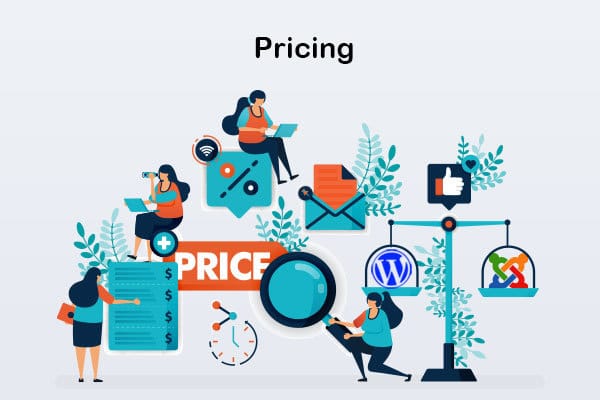 WordPress:
Domain name registration : $12 per year.

Hosting: from $3.95 per month.

Plugins: $0 – $1,000

Security: from $50

Developer: $0 – $1,000

Maintenance fee: $99 per month
Joomla:
Domain: name registration: $10 – $30 per year

Hosting: $150 – $500 per year

Design and development: $500 – $5000

Maintenance: $100 – $1000 per month
The high cost occurs when you decide to customize the CMS according to your requirement. Also, the functionality of the CMS can be improved with the help of paid themes and plugins.
If you are interested to know asp net hosting providers , don't miss this post!
Which is better Joomla or WordPress?
Joomla and WordPress are both advanced CMS. The decision of choosing the CMS for the website should be made based on your requirement. Joomla is suitable for large size websites that are going to serve millions of users in the future.
WordPress may not handle the large user database, and there are good chances that the website will fail. This is because WordPress core functions are not designed to handle large data-set queries or visitors. In this case, the Joomla would be the right choice.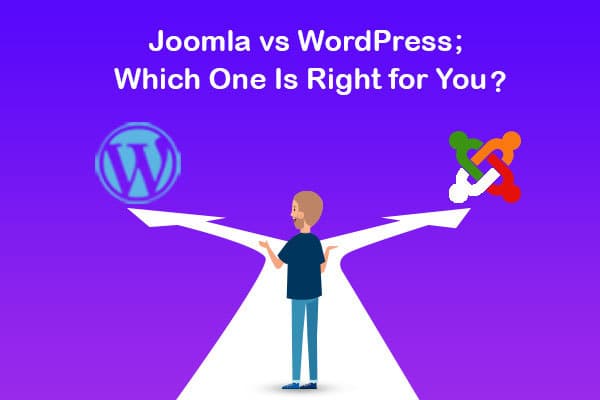 WordPress is most popular among users due to its user-friendly platform and exceptional support from the community. Small businesses that do not have a budget and are willing to start their business at minimum investment should prefer using the WordPress platform. However, WordPress would be a better option for most people as it doesn't require prior training.
Frequently Asked Questions
Which Is Easier WordPress or Joomla?
Though Joomla is a good option for beginners, WordPress is still the easiest CMS for designing a website in a short time.
Is Joomla More Secure Than WordPress?
It is said that Joomla experiences more attacks in comparison to other platforms in the market, but it is worth mentioning that the core software for both Joomla and WordPress is secure and there is no huge difference.
Conclusion
Talking about Joomla vs WordPress best CMS compatibility, Joomla is higher in terms of flexibility. Besides, it bestows an incredible user experience for those who are looking out for some extensions. But the WordPress plugins are definitely in a better position while comparing the two. It can beat the latter one and popularity sticks to WordPress.
You can also check out their support structure and WordPress again satisfies the customers in a better manner. So, the bottom line is that this software has an excellent positioning for functions and usage.
But the overall selection of the better CMS system depends on various other aspects. Choose the one that meets your needs and can prove profit-yielding in the long term! Happy blogging! For more information click here .