Difference Between WordPress Hosting vs Web Hosting; Which One Is Right for You?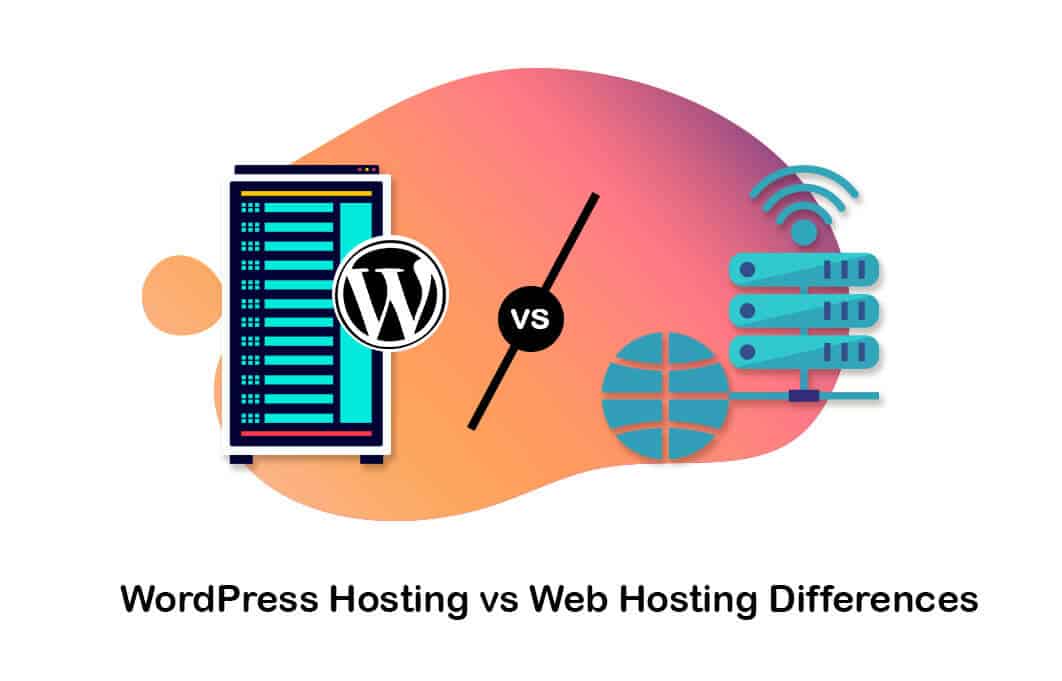 Website hosting is the key to a successful website! And if you are launching a website with WordPress, there is a lot you need to know about it. This blog discusses all WordPress hosting vs web hosting differences to find out which is a better option for your site. Several companies in the market opt for regular shared plans to avail of regular and uninterrupted web services. WordPress users opt for packages that consist of vital features through which your website can perform better.
What Is the Difference Between Web Hosting and WordPress Hosting?
This is a detailed write-up on WordPress hosting vs web hosting information so that you can choose the best one. It can enable you to choose the right alternative that offers optimum advantages for you. Server configuration is the main web hosting and WordPress hosting difference offers the maximum resources through the optimized platform. With a web host's help, you can advertise various features like the enhanced PHP memory or PHP 7.
If you want to know how to use gravatar in wordpress , click on the link provided!
What is WordPress Hosting?
Long story short wordpress hosting definition is a special-designed environment where you could process your WordPress sites as it'll also enhance your website's functional performance and security system. It's is almost like a special-made dress that'll just fit you as WordPress hosting would fit your WordPress websites.
If you are willing to know the advantages of cloud hosting over traditional hosting , check this article out!
Benefits of WordPress Hosting
Are you planning to consider WordPress vs web hosting? There are a few pros that you can think of by making a selection for WordPress hosting.
Predicted server usage- It refers to the fact that the provider would allocate resources and then solve all the technical issues faster.
Specific server configuration- Another benefit is that your server can get pinched for optimal WordPress performance. It accelerates the page loading speed as well. But you need to ensure that it is not guaranteed and might get affected by issues relevant to other sites.
Enhanced security- Next advantage of such hosting is that the provider pays an extra level of attention to the WordPress-specific threats.
Easy set-up- With the help of pre-configured settings, there can be an easy hook-up related to tools like the SSL certificates and the content delivery networks (CDNs). It is also usable with standard web hosting, but you also need to follow a couple of additional steps.
User-Friendly- WordPress comes with already installed WordPress software followed by automatic updates and excellent customer support assistance. It can also allow you to sneak through the free themes.
If your confusion still exists between Linux web hosting vs WordPress hosting, then the latter is always a good option. But it is also imperative to know that the latest versions from MySQL and PHP comprise typical features from a web host that runs on Linux.
But you need to take good care of maintenance tasks and the optimization by yourself. It is also necessary to make upgrades for the WordPress installation as it is also an important security measure.
Suggest you read our article about advantages of wordpress hosting
Disadvantages of WordPress Hosting
WordPress hosting might not be the kind of tool that'll suit everyone. Due to its wide range of specialized features, it'll come at a higher price than other web hosting options and might not be the best solution for small businesses. On top of all, there will be a limitation on how much customization you could do across your website. Some WordPress hosts may restrict your plugin choices. Hence if you require a specific plugin, you might need to search for an alternative option. Not to mention that you can only use WordPress hosting with WordPress websites, so it's obvious that if you chose another website builder to create your website WordPress hosting will be off the table.
Firstly, are you creating the website with WordPress or not. If the answer is no, WordPress hosting won't be allowed.
Deciding the budget is also very crucial. Opting for the shared plan is a cheap deal, and managed hosting, on the other hand, becomes an expensive option.
Security concern is the next factor as WordPress hosting is a safer option due to safety from the common threats. (For more information about security issues with wordpress , this article can help you)
Another factor is that server maintenance occurs behind the scenes. Hence, the automatic WordPress updates are appreciated.
If you are not a pro in WordPress, some level of hand-holding is necessary. Users with lesser experience can gain benefits through dedicated customer support from WordPress.
If you want to know how to change gravatar , check this article out!
WordPress Hosting vs Regular Hosting; Which Is Better?
Deciding for the best hosting type depends on the experience level as well as the needs. Sometimes, you also need to go through the hosting plan's specifications and ascertain that the WordPress features are useful or not.
After considering a couple of things, you can get an answer for what is the difference between WordPress hosting and web hosting!
The term web hosting refers to all kinds of current web hosting that are available in the market. On the other hand, WordPress hosting is a specific term that is related to WordPress platforms. The WordPress web hosting might overlap with other types of Web hosting, as the WordPress category is organized on the additional features of a specific plan you could choose the plan that'll meet your needs. The category of WordPress contains VPS WordPress hosting, dedicated WordPress server, shared WordPress hosting, and cloud WordPress hosting. Hence in understanding the concept and difference between shared hosting vs WordPress hosting, you should pay attention that these two aren't two different concepts. Web hosting is more of a broader term and WordPress hosting is like a subset.
While analyzing the WordPress hosting vs web hosting compared study, web hosting is evident that web hosting is beneficial to store the WordPress site. This makes it easily accessible for the regular public. Other vital features that might be a part of your plan include increased security levels, performance optimization, free SSL certificate availability, and many more. But you might miss out on the WordPress benefits along with other alternatives provided.
Read our article about what is ssl certificate
So, what's your pick? Web hosting or WordPress hosting! The type of content you plan for the website also matters a lot. If you find it necessary to upload the videos or image galleries, even then, you have to access features like CDN or caching.
And above all, the amount of traffic arriving at your website is also of great importance. Is the shared plan sufficient for your requirements? The web owners anticipating the higher number of visitors also need to choose the hosting wisely.
If you aim to know domain hosting cost , check this article out!
Frequently Asked Questions
Do I Need Web Hosting or WordPress Hosting?
The WordPress vs web hosting main difference is the server configuration. Resources that are considered in the WordPress hosting plans are properly optimized for its platform. To get the other side, the standard web hosting plan resources are also sufficient to store your WordPress website and make it easily available for the public.
If you are looking for the best wordpress hosting , this article can help you!
Conclusion
After analyzing all the perspectives related to what is the difference between shared hosting and wordpress hosting, you can make a final decision. WordPress hosting gives an affirmative solution to most of the answers related to website hosting. Besides, it is also a great solution for web developers and beginners as it saves a lot of time. WordPress hosting does not guarantee a higher page loading time but still works faster than web hosting.
Also, standard web hosting offers high control on the website, which is essential for experienced users. Overall, this is a cheaper type of hosting, and the price might not be similar for the shared plans. Before buying the plan for website hosting, you need to look at both types of packages and invest as per the features available. You can also check out the providers of such hosting plans online and make the right purchases! For more information click here
Suggest you read our article about Joomla vs WordPress SEO