Top Cloud Hosting Providers in 2023 comparison!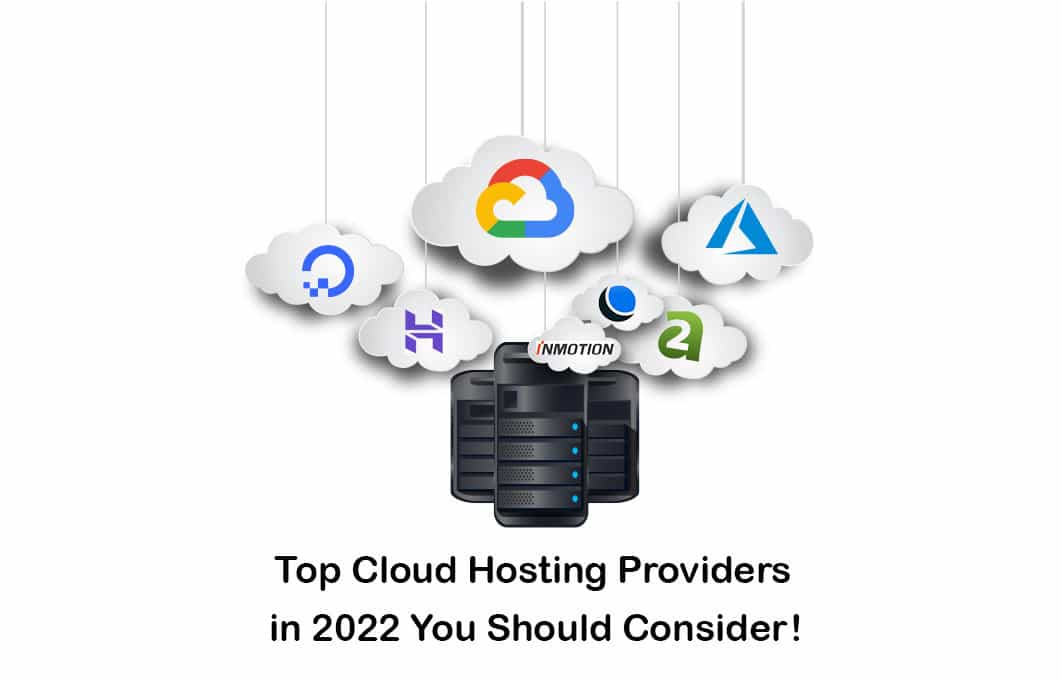 Some companies offer free cloud hosting services that can be used primarily by students or someone new to blogging or web development. Most cloud hosting providers aim to familiarize their platforms to make you understand the perquisites of cloud hosting.
You can use these free hosting services to practice and enhance your web development experiences. Following are some of the best cloud hosting services that are good to start with as a beginner or a student. They can let you avail of increased bandwidth, SSD storage, extra memory, fantastic speed, uptime, etc. We will make a cloud hosting comparison to figure out what is the best cloud hosting service. So, stay tuned!
best Cloud Hosting Providers
Let's explore some of the cloud hosting companies that are available to fulfil your hosting need for free
1- Google Cloud Platform
2- Microsoft Azure
3- Amazon Web Services (AWS)
4- Digital Ocean
5- Gear Host
6- Hostinger
7- HostGator
8- A2 Hosting
9- SiteGround
10- InMotion
11- DreamHost
1- Google Cloud Platform
One of the best cloud service providers in the Google cloud platform. In the age of cloud computing, composing and running applications on the cloud has become increasingly demanding. Google's data center has a wide range of coverage worldwide. Also, Google Cloud provides an enormous number of products and tools.
The GCP lets you utilize various features. You can use the trial version of GCP worth a credit of $300. Open an account and submit your verification and bank details, and you can avail of the free service for a year without being charged. If you are a student and a newbie web developer, Google's free tier is a peerless option you can go for.
If you are interested to know what is cloud computing in simple terms , this post can help you!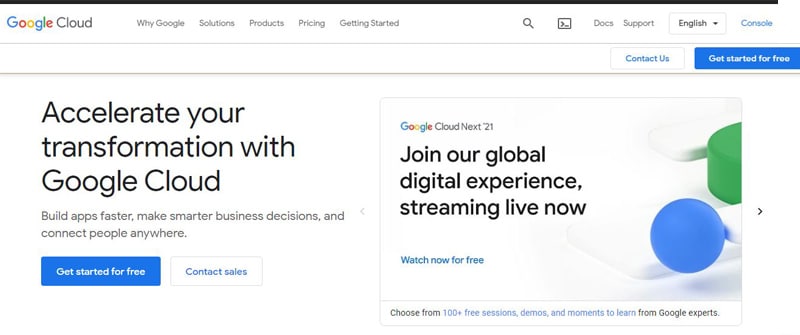 2- Microsoft Azure
Just like GCP, Microsoft Azure is one of the best cloud hosting services that provide you with a free service for a year, and you can utilize the offered free services worth $100 credits until you decide to get an upgrade. However, you need to have proficient knowledge and enough time to use its features and get it working correctly. Azure hosting lets you develop scalable apps with much faster features as it supports all popular programming languages and frameworks. They offer good speed and excellent uptime, just like GCP. The products you will get with the free plan also include LINUX virtual machines, windows virtual machines, managed disk, SQL databases, bandwidth, etc. Certain products in there will remain accessible even if your trial expires. All you need is your contact detail, credit card detail, and Microsoft account.
Suggest you read our article about advantages of cloud hosting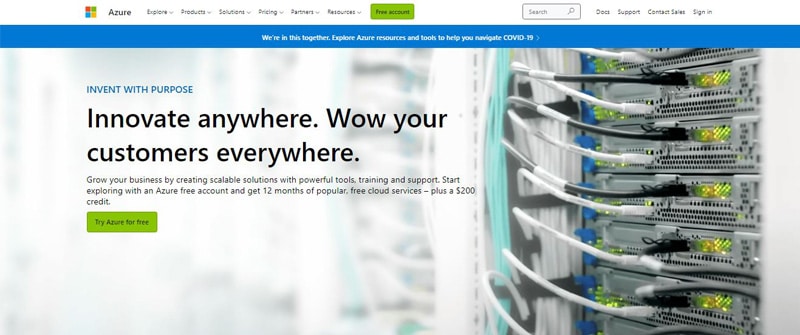 3- Amazon Web Services (AWS)
Fast and free, AWS provides hosting services with various plans to try. However, they let you avail of the services for one year minus any credit provided like other hosting services. Organizations and businesses can benefit from services from AWS hosting at a low cost for delivering their websites and applications. One chose practical assistance from the wide range of website hosting options of AWS.
It lacks behind in terms of speed, though, and you need to have good programming knowledge to use these services.
If you aim to know the website hosting charges , click on the link provided!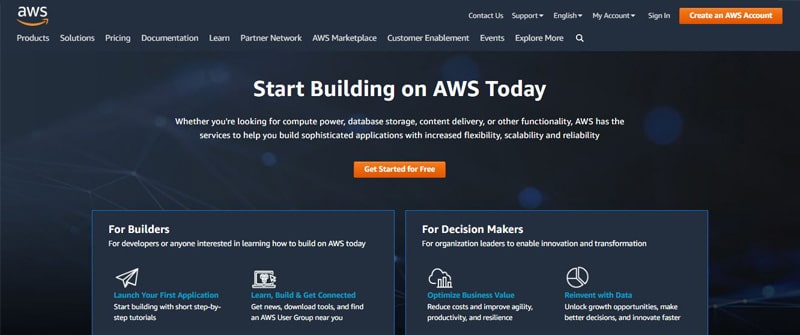 4- Digital Ocean
One of the easiest to use and beginner-friendly cloud hosting is digital ocean hosting, and that too free of cost. You get a 2-month free trial plus a credit of$100, including various accessible services.
If you are a student, this will prove most suitable as you can run up to 20 static sites and continue with three even after the trial period ends. Using the digital ocean services, the user can deploy and scale their applications that run altogether on numerous systems.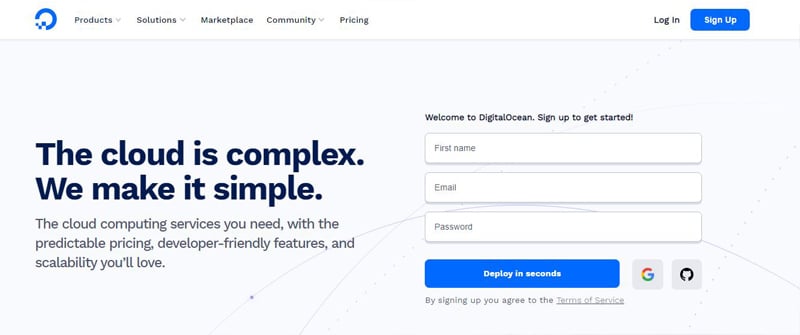 5- Gear Host
Platform as a service (PaaS) has been built for developers who need to launch a quick and scalable website. You don't need to use your credit card to register at Gear Host, and you get to have five cloud plans and five databases that are free. It gives you an easy-to-use interface, and once you add up your credit card details, you can add up some cloud services as well. You need not worry, as you don't get charged when you add a credit card until your monthly billing cycle starts.
If you are willing to compare plesk panel vs cpanel , this post can help you!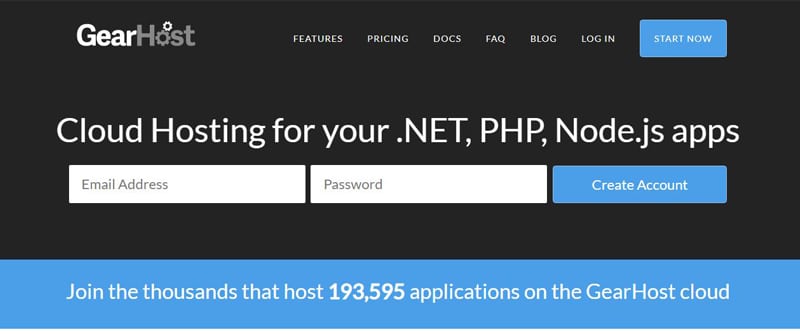 6- Hostinger
Hostinger is the latest and most likely one of the best cloud hosting companies, newbies and students, and professional web developers. It has excellent speed and vital customer service. It's affordable and gives you a money-back guarantee if it does not prove helpful to you. You can choose from various available plans, and they provide a free domain name for the website.
Just like other hosting services, it also provides strong and fast hosting and up to 99.9% uptime to your website.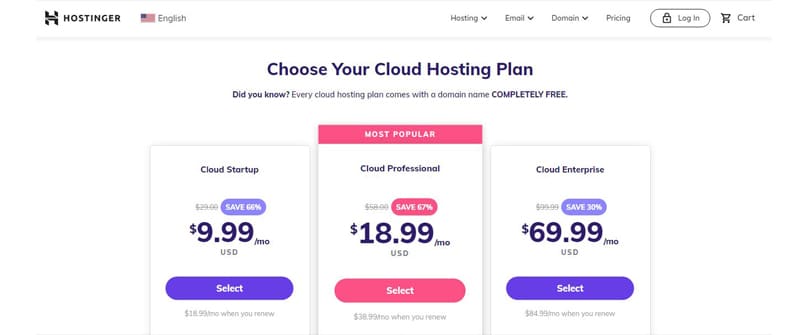 7- HostGator
In the list of the best cloud server hosting , Hostgator is a good choice. It has been upgraded from shared hosting to cloud hosting. And now, the HostGator cloud hosting has also improved its scalability and speed. It is not entirely free; however, they provide one free domain name when you buy their hosting services. Various products and services are provided to you with every domain name you register for. They also offer a wide range of domain extensions that you can choose for your website or business name.
Suggest you read our article about what is public cloud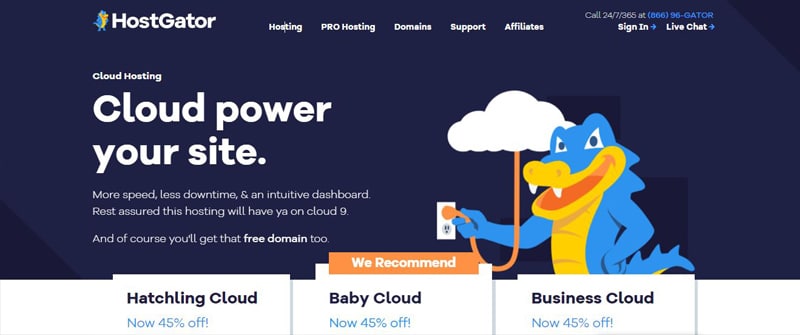 8- A2 Hosting
A2 Hosting is unrivaled when it comes to cloud hosting. It came out on top in terms of features, and it also comes with an anytime money-back guarantee, something no other provider offers. It's also not prohibitively costly, with cloud options beginning at $4.99 per month; while the uptime isn't ideal at 99.95 percent, you do receive a slew of useful features. The elements are up to 250GB of storage, 12 CPU cores, and 32GB of RAM. You may also host an infinite number of websites, which most cloud hosting services do not allow.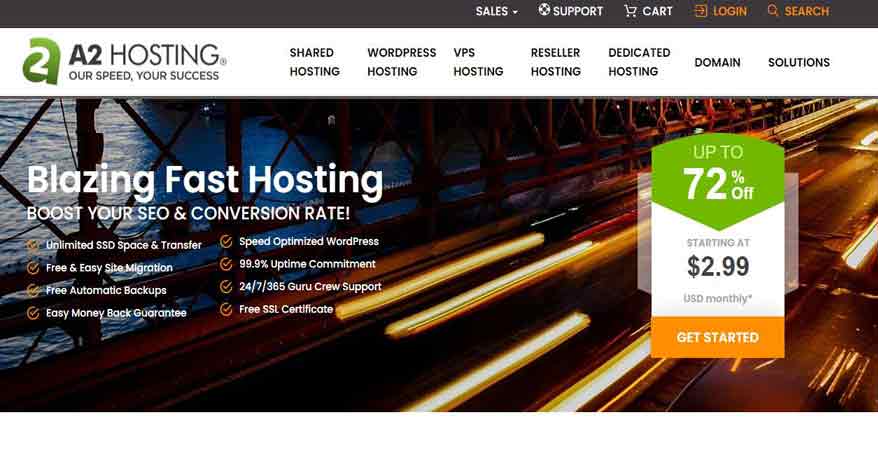 Pros
The cloud hosting plans of A2 Hosting is quite flexible

You can get root access

Free backups are available to you

Relatively affordable
Cons
You have to pay for the SSL certificate separately

You don't get a free domain name
If you are interested to know what is software as a service , this post can help you!
9- SiteGround
Cloud hosting from SiteGround is ideal for websites that have outgrown their shared hosting plans. These designs are entirely self-contained. That is to say, they manage your account for you. SiteGround is in charge of your Hosting's IT. This frees you up to concentrate on other aspects of your website. With a single click in your admin settings, you may add resources like RAM and CPU at any moment. Turning on auto-scaling is a fantastic feature. During times of unexpected traffic increases, this automatically provides appropriate resources.
You can expect to receive excellent customer support from SiteGround. The customer support teams are available through email, live chat, and phone. When paired with the awesome uptime guarantee, you can consider going for this cloud hosting provider.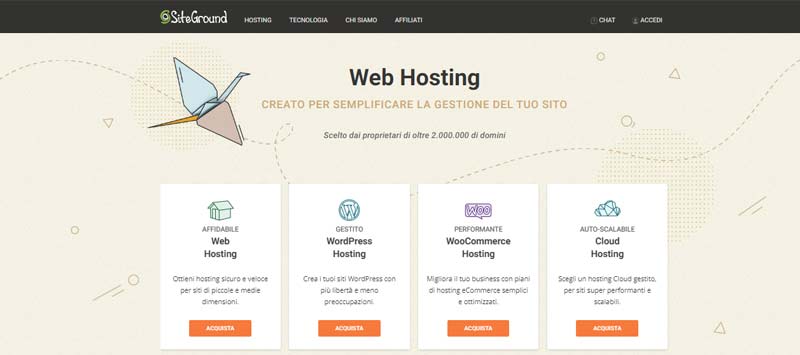 Pros
99.98% uptime guarantee

Exceptional customer support

Free backups

Up to 15 days of moneyback guarantee
Cons
You don't get a free domain name

Starting price is relatively higher than competitors
10- InMotion
InMotion maintains a strong reputation among small business owners. However, large-scale enterprises that require cloud hosting may also go ahead with InMotion hosting. With ten different cloud hosting plans, InMotion offers something for everyone.
InMotion is recognized for its shared and VPS Hosting, but that doesn't imply it has anything to offer in this area. Its key selling point is its customer service, which includes live chat and phone assistance 24 hours a day, help requests, and a comprehensive knowledge center. It also gets high marks for features. You may anticipate free domains and backups, unlimited email accounts and websites, unmetered CPU cores, and root access, to name a few. In our experience, the assistance provided is also rather powerful, which is always beneficial.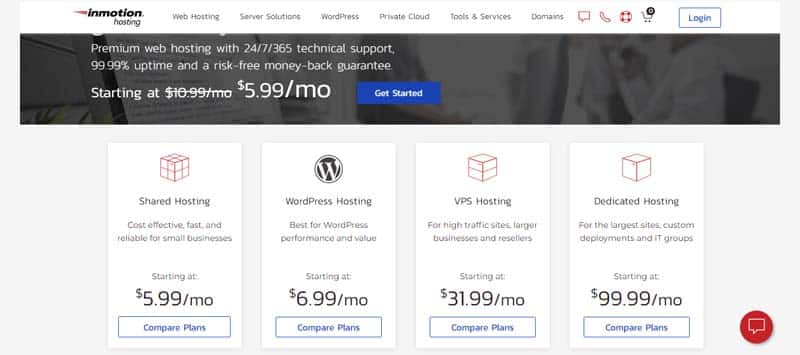 Pros
Free backups and domain names

Excellent customer support

Uptime guarantee

Relatively affordable
Cons
RAM is relatively low in cloud hosting plans

Limited bandwidth
11- DreamHost
DreamHost offers the most straightforward cloud setup in the business. In less than 30 seconds, you can have your cloud servers up and running. DreamHost cloud, on the other hand, is ideal for developers. In addition to websites, they provide server solutions for databases, web applications, and conducting tests. You may keep working with the DevOps tools that you already have. DreamHost also grants you full root access to your cloud servers, allowing you complete control over them.
Even if a provider has the most excellent hosting services in the world, if its cost is out of your price range, it will be unable to assist you. DreamHost, thankfully, makes cloud hosting available to everyone. Plans start at $4.50 a month, and even the highest expensive goal is under $100. Unmetered bandwidth, up to 16GB of RAM, four CPU cores, and a free SSL security certificate are also included.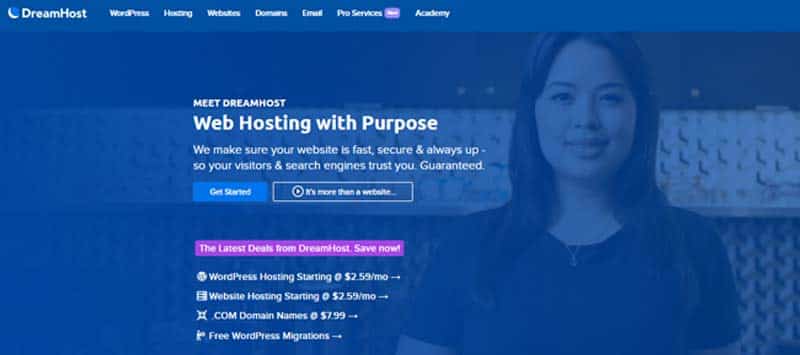 Pros
Unlimited bandwidth

Free SSL certificate

Comes with root access

SSD storage of up to 100GB
Cons
No moneyback guarantee

No free domain names
The best cloud hosting providers, compared

| Web hosting provider | Lowest-priced cloud hosting | Bandwidth | Free SSL | Management |
| --- | --- | --- | --- | --- |
| Hostinger | $9.99 a month (Cloud Startup) | Unlimited | Yes | Unmanaged |
| Hostwinds | $5 a month (approx, based on hourly rate) | From 1TB | No | Managed and unmanaged |
| Cloudways | $10 a month (1GB RAM plan) | Variable | Yes | Flexible |
| Liquid Web | $15 a month (2GB RAM plan) | From 10TB | No | Semi or fully-managed |
| DreamHost | $4.50 a month (approx, based on hourly rate) | Unlimited | No | Unmanaged |
| A2 Hosting | $4.99 a month (Runway 1) | From 2TB | Yes | Unmanaged and managed |
| InMotion Hosting | $17.99 a month (2GB RAM plan) | From 4TB | Yes | Fully managed |
| Interserver | $6 a month (1 CPU core plan) | From 1TB | No | Self-managed |
| Scala Hosting | $9.95 a month (Start) | From 1TB | Yes, with managed plans | Managed and self-managed |
| Kamatera | $4 a month (approx, based on hourly rate) | From 500GB | No | Managed and unmanaged |
In the case, you are wondering what does wordpress hosting mean , this article can help you find the answer!
How To Choose the Best Cloud Hosting Provider?
Explain each of the factors below briefly:
1- Price
One of the most important things you should consider when finding a cloud hosting provider is the price. The fee associated with the service should be affordable to you.
2- Customer Support
If you're new to the entire web hosting thing, customer assistance may be a lifesaver. It will not only assist you with any hosting issues but will also teach you how it works.
3- Money-back Guarantees
You won't be locked into an 18-month commitment for a service you don't want or need if you have a money-back guarantee. It allows you to observe a service provider in action.
4- Uptime
One of the most critical characteristics to examine is uptime. When your website goes down regularly, it's a misery for everyone concerned, so finding a provider with near-perfect uptime is a huge benefit.
5- Scalable Resources
When your business is growing, you will come across the need to scale up your website or web app. This is where scalable resources on the cloud server can help. It is worthy of checking and seeing if the resources are scalable in the future.
6- Speed and Performance
If both speed and performance are not available, you will have to go through a challenging experience with hosting. To overcome that struggle, you must carefully evaluate both speed and performance.
7- Security
Security should always be a top priority, regardless of the sort of web hosting service you have. Fortunately, cloud hosting is well-known for its security. Because your website is insulated from any possible issues with a physical server, this is the case. Everything is managed remotely, which would not be the case if you depended on a single locally hosted server. Your website would be in danger if a local server were hacked. Your website would remain up and running without any downtime or delays if one of the servers in your cloud network was hacked, failed, or experienced a system overload.
In order to learn how to choose a hosting provider , don't miss this post!
Cloud Hosting Services With cPanel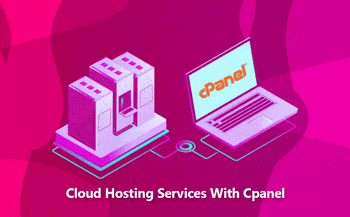 A Linux web hosting that is easy to learn and use is Cpanel hosting. This is one of the top cloud hosting providers which enables you to manage all services in one place. It has its pros and cons, so one must educate themselves before going for any hosting services about its cost-effectiveness and reliability.
If you desire to know the linux distro comparison , don't miss this post!
Conclusion
So, these were some of the best cloud hosting service providers you could use if you are a new web developer or a student. They provide a free trial version for a reasonable amount of time and let you explore and understand more about its services and benefits.
As your business grows and needs to expand, you can go for the paid versions if required. These free plans will provide you with great speed, flexibility, and scalability as paid ones do. For more information, this post can help you.
If you are interested to know cloud hosting vs web hosting differences, we highly recommend you check this article.